Federated building information models minimize design conflicts, material cost and rework by unifying distinct models from across multiple construction disciplines into a single model.
Material waste, poor utilization of skilled resources, construction rework and design conflicts are primary challenges plaguing construction projects and affecting their viability. This happens primarily when different disciplines of the project work in silos.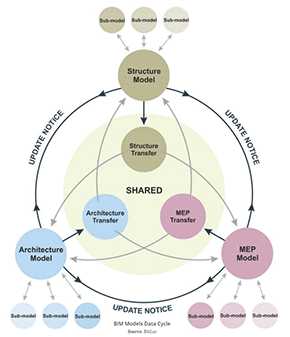 Federated BIM models bring together select components from across multiple disciplines on to a common data environment (CDE). This inter-disciplinary collaboration which allows for use and need based information pooling enhances coordination, prevents information loss, reduces rework and facilitates better project management.
As per NBS, a Federated Model is "a combined Building Information Model that has been compiled by amalgamating several different models into one, or importing one model into another."
Federated models result in better design decisions by displaying the missing information, discrepancies and any inadequate resource allocation during the early stages of construction.
Benefits of a Federated Model
In a federated model, distinct individual models originating from multiple construction disciplines – architects, structural engineers, MEP engineers, contractors, sub-contractors and suppliers can be seen on one tool. Even though individual multidisciplinary models link with each other in a federated model, they maintain their authorship, remain distinct and cannot be modified by others without permission. Let's walk through some benefits that a Federated BIM model provides:
Enhanced Coordination
The integration and coming together of multidisciplinary models into a single model enhances seamless coordination, promotes better understanding of design intent across disciplines and heightens transparency among stakeholders across the project life cycle.
Coordinated LOD 300 Model Enhances Transparency of Project
Hitech developed a coordinated model with LOD 300 for a design drafting company in Sydney, Australia. The 3D model included the plumbing layout and hydronic equipment across a commercial healthcare building construction. The client used the clash free model to make informed decisions right from the initial stages of the project, thereby saving costs and staying within the estimated time schedule.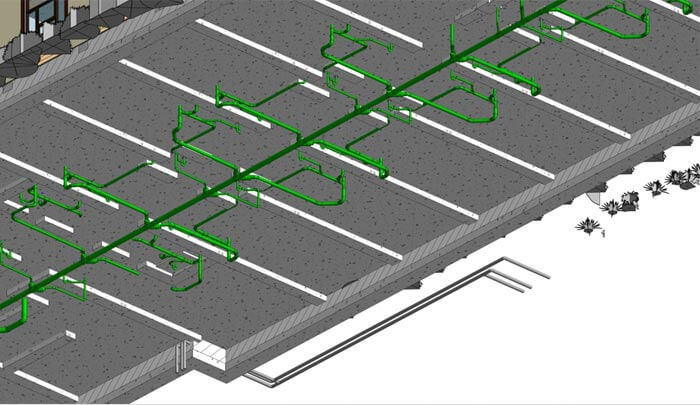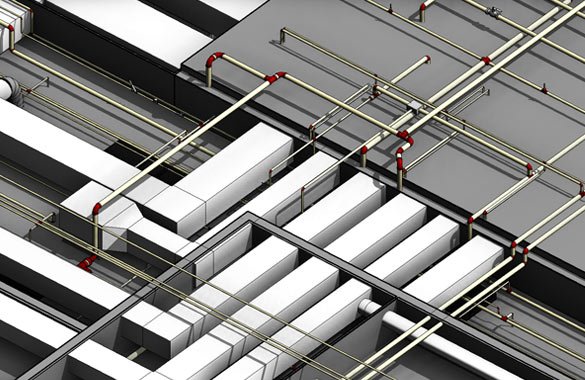 Read Complete Case Study →
Higher Clash Avoidance and Reduced Rework
The visibility provided by the integration of multiple models into a single platform helps detects clashes at an early stage. Resolution of these clashes early on avert expensive rework by reducing iterations and revisions. Software like Navisworks® can generate clash reports in minutes facilitating clash resolution.
Common Data Environment (CDE)
The ISO 19650 standards require a CDE for collecting, sharing and managing information during a project lifecycle. The structured information includes geometric models, schedule and associated data base while the non-structured information includes documentation, recordings, etc.
The BSI defines CDE as the "combination of software and workflow that is used to ensure effective and accurate exchange of information within the project team."
Better Estimation
A federated BIM model is information rich in that, it brings together on a single platform, graphical and non-graphical data from multiple sources related to components, drawings, spreadsheets etc. This initial visibility across projects helps in accurate estimation of project costs and schedule.
Better Project Management
Federated models can be used for design coordination, clash detection, clash avoidance, design development, approval processes, estimating, etc. Thus it helps in making informed decisions, reduced clashes, fewer claims, reduced litigation and better resource allocation.
Customized and Flexible Data Sharing
A federated BIM model allows selective data sharing as per individual project needs. Stakeholders may share only a part or the entire information based on project requirement. Navisworks supports multiple file formats and offers flexibility to choose from different file formats to create the federated model.
How Revit and Navisworks can be used to create Federated Models
Using Revit to created Federated Models
In Revit®, a federated model is a single element. Although Revit has limitations of not being able to distinguish individual elements or selecting items to check their properties in the coordination model, it has certain benefits like:
All coordinated models are displayed in 2D and 3D views as a single model.
Pinning of coordinated model avoids unpredictable move.
Permits reload of the latest model, the visual properties of which can be modified/adjusted.
3D BIM Model Helps Firm Gain Better Insights
A Leading Construction Firm in USA faced the challenge of converting PDF files into a 3D MEP BIM model as per international standards while coordinating all the MEP components to get a clash free MEP BIM model.
Hitech's team of BIM experts created a clash-free coordinated 3D BIM model using Revit MEP in CDE. With the coordinated MEP model, insights for MEP component installation became smooth which helped the construction firm make informed decisions, reducing cost and schedule over runs.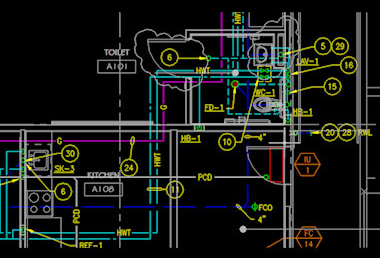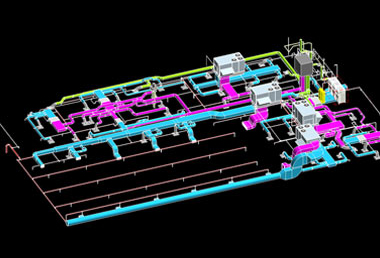 Read Complete Case Study →
Using Navisworks to create Federated Models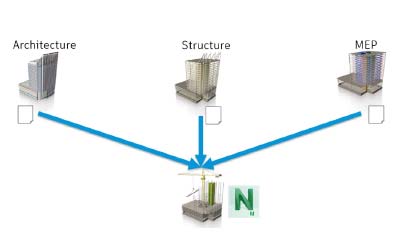 Compatible with more than 50 file formats, Navisworks enables stakeholders to link their Revit or non-Revit models for references. The models can be viewed collectively in a multi-viewer environment without any need for conversion plugins or neutral formats.
A virtual crosscheck of various disciplines is done on a regular basis by loading the updated coordination model throughout the design and construction phase, reduces the risk of clashes and the need to make changes.
3D Coordinated Model Mitigates Reworks by Eliminating Clashes
A leading US-based building contractor faced the challenge of installing new utility systems with existing MEPF for a National Park project, without disturbing the existing MEPF systems. In addition, it was essential that they have proper buffer space and do not overlap with each other or with any other building component.
The Hitech engineering team created Revit MEP models and coordinated them in Navisworks for effective and clash-free installation of new utilities with the existing system. This coordinated model speeded up the MEP fabrication phase and reduced delivery schedule.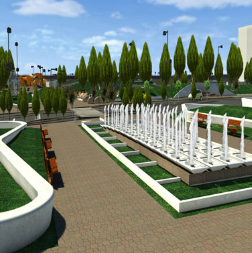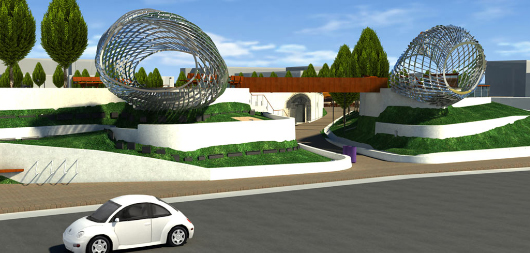 Read Complete Case Study →
Conclusion
The many benefits of implementing a federated BIM model are not without associated operational challenges. These include reviewing and establishing revised internal checks at regular intervals for quality control; setting up agile modification and revision management systems etc. But given the larger business gains of federated models these can be easily overcome.
The federated model's approach of using standardized name convention, templates, classification system for sharing and collecting information etc. builds a strong case for it. Cloud based usage which allows stakeholders to view data from anywhere through any device, facilitates operations without geographic restriction.