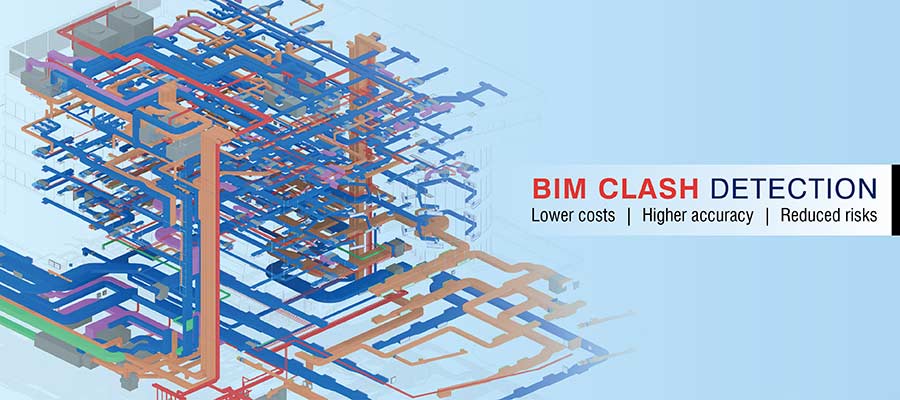 BIM clash detection and resolution enabled by interdisciplinary BIM coordination reduces costly rework, project delays and budget overruns. The clash detection process in the pre-construction stage is supported by Revit® and Navisworks®.
Coordinated BIM models ensure perfect synchronization between architectural, structural and MEPF disciplines. So, whether you are a building engineering consultant or a contractor, if you've leveraged the power of BIM coordination, you can be sure of zero unwanted surprises springing up during construction stage. All conflicts and clashes are addressed by systematic clash detection and resolution using Revit and Navisworks, right at the pre-construction stage.
In this article, we talk at length about what is clash detection, the need for clash detection, the types and benefits of clash detection etc.
What is clash detection in Building Information Modeling (BIM)?
Clash detection is the identification and resolution of clashes between multi-disciplinary trades. 3D Revit models across all building trades, such as Architecture, Structure, and MEPF are combined from origin to origin to form a single federated 3D BIM model. While integration, clashes are detected between various building components or elements. These clashes are then highlighted and shared with respective design consultants.
Once the clashes are resolved, the updated designs are incorporated in the main model and clash detection is run again to check the overall coordination with nearby modeling elements. The final coordination is done at BIM Level 2. For example, a beam can interfere with an air-conditioning unit, or a pipe interfere with a duct, or insufficient beam tolerances may be there in the 3D model.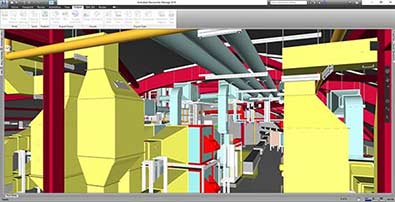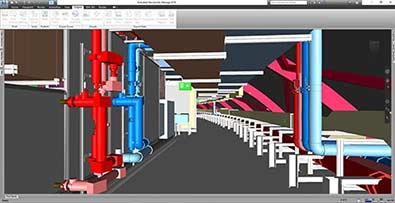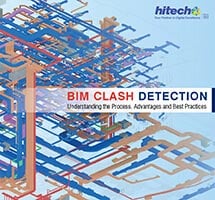 Don't have the time to read the entire article right now?
That's Ok. Let us send you a copy so you can read it whenever you want to. Tell us where to send it.
What causes clashes in BIM models?
Clashes are caused when architectural, structural, and MEPF models are integrated into a single federated 3D model. Clashes between the individual models come to the fore. The starting point to create a 3D BIM model from drawings, images, or other PDF files begins with the architectural set. Structural engineers then create their 3D model with a layout that matches architectural needs.
HVAC engineers, plumbing designers, electrical engineers, and fire protection specialists produce their unique 3D models to work with the architectural and structural layout. Each discipline's 3D BIM model contains its own dataset of documents, project files, geometric data, and other crucial information about the built asset.
Getting these individual 3D models to converge into a single coordinated 3D model detect clashes. Simply put, clashes are observed in a 3D model when spatial coordination of the individual models for a built asset shows overlaps and conflicts.
There are several reasons for clashes to occur in BIM models. Some of them are: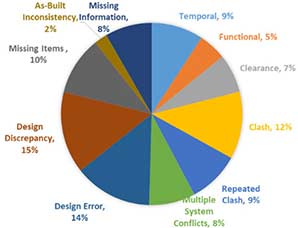 Percentage of design issues analysed across two case studies
Use of a low or wrong level of detail (LOD)
Design uncertainties or design rule failures
Failing to achieve accuracy because of time constraints
3D model objects exceeding clearance values
Siloed design workflows and high design complexities
Using 2D instead of 3D BIM models
Design errors due to lack of expertise
Some strategies that AEC stakeholders can use to avoid clashes include:
Integrating BIM with traditional workflows
Integrating engineering, construction, and procurement
Improving communication and collaboration among designers within a shared working space
Adopting design coordination in a common data environment (CDE)
Traditional or legacy 2D CAD drawings do not provide the accuracy, data validity, or visualization required for fabrication and installation. Error-ridden 2D drawings require high manual intervention that can lead to data silos, fragmentation, data loss, and an outdated file set. This leads to rework, cost overages, and project delays.
Some challenges faced by stakeholders using legacy tools for clash detection include:
Inaccuracies in design engineering and documentation
Greater number of iterations during design and pre-construction stage
Inefficient coordination and collaboration between different stakeholders
Lower project efficiency caused by erroneous 2D deliverables
Higher material costs due to inaccurate material fabrication and onsite material waste
Greater onsite risks leading to project delay and cost overages
Limited visualization of the building with 2D drawings
When do you do clash detection?
Clash detection is done during the pre-construction stage or the design stage for various disciplines, usually with Revit and other visualization software, like Navisworks. When clashes are identified and resolved during the early stages of design, it leads to minimal rework, easy planning and seamless construction. Accurate BOQs and BOMs lead to error-free installation and fabrication, as well as savings in costs and time.
Clash detection with Navisworks streamlines collaboration across multiple trades and ensures effective and efficient project outcomes.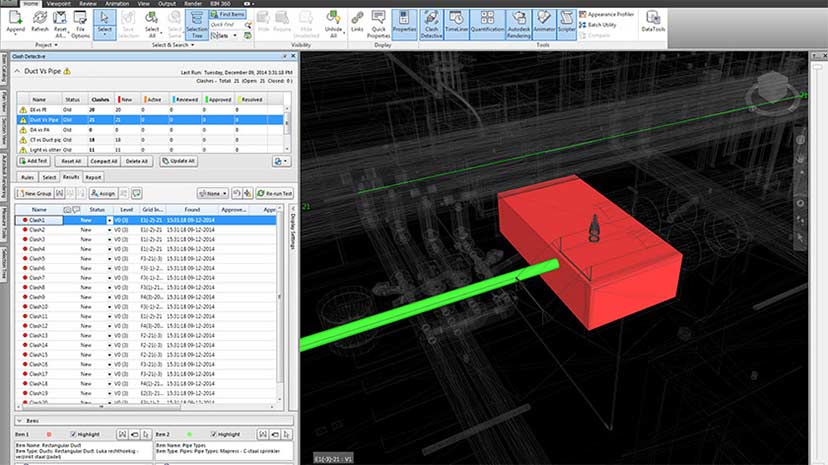 Benefits of BIM clash detection for AEC stakeholders
BIM-based tools and technology offer a host of advantages to AEC stakeholders. Adopting BIM can help architects, engineers and consultants to save up to 70% of construction rework caused by design and engineering errors. Here are some major benefits of BIM clash detection:
Higher accuracy in construction drawings and installation
Coordinated fabrication and installation drawings extracted from clash-free 3D models display high geometric accuracy and installation precision of all building elements. Precise fabrication ensures accurate component manufacturing, which leads to a significant reduction in manufacturing waste and faster onsite installation. Greater drawing accuracy leads to lower rework, fewer project delays, and timely project completion.
Lower numbers of iterations during onsite installation
The removal of member interferences or clashes in the coordinated 3D model reduces design iterations, as the model and drawings are approved with no lingering confusion. A drop in reiterations saves project time, lowers costs, and reduces rework during actual construction.
Greater interdisciplinary coordination and collaboration
Integrating 3D models from various disciplines such as Architecture, Structure, and MEPF not only improves interdisciplinary coordination but also improves collaboration between construction stakeholders. Accessing a coordinated 3D model on a CDE or letting project participants utilize the model in real time on a platform like BIM360 improves inter-trade communication. This leads to the complete removal of clashes in the pre-construction stage.
Higher project efficiency with interference-free 3D BIM models
Interference-free 3D BIM models promote greater accuracy and efficiency. Eliminating every single clash in the early stages improves fabrication efficiency. It increases installation precision of building components by removing hard clashes, tolerance issues, and workflow problems. A 4D BIM model enriched with the dimension of time can simulate a complete sequence of events for equipment, materials, activities, and other logistic aspects. The enrichment is done through extensive schedule visualization within the Navisworks timeliner.
An estimated 30% of work done during construction can be attributed to rework.
Lower material costs with precise BOQs and BOMs
Extraction of BOQs and BOMs from a clash-free 3D BIM model promotes greater accuracy in calculating building materials for manufacturing and installation budgets. This can save material quantity and reduce material costs. It also ensures improvements in material logistics for optimized site usage.
Reduced onsite risks through 360-degree visualization
Onsite risks pose a great threat to field personnel because of a lack of visualization through 2D plans. Utilizing outdated and incomplete 2D CAD deliverables without proper compliance and standards can lead to site hazards. Trying to access hard-to-reach spaces without visualization can create onsite accidents leading to project delays and greater costs.
Having a clash-free 3D model with 360-degree visualization provides complete clarity for the building project. Field personnel can utilize AR/VR technology to walk through the model and know the position, geometry, description, and other information they require for operating efficiently.
Types of clashes in BIM
There are various types of clashes in architectural, structural and MEP layouts and designs. BIM helps identify and resolve these clashes, resulting in error-free construction. The various types of BIM clashes are:
Hard clashes: Two building elements, components, or members occupying the same space create Hard Clashes. For example, columns interfering with a wall or pipes running through a beam can create hard clashes. These clashes are difficult to resolve and costly if discovered later during construction. Hard clashes can be resolved based on geometry or rules during the design itself.
Soft clashes: A soft clash is observed in the 3D model if optimum geometric or spatial tolerances are not set for building elements. For example, incorrect clearance values for an air-conditioning unit can create issues during access, maintenance, or safety runs. Relevant standards and regulations set within software like Navisworks can help identify these clashes beforehand.
Workflow clashes: 4D or workflow clashes occur when there is a timeline conflict between contractor scheduling, equipment, and material delivery, or any other timeline conflict. For example, when a scheduled spare part delivery does not align with HVAC maintenance.
How are clashes detected and resolved?
The clash-detection procedure begins by using the master 3D model within Navisworks or similar software. Here is a flowchart that makes it easier to understand the entire clash-detection process within a BIM framework.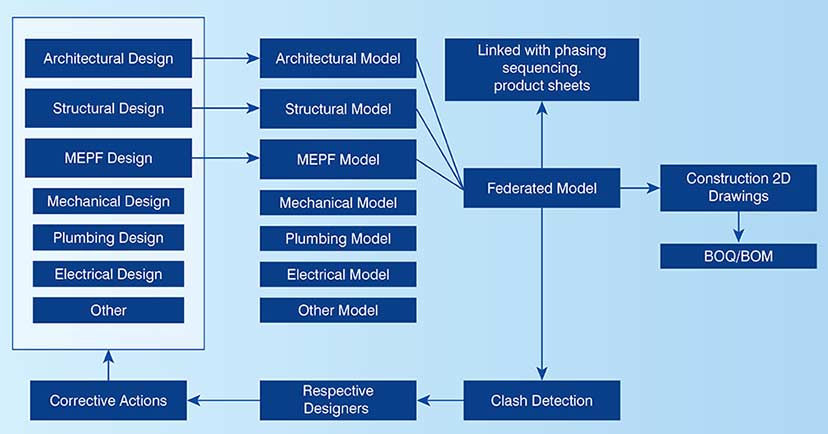 Best practices for clash detection in BIM using Navisworks
An otherwise compliant building design may contain loss-making issues. Architects and contractors use a BIM clash detection procedure to generate clash reports and then identify and resolve those clashes before design review and final approval.
STEP 1: A clash report is created using two 3D models from different trades within Navisworks.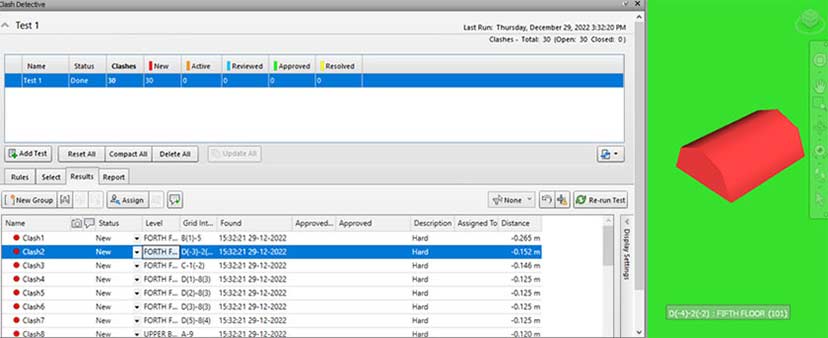 STEP 2: Another 3D model is uploaded into Navisworks for coordination with the first independent trade model.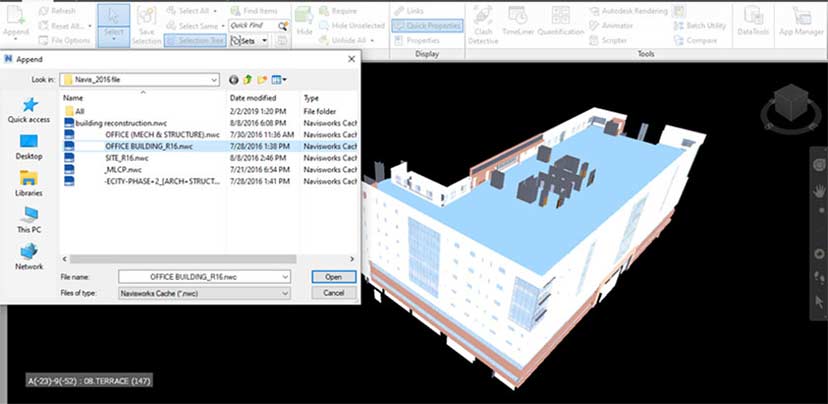 STEP 3: The clash-detection process is initiated by selecting the two models. The report is given a suitable name and a clash test is initiated.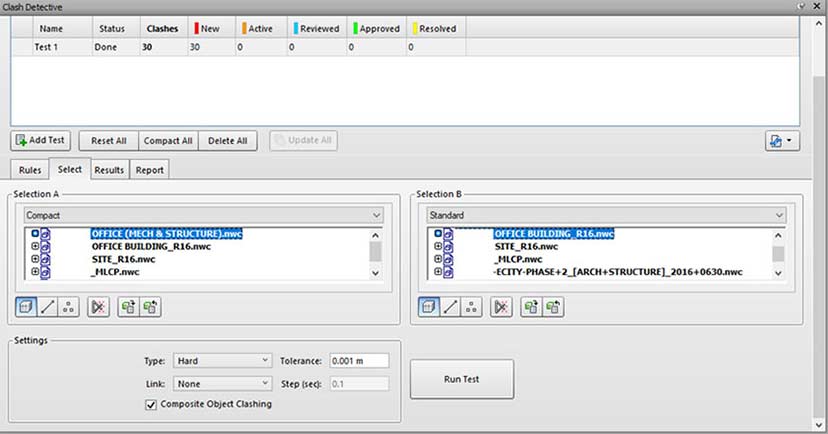 STEP 4: Running the clash test in Navisworks provides a list of clashes between the two independent models with complete clash details.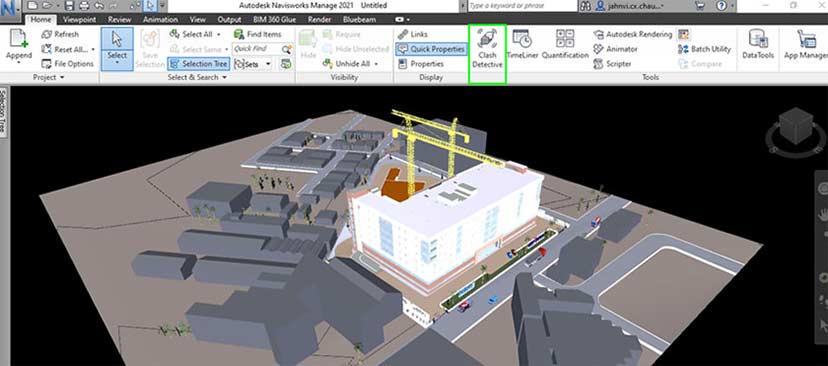 STEP 5: Users can select all the details to include in the clash report by checking various report options. Clicking on the "Write report" option creates a detailed report of clashes within the two individual 3D models.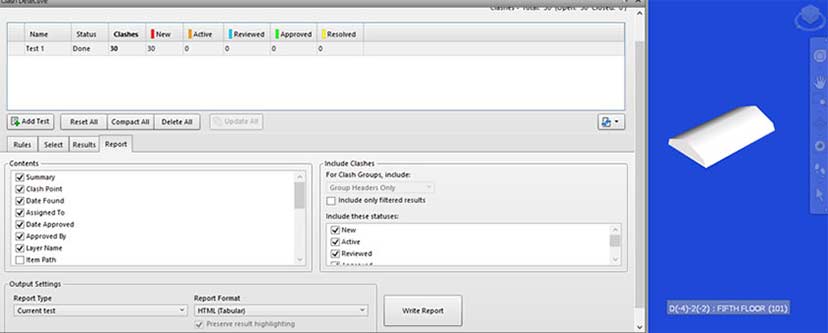 Growing significance of BIM-based clash detection in the AEC industry
BIM-based clash detection holds a very high significance in modern construction. Global projects have become more complex within the Architecture, Structure, and MEPF disciplines. The need to complete projects within stipulated time and budget, makes clash detection a boon with coordination, accurate BOMs, BOQs and GFC drawings. The use of a common data environment (CDE) and clash-free generative designing is gaining traction in complex projects. As time progresses, the use of new and advanced BIM technology with coordinated and interference-free 3D models will become a standard procedure.
Conclusion
BIM-based clash detection and resolution will continue to be a critical process in the pre-construction stage for multiple stakeholders. Having a multi-disciplinary coordinated and clash-free 3D model at their fingertips will ensure cost and time savings within the digital space. Removal of clashes in the early design stage with automation scripts will cut down design, procurement, fabrication, and installation time and budget significantly.
With the world moving towards greater sustainability and higher optimization of energy and resource use, clash detection and pre-construction resolution of clashes will become mandatory and will not remain a matter of choice.