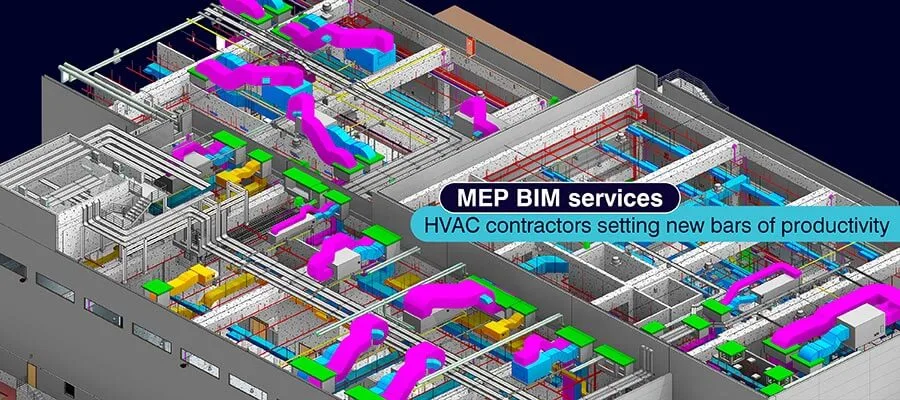 MEP BIM services enable HVAC contractors to manage field operations with greater installation and fabrication accuracy. Clash-free 3D models drive reduced rework and keep project costs well under control.
HVAC construction projects are expensive and complex. Contractors are under constant pressure to complete projects within time and budget. Clashes in the MEP models or drawings often lead to errors during installation of HVAC components such as pipes, fittings, ducts, diffusers, and control panels. While errors and cost overages are a part of legacy workflows, modern MEP services using BIM have significantly reduced them.
MEP BIM services provide highly accurate virtual models of new HVAC systems and existing HVAC systems in renovation projects. The 3D coordinated MEP models include detailed specifications for error-free installation, assembly and operations. The precise spatial coordination, construction sequencing and BIM-based shop drawings have transformed the work pattern of HVAC projects. Contractors can now breathe easy with realistic cost estimations, reduced rework and increased productivity.
A study by Dodge Data and Analytics for Mechanical and HVAC contractors, states – "The Business Value of BIM for Mechanical and HVAC construction revealed that the use of BIM delivered higher precision, fewer errors, and greater collaboration at every project stage."
In this blog, we discuss the challenges faced with 2D HVAC drawings created by conventional methods, and how MEP BIM services can help HVAC contractors improve productivity.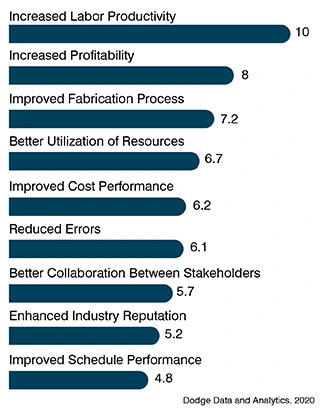 Challenges faced with traditional HVAC 2D drawings
Lack of visualization of HVAC systems and equipment leads to error-ridden HVAC coordination and installation
Conventional process of coordinating HVAC layouts with other disciplines has more errors
Unidentified and unresolved HVAC clashes lead to costly rework and higher material waste during actual construction
Flaws in initial HVAC drawings or HVAC workflows lead to faulty and delayed construction
Inaccurate estimates and site-logistics for HVAC components lead to cost revisions
4 ways MEP BIM services help HVAC contractors to improve productivity
360-degree visualization increases HVAC component installation accuracy
Detailed 3D model visualization of HVAC components leads to increased installation accuracy. Clash-free coordinated MEP BIM models with a 360-degree view eliminate the chances of on-site clashes and rework.
Shop drawings extracted from BIM-based models save time, improve productivity by 84% and streamline fabrication workflow with reduced waste by 90%. With BIM models, HVAC contractors can reduce material wastage of sheet metal, pipes, etc. save time and improve installation accuracy.
MEP 3D Modeling & Clash Detection for Plant Room, Europe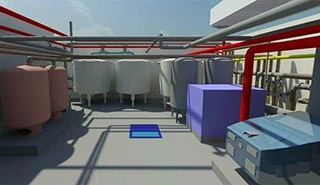 MEP 3D Modeling for Plant Room
BIM consultants required a 3D Revit model and model-based shop drawings for a plant room project in Europe.
The team at Hitech CADD Services designed a clash-free 3D MEP model with 360-degree visualization to help the client gain insights on spatial coordination alternatives. The MEP BIM services enabled the client to save costs with informed decisions regarding installation of MEP components.
Read Complete Case Study »
Accurate HVAC specifications reduce rework and RFIs and ensure better decisions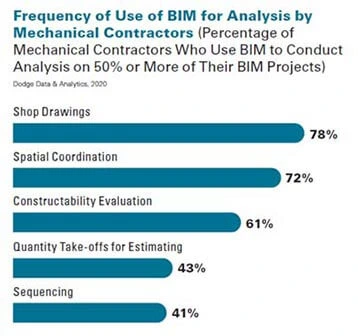 Visualization with 3D MEP BIM models gives better clarity on spatial layouts or placement of HVAC components, making it easier to understand and execute the HVAC layouts.
Since BIM models contain 3D objects and their relevant details, HVAC contractors can also use them for constant reference. This reduces scope of confusion while reading drawings or dealing with onsite issues. Having digital models handy can reduce RFIs by 49%, eliminate potential change orders and speed up construction.
HVAC layouts reinforced with BIM processes and tools at the pre-construction stage result in detailed HVAC installation specifications with maximum elimination of errors.
Increased team collaboration with a single source of project on CDE
HVAC systems are used across projects including residences, commercial, industrial, healthcare, offices or industrial buildings. Installations may include boiler plants, chilled water plants, smoke EVAC systems, wall and floor furnaces, humidifiers or dehumidifiers, energy management units and so on. For the installation of these elements, HVAC contractors need to have interdisciplinary coordination with teams in architectural, structural, electrical, fire systems, etc. They also need to collaborate with HVAC consultants, manufacturers, fabricators and general contractors.
BIM facilitates HVAC contractors to coordinate between teams, building owners, HVAC and energy consultants, sub-contractors, and other stakeholders to give directions, manage resources, material purchase, etc. With BIM coordination tools like Navisworks®, all inter-disciplinary clashes are identified and resolved in the pre-construction stage and stored in a single source or CDE (Common Data Environment).
With easy access to the data via BIM 360, stakeholders can refer to the file as and when needed from any location on any device. Model-extracted HVAC drawings are also coordinated with other trades, enabling HVAC contractors to further improve onsite coordination and installation.
Accurate material take-offs and site logistics for controlled timelines and costs
Accurate HVAC material take-offs, minimum order quantity, inventory control and site logistics lead to project completion within planned timelines and save costs. Detailed HVAC BIM models update any changes in material take-offs or quantification accurately, and in real time. HVAC contractors get exact cost estimates to manage project budgets better.
4D BIM models enable HVAC contractors to streamline site logistics of fabricated elements and other objects by adding time and cost-related information into the BIM model. This helps in accurate planning of fabrication, assembling service objects, installation, etc. As per planned task and related deadlines, contractors can plan material purchases and shop fabrication manufacturing based on 4D HVAC BIM models.
MEP BIM Modeling with LOD 400 for Residential Building, USA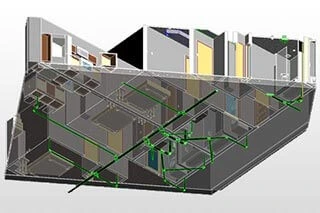 LOD 400 Modeling in Revit®
An architectural firm needed a 3D MEP BIM model at LOD 400 as for a residential building in USA.
The team at Hitech CADD Services created a clash-free MEP model at LOD 400 to help the client gain error-free installation and fabrication of MEP components at the onsite location. The client also completed the project within budget because of the accurate material take offs and site logistics.
Read Complete Case Study »
Future is integration of new age tech with BIM models
Integration of Artificial Intelligence (AI) and Machine Learning (ML) with BIM automates repetitive HVAC modeling tasks for HVAC contractors. For instance, by using ML in a model, contractors can automate pipe placement, based on digital data associated with an HVAC object in the model. AI also has capabilities to control HVAC variables such as the temperature, airflow, humidity etc. while saving energy.
Combining AI with BIM in the future may enable contractors to automatically generate service routes, connections and a 3D model from a single line diagram. In fact, contractors could also configure HVAC services in ceiling plenum or buffer spaces automatically in a BIM model. The advantages of integrating AI with ML for HVAC contractors are limitless!
Conclusion
HVAC contractors are increasingly realizing the benefits of MEP BIM services to evaluate proper installation, avoid rework, enhance team collaboration, and improve site safety. A Dodge and Data study states that 61% of US mechanical contractors receive a model from a BIM service provider before commencing work.
Decreasing overhead costs and boosting productivity are constant concerns for HVAC contractors. A centralized database and BIM automation tools facilitate execution of HVAC system projects within budget. However, with the increase in complexities of HVAC projects, external BIM service provider are becoming increasingly important for the expertise and infrastructure support they bring to the table. Outsourcing BIM design work or teaming up with strategic offshore partners has become an accepted practice in MEP HVAC projects today.