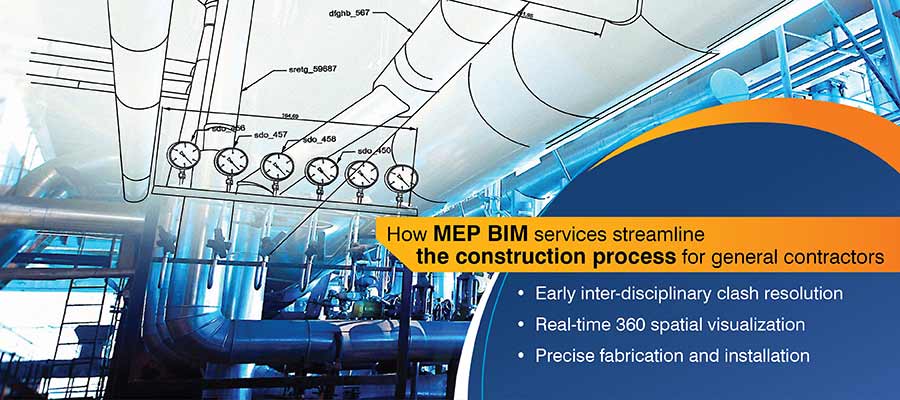 MEP BIM services enable general contractors to gain greater project clarity with enhanced visualization. Accurate and detailed layouts of MEP components, service routings and connections drive "first time right "deliverables and error-free onsite installation.
A highly competitive AEC market has general contractors under perpetual pressure to deliver qualitative work, within timelines and budget. There is no space for iterative processes and costly reworks. While this applies across construction disciplines, the MEP sector with high fabrication and installation complexities is the most vulnerable. Getting MEP designs and layouts right the first time and ensuring hassle-free installation, calls for well-coordinated, highly detailed and clash free models.
The adoption of collaborative 3D MEP BIM services in the preconstruction stage accelerates projects and builds efficiency by optimizing quality, reducing material waste and driving greater project clarity. Shop drawings extracted from coordinated MEP BIM models hold the key to hassle free onsite MEP component installations and minimal reworks.
In this blog, we discuss the challenges faced by general contractors and how MEP BIM services help general contractors achieve construction efficiencies.
Challenges faced by general contractors with traditional methods of MEP services
Traditional methods of MEP services are time-consuming and may be erroneous.
Poor task allocation and lack of clarity on roles and responsibilities lead to construction delays
Low LOD leaves the execution team in the dark about the exact positioning of MEP components
Onsite installation issues, rework, work material wastage due to improper planning
Poor scheduling and estimation of MEP tasks cause project delays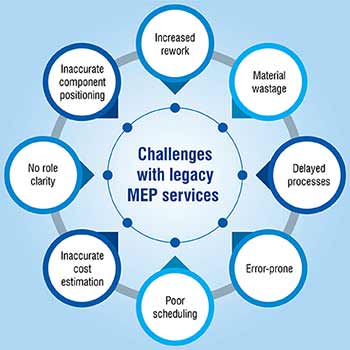 Advantages of using MEP BIM services for general contractors
Transitioning from CAD-based tools to integrated BIM workflows calls for major process and system changes, but the business returns are high. General contractors who have taken the leap and adopted BIM tools have seen rich dividends on their investment in multiple ways across MEP construction stages. Here are some benefits of MEP BIM services for general contractors:
1. Error-free MEP clash detection and resolution
Importing 2D drawings to model-authoring software like Revit® vest general contractors with greater project control. Producing coordinated 3D MEP models at various LOD promotes greater design intent and constructability. Advanced model auditing, scheduling, and walkthrough tools like Navisworks® help the design team identify and resolve clashes in the preconstruction stage.
Deployment of Revit automation through Dynamo , APIs, and plugins speeds up model design by automating repetitive tasks and workflows. Using a broad library of Revit families for MEP components, models can be standardized and customized to build high-value designs.
Clash-free 3D models integrated with BIM automation results in 100% accurate deliverables for a social housing unit, Netherlands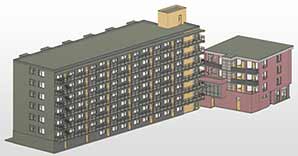 Final Deliverables in Dynamo
A Europe-based architectural and engineering Services Company needed 3D BIM models to digitize their property data. The automation team at Hitech CADD Services used Dynamo and Revit Plugins to provide quality deliverables with 100% accuracy.
Read Complete Case Study »
2. Real-time 360-degree visualization of service routings and connections
Accurate and detailed layout of MEP components like compressors, boilers, pumps, sprinklers, etc. helps general contractors achieve deliverables that are "first time right". Comprehensive visualization of MEP systems or components in 3D and real-time walkthroughs deliver better intent and clarity of respective routings or connections.
Interdependency of various MEP systems like HVAC, electrical components, plumbing systems, and fire protection systems like sprinklers requires MEP BIM coordination services to:
streamline field operations
reduce rework
save time
diminish material waste
360 degree spatial visualization of service routings reduces rework for a plant room, Europe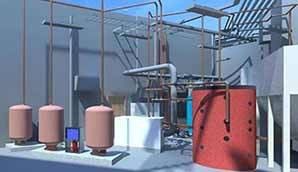 3D MEP Modeling Revit
Europe-based BIM consultants required a coordinated MEP model with a clash-free plant room layout. The team at Hitech CADD Services designed a coordinated 3D MEP model, which helped the client to identify and resolve clashes easily.
The 360-degree visualization brought greater project clarity and helped in making informed decisions, thereby reducing rework and material waste and saving costs.
Read Complete Case Study »
3. High level of detailing of 3D MEP models shows the exact spatial layout for fabrication
MEP shop or fabrication drawings extracted from coordinated and clash-free 3D BIM models assist fabricators with accurate material fabrication. These drawings include penetration drawings, pipe spool drawings, coordination drawings, and As-Built drawings.
Standardized MEP drawings with sectional views built on industry-specific codes can be leveraged by general contractors to identify MEP components and install them in the right place. This leads to improved spatial geometry and space utilization. Early insights into crucial design information in real-time assist MEP engineers and general contractors with:
ceiling elevations
electrical devices integrated into walls
plumbing components installed behind walls
spatial information on rooms
MEP 3D model with detailed spatial layout saves $7M for airport facility, Oman
Clash Resoution
A Muscat-based general contracting company required coordinated and clash-free MEP 3D models and coordination drawings for a new airport project. The Hitech CADD Services team worked around challenges that included coordination, MEP scheduling, clashes in input 2D drawings, and created a clash-free 3D MEP model at LOD 400.
The reduced change orders and 100% precision in MEP systems' installation drove a huge cost savings of $7M.
Read Complete Case Study »
4. Seamless onsite MEP component installation with reduced rework
Comprehensive conversion of 2D drawings to MEP BIM models depicts the accurate placement and routing of components. 3D visualization of MEP components or systems promotes hassle-free onsite installation and better field safety. Proactive conflict identification and resolution of hard and soft clashes with quick turnaround through Revit MEP BIM services reduce RFIs and change orders.
3D modeling of MEP systems or components relays quick changes across the entire model for stakeholders to access updated information or files. A visual check with accurate annotations and tagging promotes standardized MEP layout design to reduce costly rework.
3D MEP model reduces rework for a healthcare facility, Saudi Arabia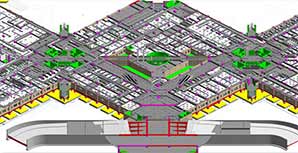 LOD 500 Modeling in Revit
A Saudi Arabian project management firm partnered with Hitech CADD Services to create a 3D BIM model at LOD 500 for a healthcare project. The 2D drawings received as input were converted into MEP BIM models and all interdisciplinary clashes were resolved.
The final deliverable helped the client reduce rework, streamline onsite activities, and save construction time.
Read Complete Case Study »
5. Precise MEP scheduling & cost estimates ensure timely project completion
Information-packed 3D MEP models reinforced with accurate scheduling, Quantity Takeoff, and cost estimation assist general contractors with precise and timely material procurement and improved resource allocation.
Accurate and detailed 4D scheduling and 5D cost estimation reduces workflows clashes, onsite rework, as well as material wastage.
Futuristic view- Incorporating AR/VR into MEP models for an interactive user experience
With AR/VR integration, general contractors can see and understand design features of MEP models better, and from a near-real perspective. This helps to optimize use of materials, and to allocate resources and labor more efficiently. Also, construction needs and clashes can be pinpointed and resolved easily for better project execution, when stakeholders can join in VR walkthroughs. The 360-degree visualization of project models and concurrent inspection of features of the MEP layout results in better collaboration and project planning.
Autodesk® plugins like AR VR for Autodesk Revit allow designers and MEP engineers to publish and share AR-VR-ready models. The plugins also allow quick export and load for AR and VR, secure file storage, high-quality file generation, select item publishing, etc. to make life easier for MEP contractors.
Conclusion
Revit MEP BIM services deliver long-lasting advantages that outperform traditional methods through collaborative and design detailing excellence. 3D MEP coordination powered by Revit serves as a cornerstone for general contractors to build a robust business framework. MEP BIM coordination services can save project time through a quick turnaround of high-quality MEP deliverables.
As a well-set framework, MEP BIM services require experienced teams and MEP professionals to ensure high-quality outcomes flexibility, scalability, and exposure to advanced MEP systems resources. End-to-end MEP 3D coordination and valuable recommendations have the potential to save time and money through software-driven tools.
Save costs and time with accurate quantity takeoffs and cost estimates.
Contact us today →