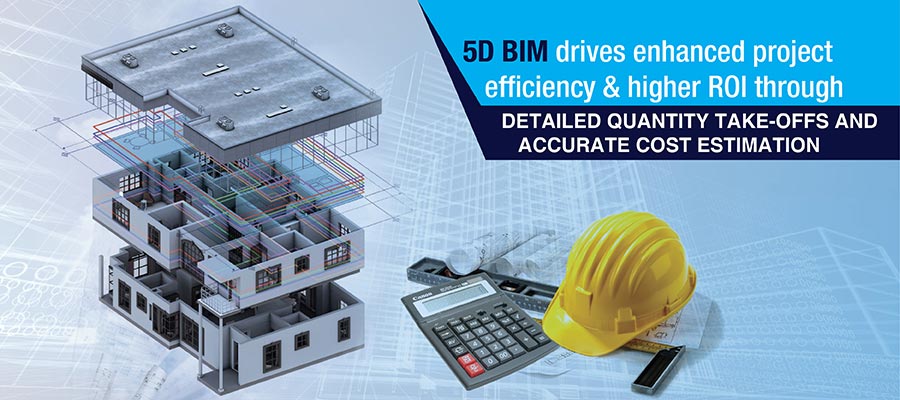 5D BIM models enable accurate cost estimation through additional, real-time information layers of quantity take offs and while factoring in dynamic changes in quantity, schedule and dimensions.
Embracing the fifth dimension or 5D BIM helps cost managers become key beneficiaries in a BIM landscape. Traditional method of 2D cost estimation is time consuming and prone to human errors. Endless manual-take-offs often lead to miscalculations and re-measurement from a set of drawings is extremely labor intensive.
5D BIM connects the "cost" factor to a 3D model, making the cost estimation process consistent, automated and precise. The unique capability of 5D BIM to provide automated quantity take offs and accurate costs at the initial stages of construction in real-time, proves to be a game changer for cost managers. It mitigates rework and redesigns at a later stage of construction, thereby reducing cost overruns.
75% of companies that used 5D BIM found a positive return on investment – McKinsey & Company
Modern-day cost managers are increasingly using information-rich 3D models to build accurate 5D estimates and organic cost plans for clients worldwide. In this blog, we focus on the challenges faced by cost managers and how 5D BIM addresses these challenges.
Challenges for cost managers with traditional methods
The 2D cost estimation process is riddled with bottlenecks such as:
Obsolete concepts and techniques make tracking day to day cost changes difficult
Inability to develop a cost estimation template
Lack of cost consistency due to poor coordination and collaboration
Inability to identify and solve market or contract variances in construction costs
Poor decision-making that impacts project budgets due to lack of visualization
How 5D BIM cost estimation benefits cost managers
5D BIM helps derive faster and accurate BOQs for cost estimating throughout the lifecycle of the project. With BIM and automated cost estimation, cost managers can save on cost, time spent on manual quantification and completely mitigate human interference or errors in the final cost. Here are some benefits of using 5D BIM cost estimation for cost managers.
1. Quick cost estimates
5D BIM's automated quantity takeoffs feature not only helps cost managers save time, but also ensures precise and accurate estimates. It frees cost managers from tedious and time-consuming manual quantification.
Real time parametric data allows automated readjustment of costs to changes and alerts stakeholders of these changes during any stage of construction.
A study by Azhar et al (2008) showed that BIM could reduce up to 80% of the time taken to generate a cost estimate.
2. Accurate quantity takeoffs due to reduced material quantification errors
As the cost data and quantities are live-linked, it ensures that all the cost calculations are updated automatically when any change is made to the design or the structure. Since cost managers make smarter cost estimates through an exact knowledge of material quantification and costs, it results in reduction of errors thereby enhancing efficiency and increasing productivity.
3. Reduced project timelines
A 5D BIM model helps stakeholders understand the influence of any change in project design on the sequencing, scheduling and project budget. When all the stakeholders are on the same page, there is greater clarity and projects are completed within scheduled timelines. The time saved through reduced project timelines, creates a positive business impact and better ROI.
Accurate material take offs shrinks project timelines and increases ROI
A Saudi Arabia project management solutions firm partnered with Hitech CADD Services on a healthcare construction project requiring BIM modeling services.
The fully coordinated and clash-free 3D model at LOD 500 including quantity takeoff calculations and woven with Navisworks® ensured: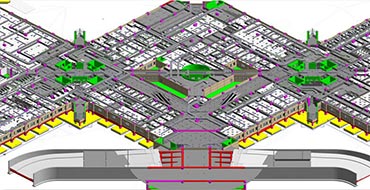 LOD 500 Modeling in Revit
Reduced rework and risk mitigation through detection and resolution of clashes
Accurate cost estimation through precise quantity takeoffs
Better collaboration, on time completion and higher ROI
Read Complete Case Study »
4. Rapid revisions in proposals and designs with complex combinations
Automated and real-time data acquisition through cost reevaluation and information consistency makes it easy for cost managers to evaluate multiple design prototypes or options. Cost managers use 5D BIM to build quick and accurate estimates in various complex combinations. Corrective variations in estimates allow cost managers design various cost prototypes of proposals as per the client needs or requirements for an effective and efficient construction.
5. Greater flexibility and informed decision-making process with pre-visualization
5D BIM linked with a 3D BIM model helps in identifying and resolving clashes during the initial stages of construction. This allows stakeholders greater flexibility in terms of being able to make informed decisions regarding the project materials and cost.
The three dimensional visualization helps stakeholders gain greater clarity and see how various factors will affect the cost of the project. Construction firms may even compare various cost estimates as per their agreed or target cost of construction, which will further help them make informed and smarter decisions.
In a research for "BrIM 5D models and Lean Construction for planning work activities in reinforced concrete bridges", the construction pre-visualization provided by value flow mapping of the bridge piles, helped stakeholders make smarter and more informed decisions regarding construction cost.
6. Greater control over project cost estimates and budget
Automated Quantity take offs allow cost estimators and cost managers to easily monitor changes and help keep the construction cost within the scheduled budget. The improved cost predictability and resource management, helps cost manages gain greater control over project costs.
In a study conducted by Rui Liu and Xiaoqiang Hu in Beijing, China, a 5D model was used in a substation construction project. The model helped with collision detection and reduced rework, resulting in savings of RMB 1.3 million on project cost. The construction work was completed three months in advance with improved efficiency of 70%.
7. Easier analysis of project risks
Since 5D BIM provides detailed information about material costs and schedules, stakeholders including project owners, contractors, sub-contractors, etc. can collaboratively achieve:
timely delivery
cost efficiency
project quality
How automated quantity takeoffs impact overall costs
With 5D Cost Estimation, the material take-off process becomes quicker through an automated list generation that is incorporated in the model through component attributes or libraries. An accurate estimate can be generated if cost information is attached to the materials or objects. Preparation of quicker and accurate model-based quantity surveys brings in greater efficiency and an enhanced workflow within the design teams.
Accurate Cost Estimation leads to higher precision and predictability in analyzing:

construction costs

variations in materials

quantities

equipment and labor
Integrating 5D cost data with 4D scheduling in BIM 360 (cloud-based platform) helps cost mangers track costs in real time across devices without being physically present at the construction site.
Combining 5D with AR/VR
BIM has eased the visualization of designs with real-world parameters largely; an extent that CAD could probably never reach. BIM combined with VR has brought in innovative changes and provided ease in perceiving designs with better finishing and higher accuracy. Using VR with 5D BIM will help stakeholders virtually see the structure before the actual construction and make informed decisions at the initial stages of design.
In Doris McCarthy's words,"You are actually constructing….what your head understood about what your eyes saw".
Taking it a step further would be combining it with Augmented Reality (AR) where one would be able to see the real world and interact with it. Walkthroughs with AR use the existing environment to enhance the user's perception through smartphones such as GPS and gesture recognition systems.

Finally, it may be concluded,
5D cost estimation plays a key role in the successful delivery of a construction project. Cost managers can utilize this tool for accurate cost planning and development at the conceptual phase. It helps them provide precise valuable cost advice on multiple design proposals. Cost managers can refine these estimates as the project progresses and achieve enormous opportunities to elevate the value of their services to a higher level.
With new and improved software, cost estimators and quantity surveyors will continue to find new and improved ways of estimating accurate and precise costs for construction projects.