Hitech remains fully operational amidst the Covid-19 challenges. Our business continuity plan is fully in place and allows our teams to conduct 'business as usual' remotely and safely. For any questions, please connect with Bachal Bhambhani (USA)
+1 408 338 8047
or Brett Parnham (UK/Europe)
+44 782 436 5444
.
Project Information
Client Profile
Project Management Solutions Firm
Industry
Healthcare Construction
Deliverables
Coordinated 3D BIM Model
Software
Revit Architecture, Revit MEP, Revit Structure & Navisworks
Client Challenges
Onsite construction had already begun when the project was outsourced to Hitech CADD Services.
BIM modeling had to be performed during facilities operation and management for architectural, structural and MEP disciplines.
Interdisciplinary clashes had to be eliminated, schedules had to be prepared and material take off had to be calculated during ongoing onsite construction.
Business Needs
A project management solutions firm from Saudi Arabia needed to develop a coordinated BIM model for a University Hospital Building. They needed an accurate coordinated 3D BIM model in LOD 500 that would enable them to attain better ROIs with scheduling.
Our Solutions and Approach
Our team of BIM and MEP engineers developed a fully coordinated 3D BIM model with LOD 500 and AIA standards using Revit and Navisworks.
With offshore and onshore resource allocation, our team could facilitate faster collaboration and meet deadlines.
Accurate BIM geometry, documentation and as-built BIM information required for Operation, Maintenance and Facilities Management was documented as well.
Interdisciplinary clashes were detected and resolved using Navisworks to mitigate risks and rework.
Higher collaboration was enabled through accurate material take-off's and construction scheduling using Navisworks.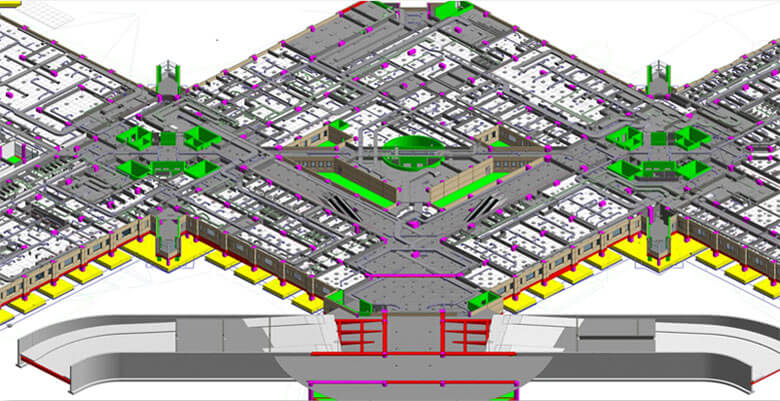 LOD 500 Modeling in Revit
Business Impact
A final clash-free 3D BIM model in LOD 500 was developed and delivered to the client that helped streamline construction activities, reduce rework and save time during construction.
This model also helped the client achieve their goal of being able to garner better ROI through appropriate scheduling.