Hitech remains fully operational amidst the Covid-19 challenges. Our business continuity plan is fully in place and allows our teams to conduct 'business as usual' remotely and safely. For any questions, please connect with Bachal Bhambhani (USA)
+1 408 338 8047
or Brett Parnham (UK/Europe)
+44 782 436 5444
.
Project Information
Client Profile
General Contracting Company
Location
Muscat, Oman, Middle East
Industry
Airport Infrastructure Construction
Inputs
Set of IFC drawings and BIM models for architectural and structural Part
Deliverables
Clash-free MEP 3D Model, MEP Coordination Drawings
Software
Autodesk Revit & Navisworks
Services
MEP Clash Detection
Client Challenges
Airport construction had already begun when the client contacted Hitech for clash detection / conflicts and resolution.
Scheduling and installation for MEP fit-outs was causing a lot of rework to the client.
There was abundant clashes during conversion of 2D drafts to 3D MEP models, requiring mitigation within set budgets and immediate resolution.
A Clash free MEP model was needed on priority basis to provide efficient conflict management in a very tight schedule.
Business Needs
The company needed to convert 3D BIM Models in REVIT, integrate architecture, structure and MEP models in NAVISWORKS and prepare Clash Detection Reports. The inaugural date of the terminal was pre-decided which made it imperative to ensure that the deadline was met with no delays.
Our Solutions and Approach
The clashes to be resolved required rework for a large area of 350,000 mt. premises, which if not resolved, would result into a big loss.
Initial IFC drawings shared by the client were studied by the project team at DD level and imported to Revit.
Clashes were detected and resolved by importing MEPF 3D BIM model in Navisworks that was originally developed in Revit.
Proper QC channels were established to ensure that there are no delays in the work and client can act on site as per the new model.
Installation of heating, plumbing, firefighting and HVAC systems on the construction site was done as per the new model as prepared by our MEP engineers.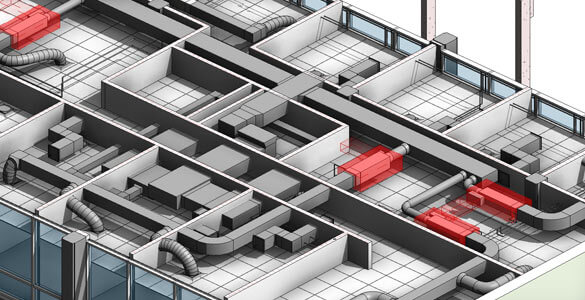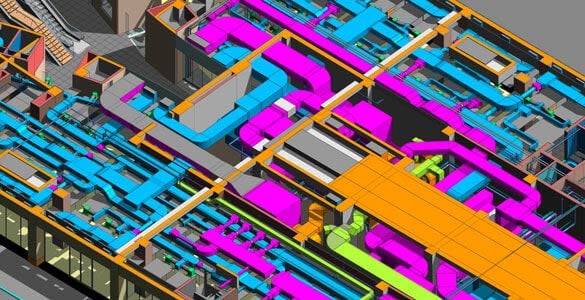 The client could carry out hassle-free installation of MEPF equipment because of clash free coordinated Revit BIM model and a significant cost saving was observed. The rescheduling due to eliminated clashes eliminated reworks, which led the company to meet stipulated project deadlines.
Business Impact
Hitech's BIM/VDC tools & collaborative project delivery approach resulted in savings of $7M in 6 months. Project completion resulted in an operational terminal with 100% of MEP systems installed with zero change orders due to diminished filed conflicts.