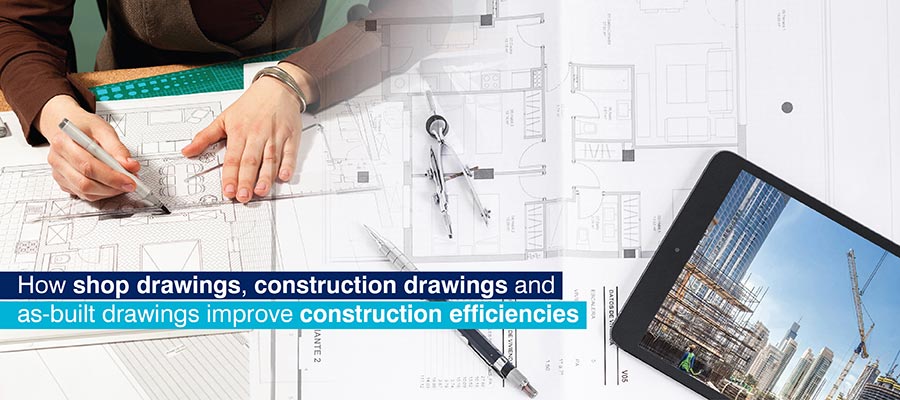 From project approval to onsite work, every stage of construction is guided by different types of drawings. A comprehensive understanding of shop drawings, construction drawings and as-built drawings will help you execute projects better and increase construction efficiency.
Project drawings break down the designs of complex construction into executable parts according to needs and application. While there are many categories of project drawings, shop drawings, construction drawings and as-built drawings are what we encounter on a daily basis.
Field personnel can often become confused if they do not understand which type of drawing is applicable where, as these do not carry the same information or perspectives. It is impractical to create a single 2D drawing carrying all information and catering to every need of construction work. Detailed drawings are also necessary for code compliance, zoning needs, authority approval, and as part of service contracts.
Thus, architects and engineering consultants use multiple categories of drawings in a building project. With the need for such detailed and special project drawings growing every day, the global market for drafting services has already crossed $5 billion. Project drawings in 2D for various disciplines can be categorized as architectural drawings, structural drawings and MEPF drawings.
The following article helps understand what construction drawings, shop drawings, and as-built drawings are, and what is included in each.
Construction Drawings (LOD 350)
What are construction drawings?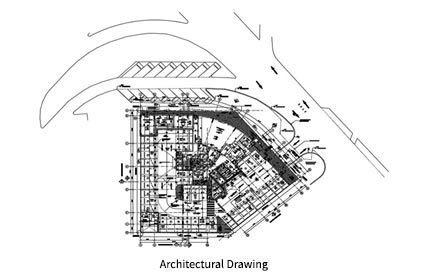 A construction drawing, also called a building plan, is a part of the preconstruction stage and serves as a crucial deliverable to begin a construction project. They are prepared by architects to represent architectural elements and specifications before onsite work begins. Some construction drawings are also called "Issued for Construction (IFC)" drawings. These are approved drawings and used for actual construction purposes. Construction documents are prepared by architects or designers before the bidding process and serve as official contract deliverables.
Get 98.5% error-free construction documents with a quick TAT of 4 weeks
LEARN HOW »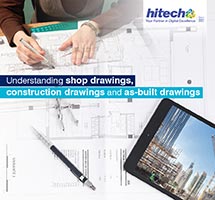 Don't have the time to read the entire article right now?
That's Ok. Let us send you a copy so you can read it whenever you want to. Tell us where to send it.
When are construction drawings used?
Construction drawings are used for tender, for a contract between contractors and owners, or actual construction. Construction drawings need to be easy and clear for reading purposes, as any misunderstanding can lead to delays or errors. Construction documents are enriched by specification documents that include standards, techniques, and materials that need to have adhered to for site construction.
Details that need to be included in construction drawings
Construction drawings also include data from other trades including structural engineers, HVAC specialists, electrical and plumbing engineers, and fire safety professionals. The level of information and external inputs would depend on the project scale. A set of construction drawings includes:
Floor / Roof plans – general arrangement drawings to project an overview of the building
Elevation drawings – for detailed information on sections, plans, and external finishes
Sections – to provide detailed information on floors and walls including levels and heights
Part details – including junctions and connections or details on material changes for building elements
Door or Window schedules – listing windows and doors with the required information sets
Drainage and external works
Landscaping and Furniture plans
Reflected ceiling plans
Some common types of construction drawings are: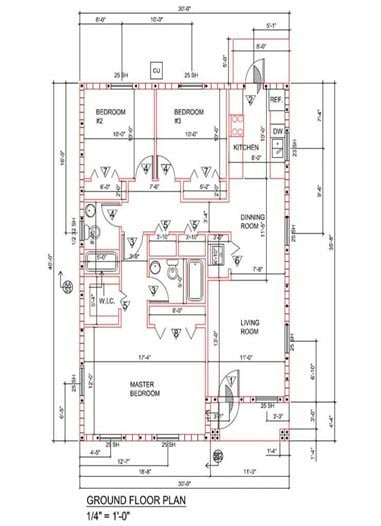 Floor Plan Construction Drawing
Room names
Dimensions and scale
Wall size – external and internal
References to detailed drawings and section lines
Details on materials and specifications including notes
HVAC, electrical, plumbing, and fire-safety information
Various building levels
Elevation Construction Drawing
Drawing scale
Dimensions
Floor levels and ground level
Finishes and Cladding
Slope, Roof shape, and materials
Sectional Construction Drawing
Dimensions and Scale
Size of partitions and exterior and interior walls
Location of elements like beams, columns, etc.
Information on stairs
Detail drawing references
Material details, notes, or specifications
HVAC, electrical, and fire safety information
Building level
Information on foundations
Detail Drawings
Detail drawings are created on a 1:20 or 1:10 scale based on the project size and information contained within the drawings. Detail drawings demonstrate:
Complex build parts
Junctions
Typical details
What are the benefits of construction drawings?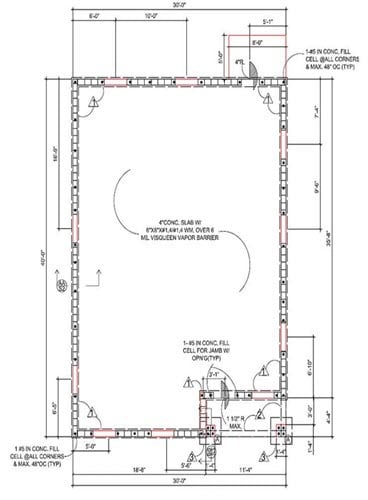 Construction drawings help architects and architectural firms during the approval process, bidding process and handover to contractors. They help to:
Preserve work speed and productivity
Reduce unnecessary costs and material waste
Improve phase-by-phase project monitoring
Promote prefabrication
Encourage future planning and decision-making through data accuracy and completeness
Collaborate better, and to stay connected and informed
Streamline project execution to complete projects on time and within budget
Save significant amounts of money and time through quick and effective fault correction
Shop Drawings (LOD 400)
What are shop drawings?
Shop drawings are important for manufacturers or fabricators to represent design intent with detailed plans. They help in the fabrication process by providing important information including that on manufacturing, assembly, and installation of building components. Shop drawings are produced by the contractors subcontractors, fabricators, or manufacturers.
Reduce production time by 20% with 100% output quality
LEARN MORE »
When are shop drawings used?
Shop or fabrication drawings are used for prefabrication or onsite installation of components. With shop drawings, fabricators or manufacturers can figure out material types for components and installation dimensions.
Details that need to be included in shop drawings
Details that need to be included in shop drawings include:
Dimensions, connection details, and other special instructions for fabrication
Tags and dimensions of components
Clearance and assembly details
Section views and notes on deviations, changes, and dimensions
Title block with project number, name, legends, and abbreviations
Information regarding erection and installation
Construction document comparisons for quick approvals from engineers or architects
Data of initial drawings and revisions
CAD drawings of the fabricated component with various angles
Step-by-step assembly or installation with diagrams, connections, and materials
References that point to prefabrication with specifications and requirements from the original design
Notes on dimensions at the job site for review and verification before fabrication and installation
What are the benefits of shop drawings?
Shop drawings help onsite personnel in accurate and precise installation of building components as well as fabrication. They help in:
Getting an accurate design model, optimized schedules, efficient cost estimates, and quantity takeoffs
Improving production quality and efficient handover
Effective communication and collaboration across multiple activities
Defining the roles and responsibilities of stakeholders
Improving coordination to reduce risks and liabilities
Enhancing engineering analysis and accuracy
Augmenting the construction document submittal process for construction and renovation
As-built Drawings (LOD 500)
What are as-built drawings?
An as-built drawing can be a document of a record or a drawing created and delivered by architects, designers, or contractors after project completion. As-built drawings can represent and support thousands of building processes. These drawings can be used to manage the lifecycle of the project after construction is over. As-built drawings are deliverables that simplify comparisons and contrasts between the design and final specifications. They include all the modifications done during the construction project.
When are as-built drawings used?
As-builts are used for the following purposes:
Get the right set of information for sub-contractors
With a complete record of change, teams can solve issues quicker and owners can save costs and speed up operations
As-builts are requested by government agencies to issue permits
With a complete record of project changes, owners can visualize what is built to improve the renovation process
Details that need to be included within as-built drawings
As-built drawings need to include the following details:
Record scale changes or utilize original scale drawings
Use clear descriptions and labels
Include modifications in dimensions, sizes, materials, locations, fabrication, and installation data
Modification dates
Record changes as per the final inspection
Attach appendices and shop drawings
Additional work done that is deemed extra to the original plan
What are the benefits of as-built drawings?
As-built drawings deliver the following benefits for key stakeholders:
Faster, efficient, and on-time renovations and demolition
Improvements in process hazard analysis and process safety management
Better building management by location, repairs, specific materials, and layout
Assist project managers assign tasks, improve operations, and resolve unanticipated problems
Track project progress, troubleshoot construction issues, set realistic deadlines, and provide estimates
Faster subcontractor onboarding for review design, issue identification, comparing final and initial design, and completing tasks efficiently
Advantages of outsourcing coordinated drawing services
Outsourcing drawing services can transform design and construction through cost savings, faster turnaround, and high-quality drawing deliverables. The principal focus of outsourcing your drawing needs is to go asset light while tapping into bigger talent pools, while committing in-house teams to core business activities. Top seven advantages of outsourcing drafting services include:
Complete access to expertise for construction drawings, shop drawings, and as-built drawings
Scalable engagement models tailored for specific projects and client needs
Improved productivity through specialized drafting expertise and advanced tools
Code and standards compliance to achieve drawing precision, higher accuracy, and data validity
Cost efficiency through higher productivity, greater dependability, and quick turnaround
Access to a full range of services like 3D BIM modeling, life-like 3D models, graphical 2D drawings
Zero overhead costs for infrastructure, software, and talent hiring
Conclusion
Construction drawings, shop drawings, and as-built drawings are completely different in their functions but are needed across the design and construction phases. For efficient construction project execution, accurate, complete, and updated drawings are a must. Without these, field personnel cannot carry out error-free installation of construction components within planned timelines. Architectural engineering consultants today, outsource their drawing needs to experienced BIM service providers for better project outcomes.