Paper based drawings or images for product designs degrade with the passage of time which cannot be retrieved. Also, making changes in original designs is difficult and there is not reference for re-manufacturing the component.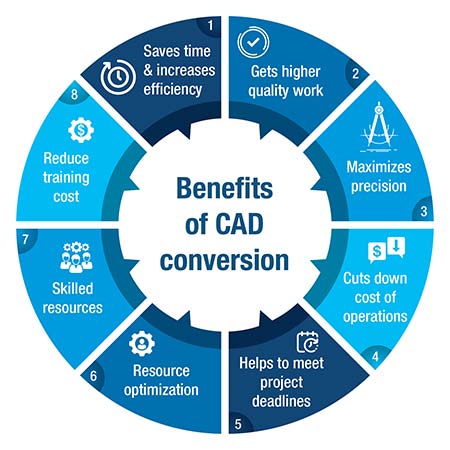 We help you translate your legacy design data to vector 2D and 3D CAD drawings with almost no data losses and accuracy in drawings. Our CAD drafting teams can efficiently convert hand sketches, scanned images and paper based drawings or PDFs to CAD drawings and 3D models to help manufacturing drawings for seamless manufacturing.
Our SolidWorks CAD teams liberate your engineers from ordeals of CAD conversion to work on real designing.
We leverage AutoCAD and SolidWorks to transform MCD or TIFF files into DGN or DWG files and DFX to enable design data exchange for manufacturability. We adhere to ASME, ANSI, BS, IS etc. design standards to help you maintain uniformity and uninterrupted design communication.
Offerings under CAD conversion services:
Raster to Vector conversions
Scanned images to CAD conversion
2D CAD drawings to 3D solid/surface modeling
Hand conceptual sketches to MBD in SolidWorks
Digitization of Manufacturing drawings, fabrication drawings, etc.
Migrating to CAD for shop drawings and part & assembly drawings
Preparing production drawings, machining and casting drawings
CAD Isometric views and exploded isometric views
Managing grids, overlay texts, custom notes and blocks on drawings
Is CAD conversion services right choice for you?
For legacy furniture design and industrial plant owners, CAD vectorization services essentially focus on converting scanned images of furniture designs and industrial components into CAD surface models with appropriate color coding, dimensions and tolerances for manufacturing.
If you are a building product or industrial equipment manufacturer, we with the help of CAD conversion, we help you develop CAD files and drawings with BOMs that help make design correction, changes, consulting feedback, and generate digitized quotes.
Why choose us for Outsourcing CAD conversion services?
When outsourcing CAD conversion, there are risks of quality and data privacy. While your partnership ensures you to adhere to 100% deliverables and complete design privacy, enlisted are other added advantages of partnering us:
Value additions for missing design data
Complete adherence to industrial design standards
100% quality achieved with first time right design approach
100+ dedicated CAD drafters' teams for client
Drop us an email at info@hitechcaddservices.com to discuss your CAD conversion needs.