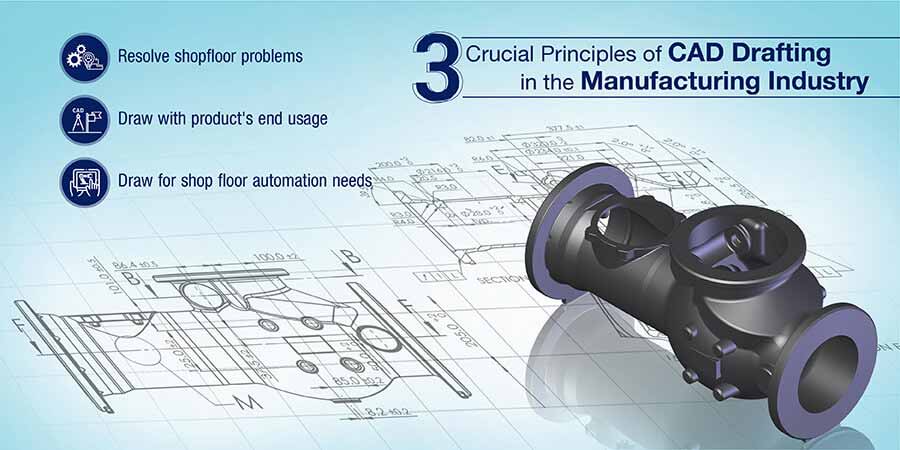 Manufacturing runs on countless principles, but CAD drawing for the manufacturing industry runs only on three simple rules. Apply these rules to avoid costly mistakes and stay future-compliant.
Manufacturing sector has shown diversified use of CAD applications at every stage from design development to finalization and from modeling to shop floor.
Manufacturers and consumers have become more specific about manufacturing capabilities and product needs. Thus, there is a constant influx of change orders resulting in chaos for CAD engineers. These three rules for efficient CAD drafting techniques for designers will help you stay profitable and contemporary with your deliverables.
What are these CAD drafting rules?
Rule 1: Draw to resolve problems on shop floor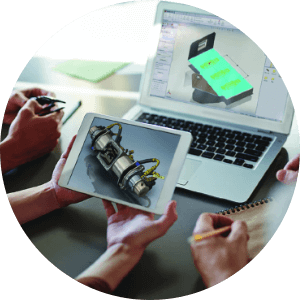 So the problems first; but what do we mean by problems? And how do CAD drawings resolve problems on shop floor?
The primary purpose of all CAD drawings is to bring design engineers and manufacturers on the same page. The biggest challenge for designers and manufacturers both, is gaps in designing (ideal) and manufacturing (real).
So, manufacturing shop drawings is their go-to place for resolving challenges and communicating design intent on the shop floor. When you create a mechanical component or equipment drawing, it essentially conveys the design intent of the product designer or industrial design engineer to the shop floor for uninterrupted fabrication.
Thus, any CAD drawing should offer:
Design communication on shop floor
Structured fabrication information
Sequential assembly and installation guides
Annotations for manufacturing processes
Engineering and manufacturing BOMs
When you've meticulously detailed your drawings with these sets of information, the drawing becomes one single place to find all the engineering information for the part or assembly being manufactured.
To offer drawing completeness, engineers at Hitech CADD Services generate several RFIs at the beginning of the drawing process. This helps communicate all details related to design and manufacturing well in advance. The process has not only helped them incorporate details, but has proved beneficial in bringing down design cycle time by 70% and design costs by 60% for a UK based furniture manufacturer.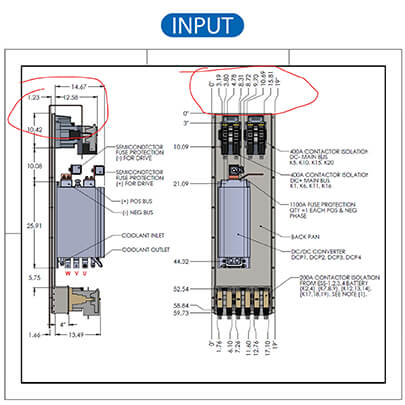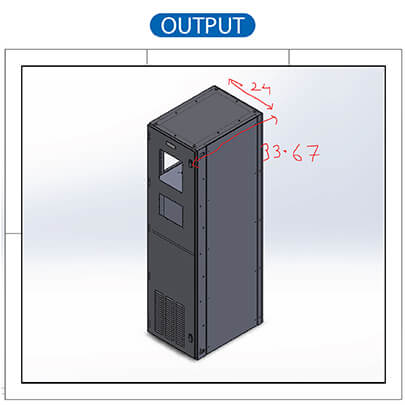 When you solve problems for shop floor engineers or manufacturers while drafting, you essentially focus on completeness of every CAD draft created. It eliminates clumsiness during design handoffs and both sides can resolve their problems through one master CAD file.
Rule 2: Design from the perspective of product usage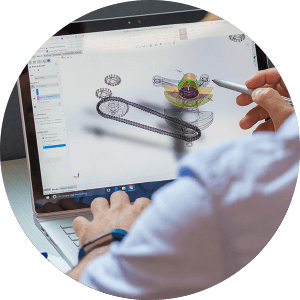 The end utility of the product has the spotlight across the design stage. But once designs are approved, the final goal is diluted and often never conveyed to the CAD drafter for creating production drawings.
This is our biggest flaw. And that is the reason why drawings once created and released for shop floor manufacturing need a lot of do-overs and corrections. It delays product manufacturing and thus the time to market.
Let's look at some end scenarios for industrial products:
Part manufacturing which fits into a bigger assembly
Standalone component manufacturing
Exposure of the part to extreme conditions (wear, temperature, pressure etc.)
Frequent replacements possibilities
Required for critical process
Replicating design with minor changes for mass customization
Timelines and examining the scope of automation
When these factors are clear to CAD engineers, they can develop detailed part drawings to meet the goals. Whatever the design approach maybe, top-down or bottom-up, when end goals are clear, design revisions are minimized to almost nil.
Project engineers are also empowered to plan and set up achievable milestones. Design automation is one such factor which is often realized late in design process when the designers have to go through iterative modeling process.
However, at Hitech, engineers examine the scope of design automation and CAD customization at the beginning of the project. Such practices have resulted in reducing 8 hours of design work to only 30 minutes and automated 90% of design data entry work for a stair lift manufacturer based in the UK.
Further, when end goals are clearly communicated, the experienced CAD engineers can adopt the best possible work approach with least efforts with optimum outputs.
Since manufacturing drawings warehouse information including geometrical dimensioning, tolerances, manufacturing methods and precaution in the form of symbols, footnotes, and much more, they take time to be generated. The turning point for Hitech engineers here was automation of entering the details into CAD files which could generate flawless manufacturing drawings.
Rule 3: Design to keep up with ever-advancing shop floor automation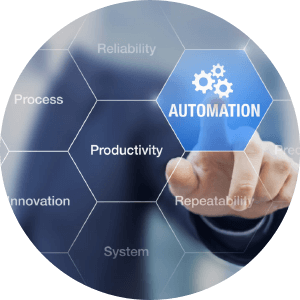 While including shop floor needs in drawings is important, what's equally necessary is being future-ready by adopting new trends in the industry. As the manufacturing industry gears towards the fourth industrial revolution, where every stage from concept to manufacturing is moving towards automation, CAD – digitization of design will be the first step for manufacturers.
With digitization in manufacturing and CAM systems becoming prominent, CAD is inevitable to translated data for auto-creation of NC codes. Furthermore, CAD-CAM software also facilitates the medium for the shop floor engineer to gain insights based on metrology, robotic systems on the floor, and other digital design tool management – all building blocks for Industry 4.0.
Together, these impacts of digitization aim to increase production quality, reduce tool wear and tear, and accelerate production cycle. For instance, an industrial equipment manufacturer in the US cut 75% of the machine time with appropriate dynamic tooling paths using 2D cutting and 3D roughing paths.
With digitization comes automation. And as clear as it gets, it is aimed at increasing the process accuracy and cut repetitive tasks.
Companies like Hitech are setting new benchmarks for the automation by taking sheet metal door frame designs directly to CNC machines with DriveWorks. Automation engineers at Hitech create engineering document with reduction in design cycle by 70% and improve quality by 99%.
Bringing it all together
These principles for CAD drafting remain contemporary even though CAD tools are ever evolving. Today, as the concept of Industry 4.0 with connected devices and 3D printing emerge rapidly, these three principles of CAD become even more critical. As both these trends are based on digitization, developing comprehensive CAD models and drawings for your legacy designs is the foundation.
These principles are rules to avoid revisiting CAD drawings for corrections especially when the industry landscape is transforming. Going forward, these principles also work towards adapting to the changing requirements and preparing engineering firms for the coming times.