From conventional drawings to 2D CAD, mechanical design communication improved; however, achieving greater production efficiency is still difficult. Deciding tool path would be difficult with 2D and needs dual quality checks.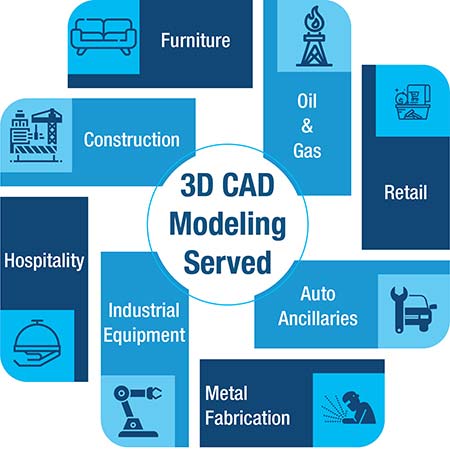 We help collaboration of your design teams with the manufacturing shop floor engineers by developing comprehensive 3D CAD solid and surface models. Our CAD modelers develop comprehensive 3D models with strategic points and DXF files to generate NC code directly.
Additionally, we create detailed 3D models and automate the modeling process wherever possible that allows you to explore many design options with reduced iterative product development.
Our teams partner your shop floor engineers and develop 3D models to remove inefficiencies and establish a streamlined workflow between design and fabrication needs for assemblies and sub-assemblies.
Our 3D CAD modeling services include:
Our 25+ years of experience and expertise in 3D CAD modeling helps you in increasing design flexibility for more than one design teams by delivering 3D models for across enlisted areas:
Parts, components and assemblies
Plant layouts with BOMs
Sheet metal part designs
Welded structures, frames and bases
Piping and tubing design with cut lengths
Converting 2D CAD / scanned / hand drawings
Physical part to models for reverse engineering
Surface modeling and wire frame modeling
Bespoke furniture products
Millwork and casework models
CAM-ready files with IGES, STEP file formats
Why outsource 3D CAD modeling to us?
We have executed 3D CAD modeling projects for multiple industry verticals that gives us an edge to help you resolve your design challenges easily and during early design development stage. Your partnership with us for outsourced CAD modeling projects we offer you benefits in form of:
Onshore and offshore modeling teams
Quick resolution of design challenges
Find scope and implement design automation
Reduced engineering lead time with automation tools
Expertise across all leading CAD platforms
Contact us to send your detail requirements and our CAD managers will provide solutions for your 3D CAD modeling projects.