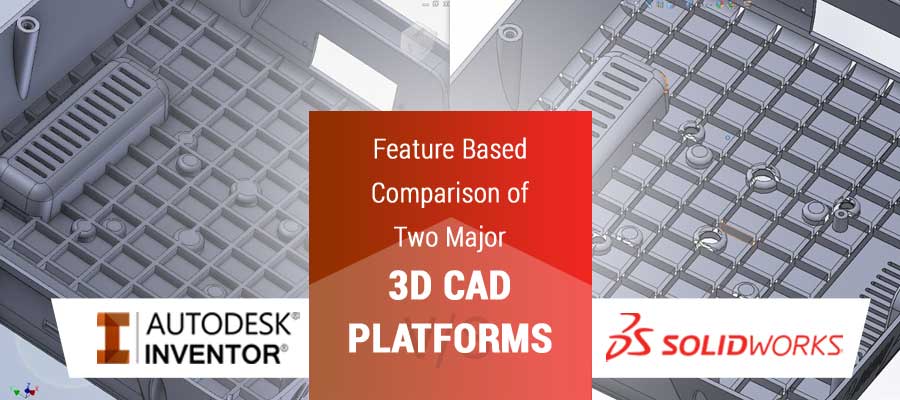 SOLIDWORKS and Inventor are two of the leading 3D CAD modeling platforms utilized in most of the industries today. With each having its own differentiating factors, there is always a question on choosing the one that is best. While some prefer the user-friendliness of SOLIDWORKS, some find Inventor as a better alternative to suit specific requirements. Comparing the two however is like comparing apples Vs apples. Both are equally capable to help design engineers to model complex geometries with ease and have their own modules or features integrated to extend the design for other departments.
At Hitech, we have been utilizing both these tools for our clients. Working on different projects including sheet metal, solid modeling, large assemblies, design automation and 3D rendering, we feel that there are certain important features that can certainly differentiate these two leading CAD modeling platforms. Here are some of them:

Sketch
Function


Contour
Closing the contour finishes the line automatically
Requires pressing ESC to finish the line
Dimensioning Tool
Less functionality and requires additional click for aligned dimension
Advanced functions such as text formatting, symbols, comments, etc.
Editing
Changing the geometry size causes instability at times
Remains stable
Sketch Constraints
Less User Friendly
More User Friendly

Features
Function


Extrude
Reference must be surface to start or end extrude
Can be vertex, surface or offset from surface
Revolve
Reference for "To" must be surface and no possibility to Offset for "From" reference
It is possible to reference vertex for both "To" and "From"
Hole Wizard
End Condition: Distance, Through all, To
Slots: No
Hole on Curved Face: Additional plane required
End Condition: Blind, Through all, Up to Next, Up to Vertex, Up to Surface and Offset from Surface
Slots: Yes
Hole in Curved Face: Can be placed on any face
Sweep
Profile Twist: Limited possibility
Bidirectional Sweep: Not available
Profile Twist: Greater possibility
Bidirectional Sweep: Yes
Patterns
Linear/Rectangular: Yes but not possible to skip instances
Circular: Yes, but cannot skip instances. More options in positioning method.
Linear/Rectangular: Yes
Circular: Yes. Only linear positioning method available.
Other Patterns: Sketch driven, Curve driven, Table driven, Fill pattern.

Assemblies
Function


Mates/Joints
Standard Mates: Coincident, Parallel, Perpendicular, Concentric, Distance, Angle
Width Mate: No
Mechanical Mates: Few
Standard Mates: Coincident, Parallel, Perpendicular, Concentric, Distance, Angle
Width Mate: Yes
Mechanical Mates: More advances
Assembly Inspection
Interference detection
Interference detection, clearance verification, hole alignment
Large Assemblies
Load Modes: Resolved and Express
Load Modes: Resolved, Lightweight, Large Assembly Mode and Large Design Review

Drawings
Function


Printing
Drawings sheets can be excluded from printing or counting
No Such Possibility
Update Drawing
"Defer Updates" function to stop updating drawing from the model
No Such Possibility
Dimension Favourites
Not available
Available. It is also possible to add text under dimension line
While the comparison may not be exhaustive, it is clearly visible that SOLIDWORKS offers much more functionality with each feature to keep design process glitch-free. That being said, Inventor still has multiple features that come as standard compared to the basic SOLIDWORKS version.
Additionally, Inventor has significantly low cost of ownership. Both the platforms have design automation capability. While Inventor utilizes an in-built iLogic feature, SOLIDWORKS uses a 3rd Party solution called DriveWorksXpress which is free but has limited functionality. For a comprehensive engineering design automation and CAD customization solution, it is required to purchase Solo or Pro version of the DriveWorks.