With fluctuating raw materials supply and rising complexity as well as bespoke-ness in industrial designs, manufacturing firms face a constant pressure. At this juncture, meeting finished product delivery on time is an arduous challenge.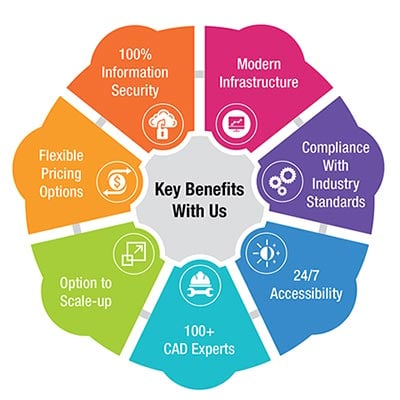 Our mechanical design services address these issues by closely working with the manufacturers, fabricators and design engineering firms to bridge the gaps between design and shop floor.
We analyze and implement automation modeling, drawings and documentation process using configurators and customization tools using logical programming to accelerate engineering lead time.
Mechanical designs are primarily focused on defining solid and surface geometries in 3D CAD modeling and manufacturing drawings. While industrial designs are more inclined towards emphasis on developing designs based on engineering, ergonomics and economics while keeping manufacturability in the center.
Our CAD experts and industrial design engineers adhere to these two principles and deliver comprehensive CAD drafting with detailed engineering specifications to develop ideas into products. From CAD modeling to proof of design concepts with FEA and CFD simulations and final shop drawings, our teams deliver onsite and offsite models as per industry standards and design guidelines of DFMA, ASME, BS etc.
Enlisted are the services our mechanical design engineers deliver:
Concept design drafting
Detailed engineering drawings with 2D documentation
3D solid and surface modeling
Value engineering through prototypes
3D CAD modeling for Industry 4.0 support
Data backed designs with engineering analytics
Design automation and CAD customization
Design optimization with FEA and CFD solutions
Reverse engineering services for remanufacturing
Contact us today to get more information about our mechanical design services.