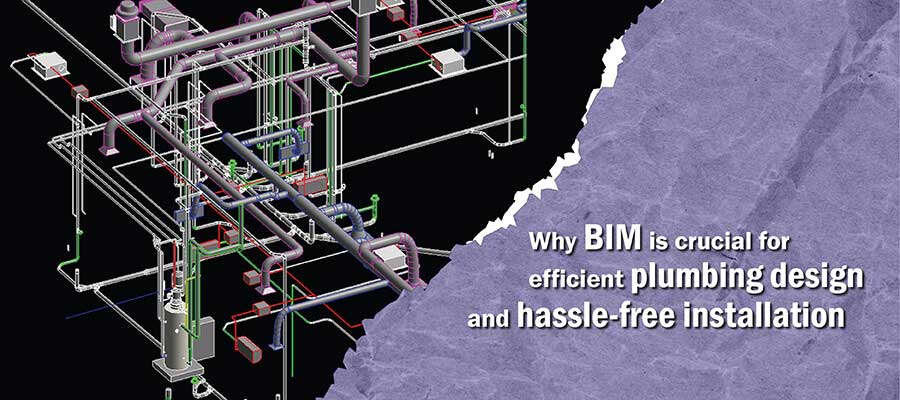 BIM-enabled plumbing drawings enable early detection and resolution of clashes, positively impacting schedules and project costs. Detailed plumbing isometrics, better visualization, seamless and cross-discipline coordination and collaboration are key contributing factors.
For decades, designers and plumbing engineers in the construction industry have managed building information through blueprints and lists of specifications. Working in silos using traditional methods, creates major disharmony between plumbing and mechanical and electrical drawings. This leads to costly and unaffordable rework, given that plumbing typically accounts for 6%–8% of the total construction cost.
BIM shows the way to effective and well-coordinated plumbing design and drawings.
Along with a bird's eye view, 3D BIM plumbing models also allow a plumbing designer to visualize the plumbing framework at a granular level. This includes details such as how pipes fit together, the necessary piping fittings, installation specifications etc. Content rich BIM plumbing models resolve design clashes at the pre-construction stage, minimizing rework and saving on cost and time. For instance, data on structural obstacles in the MEP BIM model will help identify the precise location for laying out the sewage system.
In this blog, we discuss how BIM enhances efficiencies for plumbing contractors in plumbing layout design and installation.
Factors that create inefficiency in plumbing layout and installation
Some of the challenges that plague traditional plumbing design using CAD tools and blueprints are:
poor visualization of slopes, pipe sizes, run, and connection of piping systems
inaccurate quantity take-off and schedules due to manual calculations
difficulty in streamlining fabrication and prefabrication due to the absence of standardized plumbing equipment
limited coordination with stakeholders
These problems can be easily resolved by using the MEP tools in BIM.
How BIM enhances efficiency in plumbing layout and installation
The International Code Council is developing standards to include BIM Level 2 in the code review process, with many national governments making it mandatory to design government projects within the BIM environment.
Notwithstanding the government mandate, the use of BIM in plumbing design is important for multiple reasons, all of which ultimately enhance project efficiency and ROI.
Enhanced 3D Visualization of Pipe Routing
A building's underground pipes are aligned with its structural foundations. A Revit® MEP model helps plumbing designers visualize building footings marked by structural engineers and detect possible clashes between structural elements and plumbing systems. This ensures that the gravity waste line is routed correctly out of the building and the sewage system is laid out without impacting the building's structural integrity.
Autodesk® Revit MEP has specialized functions for designing sloped piping and piping in narrow, cramped spaces, such as storm drain lines and sanitary drain vents. This minimizes clashes and ensuing rework when routing pipes under a slab.
Automatic Calculation of WFU, GPM, and CFH
The increasing global water shortage has made water efficiency in plumbing not just a mandatory factor but also an integral part of building codes.
Revit MEP provides several parameters for determining the efficiency (LEED points) of plumbing fixtures, such as required gallon per minute (GPM) or cubic feet per hour (CFH) flow, reduced GPM (CPH) flow, and waste fixture unit (WFU). These parameters are automatically calculated after populating plumbing fixtures in the model.
The U.S. Green Building Council (USGBC) has developed a tool called Leadership in Energy and Environmental Design (LEED) for green building projects. To gain points for decreasing the use of potable water under LEED new construction guidelines, a baseline is established of plumbing fixtures according to the Energy Act of 1992. For instance, the baseline efficiency of public faucets in LEED points is currently 0.5 GPM. (Source: www.usgbc.org)
By helping designers determine the design LEED points, it enables informed decision making based on efficiency comparison of different design strategies. A schedule can be created using these shared parameters to automatically display the cumulative hot and cold water utility, fixture counts, etc. This saves significant amount of time that would otherwise be spent on manual calculations.
Automated Quantity Take-offs and Scheduling with Revit
With increasing globalization of the construction industry, companies need quick tools to verify compliance with multiple international, national, and local codes. Traditional CAD drawings pose the risk of critical data being overlooked post architectural or structural revisions, particularly in the case of plumbing systems.
BIM 4D scheduling, particularly take-off scheduling in Revit, eases this problem. Material take-off schedules in Revit provide plumbing designers with quantity take-offs of all fixture units. These schedules are automatically updated when any changes are made, such as the addition of new pipes in the plans. This helps designers and contractors address code-related issues more effectively.
Accurate piping shop drawings derived from BIM model streamlines the fabrication process
A key benefit of using a BIM solution for plumbing is the automatic interference checking enabled by accurate shop drawings. The need to optimize project costs has led to lower ceilings and smaller wall chases, resulting in narrow, cramped spaces for ductwork, lighting, sprinkler piping, and structural steel. The increased pressure on building space makes it critical to:
identify any obstructions in the MEP fixtures and systems at the design stage
ensure accurate measurements for all plumbing fixtures
3D MEP BIM models make building isometrics easily available to plumbing engineers. This helps them assess design efficiency in terms of how well the ductwork, pipe structure, and plumbing fixtures align with the rest of the systems. All potential clashes can be resolved at the pre-construction stage and precise dimensions of the plumbing equipment required for fabrication can be generated. This minimizes costly change orders and delays during actual construction and streamlines the fabrication process.
With CDE, coordinated BIM models keep stakeholders on the same page
Communication breakdowns between various project teams can seriously endanger design quality, project costs and schedules. The MEP BIM model's common data environment (CDE) removes communication gaps by allowing multiple teams to work collaboratively on a single file. The automatic clash detection function identifies interferences in the various system designs.
For instance, the CDE enables a plumbing engineer to create the pipe structure for hot and cold water while checking the HVAC design worksheet for conflicts. This increases the accuracy, efficiency, and coordination of the system while decreasing the cost and the time involved.
Futuristic view: Pipe stress analysis with BIM model
So, we now have what we consider an efficient plumbing system thanks to our MEP BIM model, but how do we know whether it is safe? A pipe stress analysis is typically carried out at this stage to ensure that the prepared designs are safe by using nonlinear static and load sequencing analyses. This analysis is critical for maintaining system operability and ensuring structural integrity. However, it is a time-consuming process, and perhaps not the most reliable one, if we base it on only the 2D CAD drawings.
Therefore, an increasing number of plumbing engineers are looking for an automated option to conduct this analysis. Recently, plumbing designers have started importing their MEP BIM model into software, such as PASS/START-PROF and AUTO Pipe, to gain an accurate view of their design's performance under stress.
Here are some of the benefits of conducting a pipe stress analysis with a BIM model:
Accuracy of design and modeling of pipe structures
Visualization and analysis of pipe stress
Determination of pipe stress and displacements against design
Compliance with industry standards and codes[BU19]
The future is set to have most BIM projects opt for this specialized software-based pipe stress analysis.
Conclusion
In conclusion, the modern BIM-based efficient modeling process for plumbing systems improves accuracy, optimizes the design to minimize conflicts, and thus saves money and time. For instance, BIM tools help plumbing engineers to efficiently create layouts of underground sewage systems based on the data of structural obstacles and footings.
MEP BIM tools also help plumbing engineers improve collaboration with other specialist teams, share data seamlessly, and decrease the overall project delivery time from the design stage to the actual construction. In the future, we expect increased use of BIM models for more advanced analyses such as pipe stress analyses, leading to efficient construction of safer and more durable buildings.