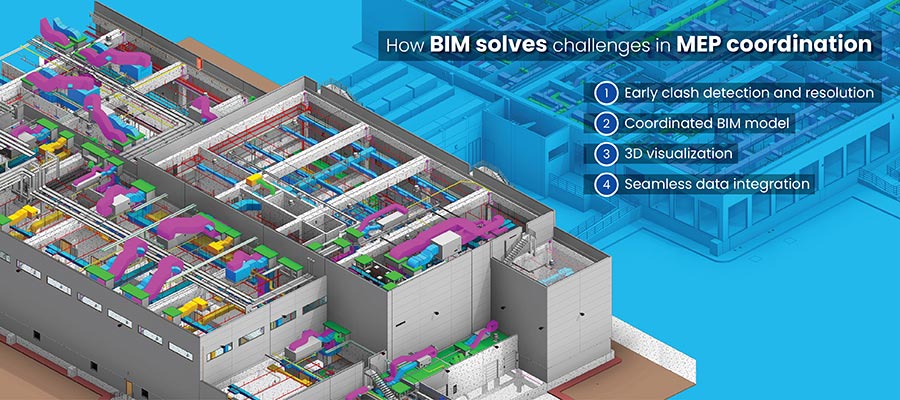 For past several years, coordinating MEP – mechanical, electrical, and plumbing equipment and layout across the facilities has dealt with the approach of overlaying the drawings and sequentially comparing them. Spatial and functional interferences, popularly known as clashes, are then dealt with professionals from multi-disciplines.
Iterative in nature, such coordination process usually involves several revisions before finalization of one set of coordinated drawings. However, with BIM – Building Information Modeling, working on the basis of 3D object oriented approach and knowledge based reasoning has empowered MEP contractors to come out with efficient planning, designing and installation of equipment across the facility.
MEP coordination is an integral part in setting up and laying out the designs across the facility. It serves as the key resource in connecting various building elements and making the facility fully operational. MEP coordination is the only link efficient in the entire chain of coordinating the event during entire construction process.
Key challenges in MEP coordination solved through BIM
MEP coordination is often a prolonged and tedious process causing delays in project timelines. Fragmentation of information and poor communication is the root cause for this.
BIM allows relating MEP coordination activities such as, integration of MEP systems into the architectural and structural envelope smoothly, creation of equipment matrices and selection of suppliers, installation and procurement scheduling for MEP systems, tracking and formalizing procedures for submittals, general contractor's management of MEP specialty contractors.
BIM essentially solves many major challenges often faced by the MEP specialty contractors during the planning phase.
#1: Planning clash free design
BIM allows MEP engineers to plan and design the layout simultaneously in contrast to the traditional approach of designing only after the designing and routing of the entire building plan. With BIM tools like NAVISWORKS®, integration of designs and plans from architects, structural engineers and MEP contractors is possible in a single work environment. Software capabilities allow clash detection amongst these designs and pinpointed for resolution.
#2: Documentation for interdisciplinary coordination
Through information rich models for the facility construction, BIM enables easy coordination of carrying out various interdisciplinary activities on site. Enhanced coordination with a well-organized construction schedule empowers GC to meet the project deadlines and costs, since such schedules eliminate reworks and unnecessary delays saving resources.
Bill of Materials – BOM quantity takeoffs, etc. can easily be extracted, delivering the GCs an idea of estimate of the project when compared to current costs and labor charges. The crucial factor in winning the bid for any project is the cost estimation and it can accurately be estimated through such BIM models.
#3: Saves time by allowing Revit family creation
With the manufacturers design catalogue and several standard protocols; models for standard building products like electrical and plumbing fixtures that are used repetitively in any project are stored in part library.
Once modeled in software, Revit® families can be retrieved whenever needed and used. With regular upgrades in the new launches of products and manufacturers' incorporation of new features, these models can be easily edited. It eliminates the time consumed by MEP designer to model the component each time a project turns up.
#4: Maintenance of the facility
Long after the facility is operational, unlike architects and structural engineers, MEP contractors along with O&M team have recurring tasks to look after for smooth operations. Maintenance of drainage pipes, water distribution, sanitation, plumbing, building lighting, elevators and performance ratings of HVAC systems have to be looked after and maintained from time to time.
However, to maintain several such small elements across large facilities like malls or airports becomes a tedious task. BIM models by storing the latest updated information about dates replaced or changed, manufacturer name etc. about all the building products aids in change management and space requirement planning. Newer technology can also help connecting the BIM models to building's automation system and can prove efficient in information and security management of the facility.
Conclusion
With BIM enabled coordination, mostly all major challenges faced during planning, designing and maintenance is removed and smooth coordinated construction project is carried out. With this element of control and team collaboration, MEP coordination can be substantially be foreshortened and reworks can be forestalled. The process can be streamlined as against the fragmented and elusive process needing more time and efforts.