Project Information
Client Profile
Construction Company
Industry
Commercial Construction
Inputs
PDF Files of MEP 2D Drawings
Deliverables
Coordinated BIM 3D MEP Model
Client Challenges
Input 2D drawings had missing information and details that was necessary to create a 3D BIM model.
Converting PDF into 3D MEP BIM model while meeting international standards.
Coordinating MEP components for clash free MEP BIM model.
Business Needs
The client, a leading commercial construction firm, from the USA approached our MEP engineers for outsourcing conversion of PDF files of 2D drawings into clean BIM 3D models using Revit MEP.
Our Solutions and Approach
The input provided in the form of 2D drawings had several missing technicalities and connection details which made it difficult for the project engineer to obtain clarity and take decisions.
MEP drafters used Revit MEP to convert the 2D files into 3D BIM models.
A thorough clash detection and resolution stage was performed to eliminate any conflicts or clashes in the input drawings.
Finally, MEP engineers with their extensive expertise developed coordinated BIM 3D models in the CDE of Revit and shared with the client.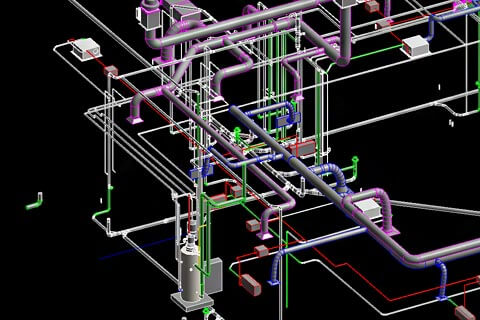 Business Impact
The project lasted for 2 months, which finally resulted in an immaculate BIM model that helped the construction firm gain better insights. Owing to the partnership with Hitech and Revit capabilities of our MEP engineers, the construction firm could save significant time by eliminating clashes at initial levels. In addition, with the coordinated MEP model, insights for MEP component installation became easier and smoother.