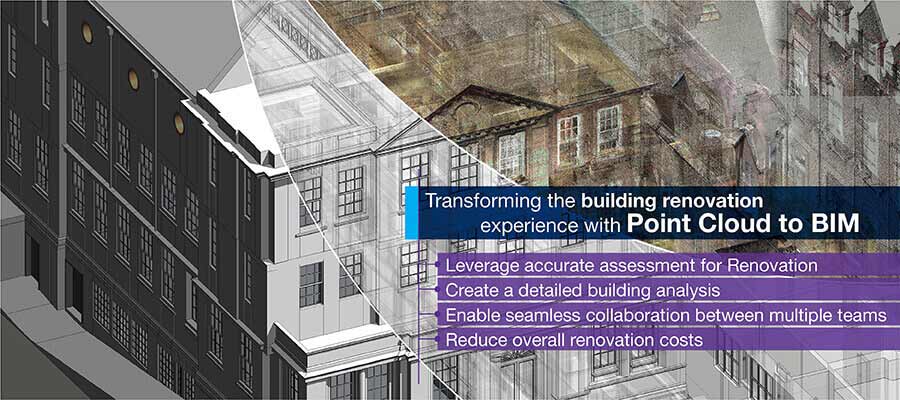 High definition point clouds converted to Revit® scans facilitate the design process, help make informed decisions and enable project progress assessment. So, whether you are an architect, civil engineer, general contractor or owner, point cloud to BIM can help you model your renovation projects with incredible success.
Scan-to-BIM models play a vital role in renovation projects, where original architectural drawings and measurements are unavailable, incorrect, incomplete or not updated. Millions of point clouds converted to information rich 3D BIM models drive accurate and efficient design and construction based on precise geometric information.
Point cloud to BIM models present a high level of accuracy and detailing of existing building conditions. Hence, they provide excellent reference points for project monitoring and audits involving renovation of existing buildings.
In this blog, we explore how point cloud scans converted to Revit BIM models help architects, engineers, surveyors, general contractors, facility managers and owners renovate or retrofit better.
What are the common renovation challenges?
While new buildings face multiple construction challenges, renovations also have their unique challenges.
Current operations of running facilities such as manufacturing units, healthcare facilities, airports, etc. need to continue running undisturbed.
Avoid damage to complex architecture of historical monuments.
Major time, cost and resource drain with multiple site visits for dimensions and layout assessment.
Point cloud to BIM ensures project owners accurate, hassle-free and safe renovation conditions.
Our scan to BIM solutions save up to 15% on construction costs.
Find out how »
Coordinated BIM model for shopping mall renovation project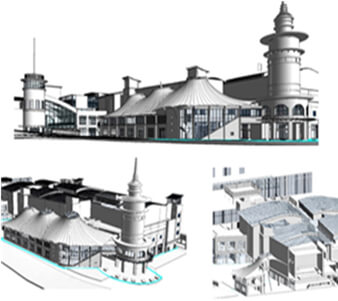 A leading survey company in London partnered with Hitech CADD Services to create coordinated on a shopping mall renovation project spread over 310,000 sq. ft. The deliverables were coordinated architectural and structural Revit BIM models.
The Hitech CADD Services team overcame the challenges of low-quality scanned data and complex geometry to meet highly detailed requirements and tight project deadlines. They extracted data from the scanned inputs, built and delivered an accurate and detailed coordinated 3D model in 40 working days.
Benefits of point cloud to BIM in renovation projects
Point cloud data can be shared quickly by allowing architects, engineers, general contractors, and owners to leverage design intelligence. With millions of point clouds captured through laser scanners, 3D surface models can be created with an accuracy of +/- 10mm. This helps project stakeholders make informed decisions during the retrofitting process.
High Accuracy of Measurements
Better Project Accessibility
Faster Project Turnaround
Save visit time on onsite
Better Offsite Fabrication
Visualize better with accurate point cloud to BIM models
Scan-to-BIM helps architects and engineers develop detailed information-rich images of a physical project or building. This would be inaccurate and time-consuming if it were measured by hand or an analog device.
Coordinated 3D Point cloud to BIM models allow stakeholders to visualize, detect and resolve clashes as well as suggest modifications to the renovation plans.
Information-rich BIM models prevent delays and cost overruns
3D BIM models converted from point cloud scans are detail-rich with information recorded down to color and reflectivity of buildings. This granular information helps architects and engineers understand exact material properties. As point cloud is easy to integrate, model and assess, stakeholders can use information at hand about the existing structure. This reduces the need for RFIs and mitigates cost and time overruns.
Accurate scan to BIM model for institutional construction project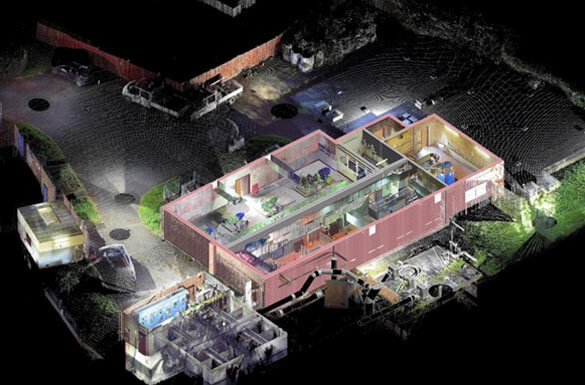 Scan to BIM Conversion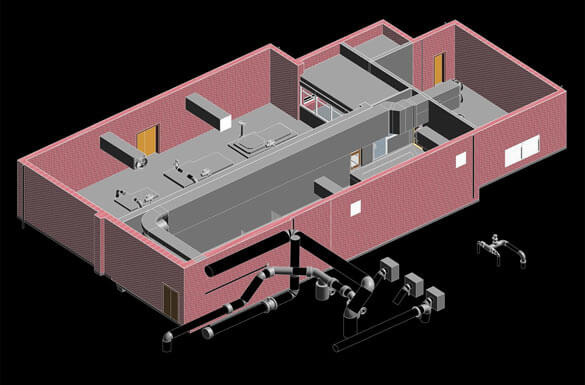 Point Cloud BIM Modeling
A London-based building construction company partnered with Hitech CADD Services on an institutional construction project needing scan to BOM models with architectural and structural detailing.
The Hitech BIM experts imported the images and .pcg files received from client to Revit to build a coordinated BIM model in LOD 300 in 20 working days. Interpolation was done to retrieve missing information and complete the model.
The model with an accuracy of +/-10mm helped the client make informed-decisions, reduce costs, and mitigate risks by understanding the spatial arrangement.
Build intelligent design models from point cloud data
High-definition point cloud to BIM solutions can be leveraged by project stakeholders to build intelligent design models through as-built conditions based on point-cloud data. Elements like beams, columns, slabs, MEP fixtures, roofs, pipes, etc. can be accurately modeled to make informed decisions for retrofitting, replacements, and maintenance.
Renovate from a safe distance
Accurate and detailed Revit 3D BIM models help clients explore the building without having to physically visit the site. This helps understand adjacencies or challenges given a significant head start. From a safety and health perspective, it helps building personnel identify any onsite hazards and carry out onsite installations in a controlled environment.
Point cloud to CAD conversion for a mining site, France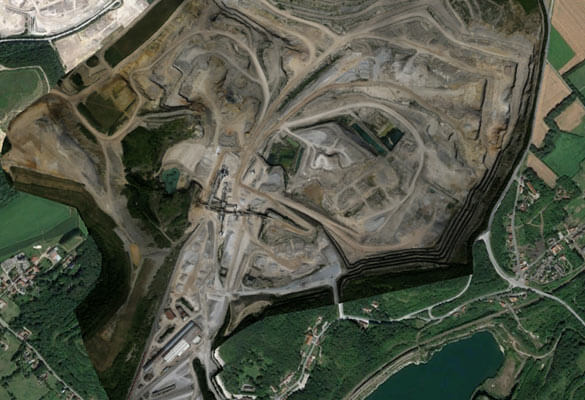 Point Cloud to CAD Conversion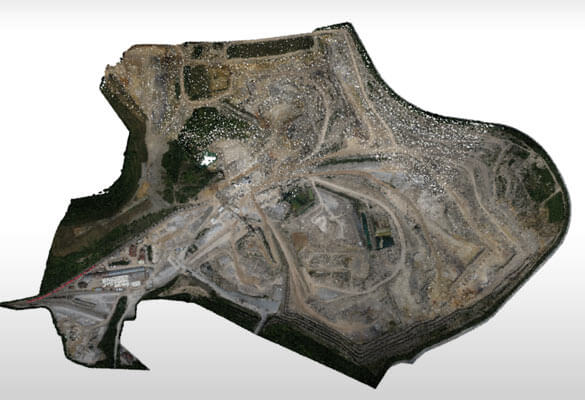 Point Cloud Modeling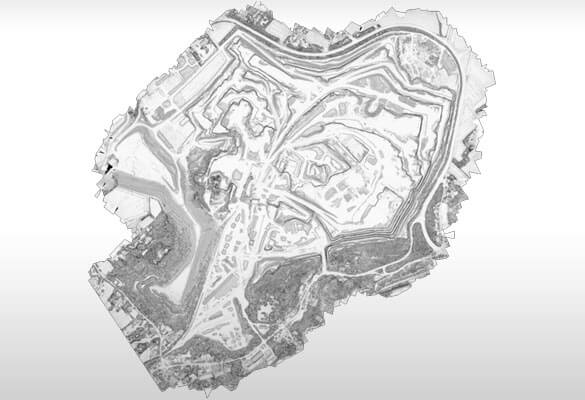 Point Cloud Conversion

Surface Mining Plan
Hitech CADD services were outsourced for an infrastructure development project from France by a scanning and data consultant firm. The deliverables requirement by the client were CAD drawings, final stockpiles volume with details report in excel. Inputs provided by the client were configurations, DSM, logs, model, acquisition details, ortho-photographs, point cloud data and slope degree.
Project engineers from Hitech CADD services scanned the inputs to examine the topography and used various software like AutoCAD® and Mensura to convert spatial information into CAD engineering drawings. A detailed report was also prepared to excel for project documentation and mining site data analysis for the lifecycle of the mine. The quality matrix and feedback loops helped the client establish an easy and safe workflow for mine digging.
Create realistic proposals with building analysis
Point clouds to mesh models assist architects, general contractors and cost estimators build a realistic budget based on comprehensive building analysis. Zeroing in on realistic proposals requires high accuracy, helping project stakeholders stick to their budgets, rather than experiencing a budget blowout.
Using solid Point Cloud data, project stakeholders can propose realistic cost calculations for renovations and retrofitting.
Conclusion
Integration of point cloud models with BIM continues to be crucial to make significant gains in renovation construction. The power of cloud processing delivers quicker, accurate, reliable, and affordable point cloud registrations and 3D BIM models. It leads to an emerging data ecosystem where stakeholders can gather, access and share project data for building renovations.
Point cloud to BIM zeroes in on benefits wherever accurate physical requirements are a necessity and are dependent on 3D BIM models.
The use of point cloud to BIM services is on the rise to leverage speed, real-time communication and collaboration in a BIM environment.