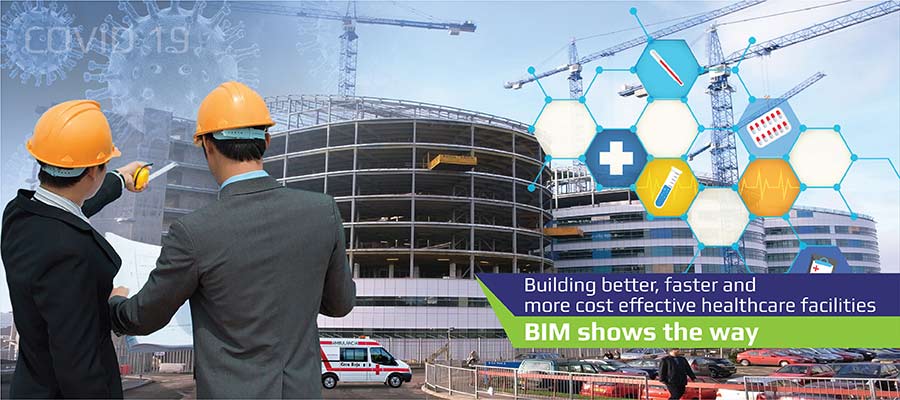 The global pandemic has exponentially stepped up the demand for healthcare facilities. BIM is a winning digital technology that the construction industry can leverage to deliver fast, better and within budget through enhanced collaboration and visualization across the project life cycle.
The need for hospitals and healthcare facilities is skyrocketing in the wake of COVID-19. As the healthcare construction sector paces up to meet the critical demand for well-equipped treatment centers, testing labs and quarantine rooms, construction bottlenecks threaten delivery schedules and quality.
Implementation of BIM technology for hospital infrastructure is a winning solution for AEC companies to facilitate rapid and quality construction. Highly-detailed, information-rich and coordinated BIM models reduce the risk of errors, create better scheduling, achieve estimation accuracy and help project managers develop customized infrastructure. Prefabrication provides additional quick wins.
More than 60% of hospitals adopting BIM have finished healthcare projects under budget and ahead of schedule. Source: Plangrid
What are the challenges faced in hospital construction during Covid times?
Construction of healthcare facilities amidst a pandemic of such proportions comes with challenges of equal magnitude. How well governments and the AEC sector address them will decide the health of hospital construction in these rapidly changing times.
Some healthcare construction challenges include:
Labor and material shortage
Ambiguous view of project scope
Poor collaboration causing rework
Project overruns
Need to maintain social distancing
How BIM adoption helps overcome healthcare construction challenges
BIM in healthcare enhances collaboration between numerous stakeholders – from architects to general contractors, modelers, designers, fabricators, and owners. Whether it is adhering to the social distancing norms or creating new sections in hospitals to handle increased patient intake, fully integrated and information rich BIM models streamline approvals, design and construction operations. BIM reduces waste and maximizes value at every phase of construction for healthcare projects.
Coordinated BIM models drive significant cost savings and higher ROIs for university hospital building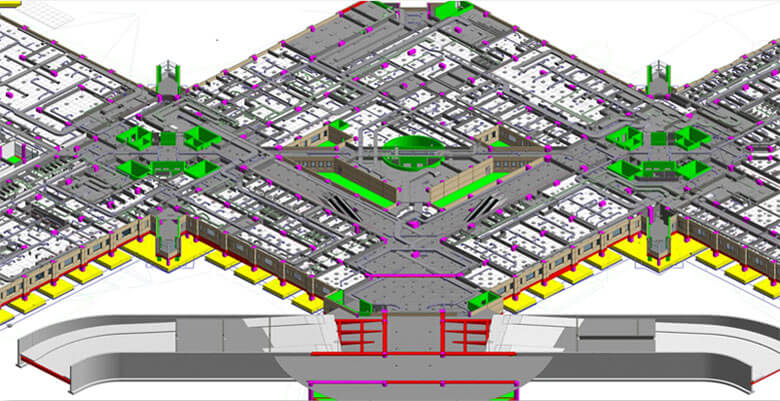 Hitech was approached by a client in Saudi Arabia to build a BIM model of a hospital building at LOD levels – 500 in compliance with AIA standards. Using integrated information-rich 3D modeling tools like Revit® and Navisworks® Hitech built highly informative and visual 3D models at LOD 500 saving the client on cost and time.
Read Complete Case Study →
Benefits of BIM for Hospital Facilities
1. Build faster with BIM
While the need for healthcare facilities is on an exponential rise amid COVID-19, the inherent complexity of such construction projects threatens to impede the pace. BIM tools are best positioned to speed up construction of healthcare projects. Preconstruction visualization, interdisciplinary coordination and better scheduling and planning help avoid costly rework at a later stage and aid faster construction process. Prefabrication technology has also proven to significantly shrink timelines.
2. Save costs with enhanced coordination
Detailed 3D BIM models enable cross-functional teams to communicate at a deeper level for clarity on project roles, responsibilities, scope of work, LOD etc. This collaboration makes it easier to understand common goals and streamlines the complete process. The resultant reduced rework and higher resource utilization saves on costs.
Read how 30-35% of budget was brought down by healthcare construction company
A healthcare construction company from Egypt approached Hitech to build 3D models for a large hospital during the ongoing construction stage. Detailed Architectural, Structural and MEP Coordinated BIM models were built with LOD 300 specifications and AIA standards. All inter-disciplinary clashes were resolved and the BIM model was able to provide information for energy efficiency improvements, that saved on 30% – 35% of the client budget.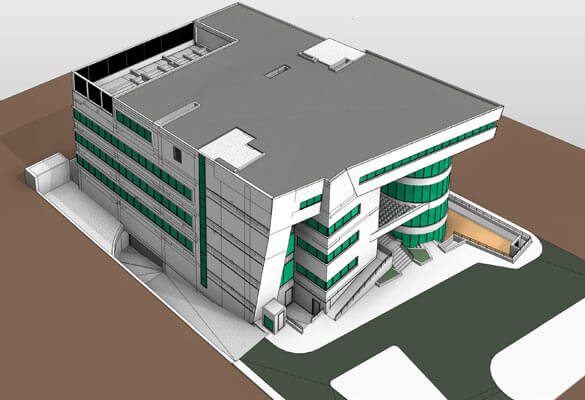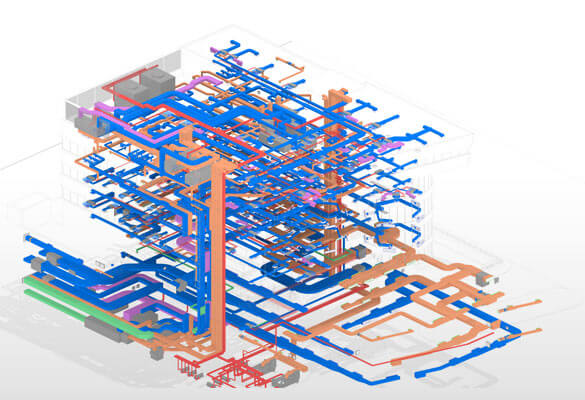 Read Complete Case Study →
3. Reduce construction rework with clash detection and resolution
Generating clash-free 3D BIM models in the earliest design phase helps save time and mitigate rework in the later stages of a project. With various MEP systems working in sync, a federated 3D BIM model is the most viable solution for a robust planning of Healthcare Infrastructure.
The adoption of a 3D model for clash or interference detection helps reduce RFI's during the construction process. This saves on large sums of money and time as clashes are detected digitally before they become potential problems onsite. Walkthroughs can be integrated with VR/AR technology to understand critical routes through the hospital facility while minimizing the possibility of rework.
4. Manage space better with BIM
Healthcare systems rely on meticulous space management. BIM and its new design prototypes, layouts and materials ensure that design intent adheres to client specifications and expectations.
BIM modeling allows accurate room dimensions, placement of healthcare devices, energy calculations, lighting systems, walking areas etc. This results in constructing a space-optimized healthcare facility, ensuring a comfortable environment for patients and healthcare personnel.
5. Track and monitor your hospital assets better
Architects, designers etc. store building asset information in the Revit® model, making it easy to extract and access it from anywhere.
As healthcare units are invested with a huge range of instruments and tools, using BIM allows all asset information to be fed directly into the inventory for model visualization. It even keeps track of the installed equipment for operations and facilities management through standardized methods such as COBie. A computerized maintenance management system allows review of this data even in the pre-construction stage.
6. Drive best value from hospital warranties with BIM models
BIM is used to exploit warranty information for healthcare components or objects. Without the use of BIM, warranties are not rightfully claimed. As BIM can capture accurate installation timeframes of all the healthcare systems under warranty, the data is easily available to all the stakeholders as and when required. This helps healthcare staff or administrators reap significant savings on component costs.
With accurate deliverables and assets being handed over to clients, it becomes fairly simple for healthcare facility owners to review warranty details as required. The ability to rely on this information saves a lot of time and cost during replacements, renovations etc.
BIM secures the future for healthcare construction
In the months to come, governments will look upon the AEC sector to support its fight against the pandemic by focusing its energies on healthcare construction. BIM will be a critical tool in this fight. With a steep down-curve being witnessed by the global construction sector, building healthcare infrastructure will require a collective input and effort from various building trades and skillsets to make it possible.
Using a patient-first methodology, hospital owners will continue to build facilities based on information or evidence-based design, with patient satisfaction being the prime driver. Construction standardization and BIM integrated with various technologies like VR, integrated data management and business intelligence will give a competitive edge to building healthcare facilities.
Conclusion
With hundreds of billions of dollars being pumped into healthcare construction globally, owners fully understand the potential of BIM to build cutting-edge hospitals or ground-breaking facilities.
The diverse technical specifications related to building projects need to be accessed from a centralized database. BIM is hence an imperative for multidisciplinary and multi stakeholder collaboration. BIM overcomes construction challenges and helps owners and project stakeholders plan, manage and track ongoing maintenance.
Advancements in BIM technology and features such as 3D walkthroughs allow stakeholders to visualize a structure way before its actual construction!