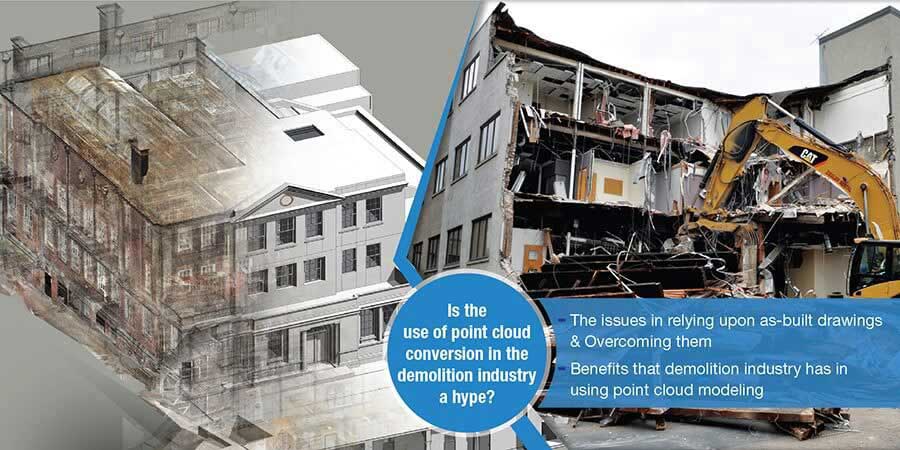 Role of BIM has proved to be efficient to the construction of new buildings with cost-effective project budgets and time-saving demands across the construction industry. Apparently, BIM also has proven itself to be beneficial to a plethora of professionals across the industry including individual engineers, architects, contractors and entire the construction firms in their own ways at various levels.
Right from 3D to 5D, BIM has helped general contractors in multiple ways, either in-house or through partnership with an offshore BIM company. The industry has realized these benefits for a long time now.
As of today, point cloud modeling or scan to BIM, an application of BIM platforms is gaining traction in the demolition industry. Contractors are turning to scan to BIM for projects like post-construction changes, retrofitting, and refurbishment projects for archaic buildings that need demolition of large buildings to construct a new one.
Issues in Relying upon as-built Drawings
One might argue that using point cloud conversion is hype and as-built drawings are sufficient. It is only a waste of money in outsourcing the laser scanning and re-modeling the entire structure to an offshore BIM company. If you too think so, you must re-evaluate your chances with as-built drawings.
With as-built and mark-up drawings, it is difficult to interpret every single line running across the blueprint of the building plan especially for building like industrial complex, commercial building or an institutional building. In fact, let alone the design lines, if the construction is considerably old, structural engineers and architects will take ages to finish understanding the markup drawings and prepare a final as-built drawing/model.
Another shortcoming for as-built drawing is if there is a single misinterpretation, the entire retrofitting plan will be affected. And misinterpretations are common phenomena for such 2D blueprints that involve significant guesswork and interpolation for missing information in the drawings that date back to several years.
Point Cloud Data Conversion for Conventional Demolition Projects
When laser scans are obtained from the survey firm to BIM engineers, they employ point cloud surface reconstruction techniques by importing the millions of scanned points to Revit®. A comprehensive information-rich 3D model is then recreated and decisions are taken based on this model. High definition laser scans are used to develop 3D scanned surveys of the entire facility using a traditional tripod that can scan the entire building in 360 degrees.
By obtaining the as-is condition [of the facility under renovation] the models are developed which serves as the basis to develop schedules, information about each structural element can be obtained and safety documents are prepared. Structural engineers can extract critical information for planning and it can be done with ease while being at the office and can communicate with the site engineers through models in real time, irrespective of the geographical distance.
Benefits of Point Cloud Modeling for Demolition Industry
A comprehensive as-built 3D BIM model of an existing building helps the contractor understand the impact of the removal of structural elements, criticality of the structural member and how to strategically place a support structure. 3D as-built models obtained by converting point cloud scanned data to BIM will essentially provide information about the precautions to be taken during demolition, the interfacing of existing construction, retrofits, and other trades including clash detection.
These features of scan to BIM allow the construction company to communicate well with the client and virtually take them on a walk for the scheduled plan. COBie roles and IFC classes additionally help to improve safety and efficiency by the virtue of available manufacturing information for various building products.
Additionally, retrofitting of an industrial plant or an industrial estate is the most challenging owing to numerous machines. When there is a retrofitting plan undertaken, any change in structure will need significant temporary structures to support the heavy machinery loads ranging up to several tons. BIM-based modeling though laser scans and structural analysis turns such tedious calculations simple. Whether it is the development of structural supports or excavation of mass, surface reconstruction methods from scanned data can suggest, help engineers explain the intent and plan the schedule accordingly with guided attachment.
Final Thoughts
As the technology advances, there are provisions being made to directly connect such as-built BIM models with the machines operating on site. Direct instructions will be given from the model to machines via robots and artificial intelligence that decides the actual construction, removal of material, material calculation, takeoffs, demolition in a sequential manner and much more.
A catch for construction companies, building owners, and facility managers, is to invest time and resources in learning BIM to its full potential. There are retrofitting projects we encounter where we implement BIM but along the way, there is this feeling that we could have done it without BIM too. However, the productivity, time, efficiency, and collaboration between activities, teams, and individuals achieved through BIM are unparalleled.