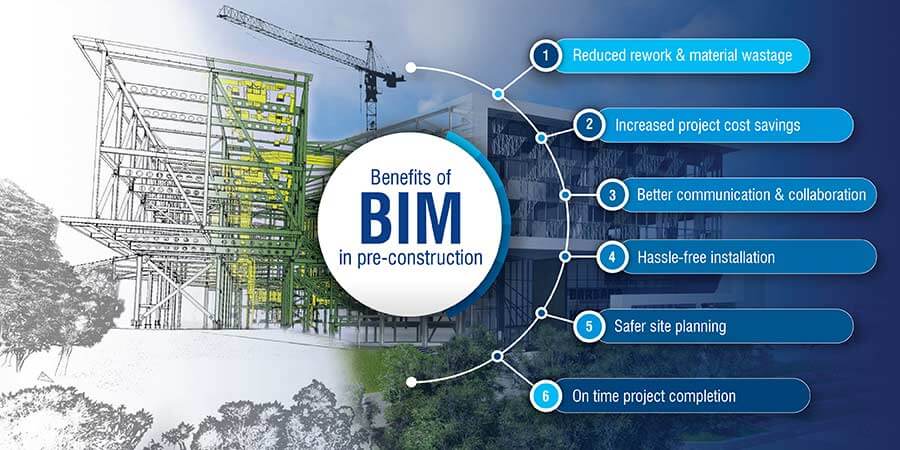 By enabling early interdisciplinary conflict identification & resolution and increased project visualization, BIM empowers data-driven decisions and drives higher construction efficiencies.
The need for timely completion of construction projects without raising budgetary red flags is dictated by an increasingly competitive market which keeps building contractors perpetually on their toes. A clear vision of the project supported by detailed, accurate and clash-free models goes a long way in minimizing iterations, avoiding project delays and ensuring seamless and safe onsite installations.
BIM plays a key role in helping contractors achieve high project efficiencies through reduced costs, lesser rework and timely deliveries. BIM level 3 or open BIM drives comprehensive collaboration across the planning, construction, and operational stages of the building asset lifecycle. A federated and data-rich 3D model defines the project scope at the preconstruction stage for enhanced constructability.

In this blog, we discuss the common problems faced by contractors during the pre-construction stage and how adopting BIM during the early stages of design can help overcome these challenges.
Preconstruction obstacles that contractors face
Construction projects can spiral out of control if the initial design is heavy with conflicts across disciplines, be it MEP, architectural or structural. Contractors working on complex construction projects using conventional tools and processes face unavoidable challenges such as:
Clashes during installation stage resulting from erroneous and uncoordinated building design
Low team collaboration and communication gaps due to teams working in silos
Inaccurate CAD-based drawings requiring rework
Time overruns and project delays rising out of legacy scheduling tools and techniques
Safety hazards caused by onsite installation without adequate project visualization
Based on Autodesk and Dodge Data & Analytics, 66% of general contractors report added costs from overtime or second shifts due to schedule slippage.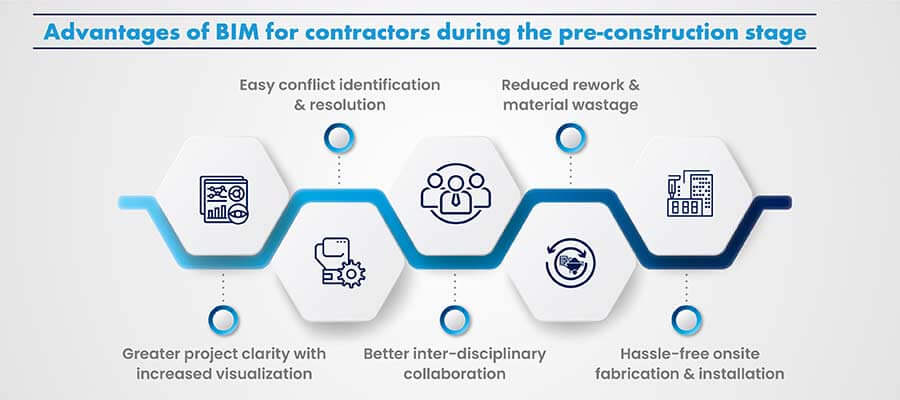 Benefits of BIM for contractors during the pre-construction stage
1. Coordinated BIM models ensure seamless construction
Architectural and structural designs connected with an MEP layout assist contractors with in-depth visualization of every building aspect. Shop drawings extracted from an error-free and well-coordinated 3D model promote the fabrication of precise building components and equipment. The use of Revit® families in the initial design process can help customize and streamline component modeling and fabrication for seamless onsite installation.
The use of various Revit automation tools like Dynamo, APIs, and Macros in the preconstruction stage speeds up the design process and amplifies collaborative BIM. Augmented project deliverable quality and material management, greater design performance, better ROI, etc. are some of the advantages automation offers in preconstruction design.
An overall reduction of more than 35% can be observed in RFI coordination through the use of BIM.
Coordinated BIM model saves $7M with hassle-free installation for an airport in Oman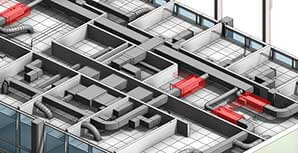 BIM Clash Detection
A general contracting company from Oman needed a clash-free coordinated model for an Airport project. The team at Hitech CADD Services created a 3D MEP model in Revit with LOD 400 and clash-detection reports.
The quality deliverables helped the client with:
$7 million savings in 6 months
Zero change orders due to reduced field conflicts
100% hassle-free installation of MEP equipment
Read Complete Case Study »
2. Greater collaboration among stakeholders
2D drawings or sketches converted to an information-rich 3D model stored on cloud-based platforms act as a single source of truth for multiple stakeholders. Design modifications reinforced with parametric details enable changes to be reflected across the entire model. Contractors and other stakeholders get continual access to updated project data for greater accuracy and efficiency.
Collaborative processes in the design stage reduce RFIs and change orders in the fabrication and installation phase reducing rework. Reviewing quantity variances and validating change orders through better insights and change control optimizes resources and project costs.
83% of project owners feel contractors should collaborate with them.– KPMG
Increased collaboration with 3D BIM model enables 30-35% cost savings for a hospital in Egypt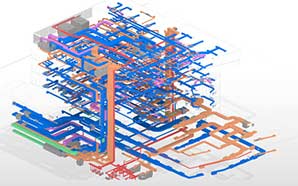 MEP BIM Model in Revit
An Egyptian construction company required a clash-free 3D coordinated BIM model for their healthcare facility. The team at Hitech CADD Services resolved inter-disciplinary coordination issues and created a clash-free 3D BIM model.
This helped increase collaboration and bring stakeholders on the same page. Using this model to analyze energy efficiency, the client saved 30 to 35% on project budget.
Read Complete Case Study »
3. Accurate and conflict-free drawings reduce rework
Fabrication and IFC drawings from coordinated and error-free BIM models help contractors with precise fabrication and reduced rework. Clash-free shop drawings for HVAC, electrical, plumbing, and fire systems can be extracted for structural elevation, beams, columns, cross-sections, floor plans, etc.
Drawings enriched with annotations and mark-ups help contractors highlight and simplify MEP layouts for components and equipment. A conflict-free design drives improved installation of components and systems leading to diminished rework.
60% of general contractors face coordination and communication issues between team members leading to poor productivity.– Autodesk & Dodge Data & Analytics
Coordinated 3D BIM model reduces rework and saves time for a university hospital building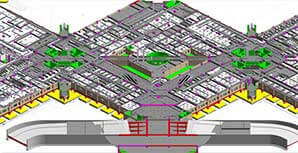 LOD 500 Modeling in Revit
A coordinated BIM model for a university hospital building was required at LOD 500 for better scheduling and ROI. The team at Hitech CADD Services created a clash-free 3D model with accurate material takeoffs and project schedules.
This positively impacted client business by streamlining construction activities, reducing rework and saving on time.
Read Complete Case Study »
4. 4D scheduling drives on-time project completion
A coordinated and clash-free 3D model reinforced with the dimension of time (4D) can assist contractors with timely project completion. An accurate and detailed graphical representation of the project timeline through sequencing of equipment, materials, and resources improves logistics and reduces material waste. 4D scheduling fosters an up-curve for contractors to complete projects on time and within budget.
Precise scheduling with 4D BIM enabled timely project completion for a mixed-use building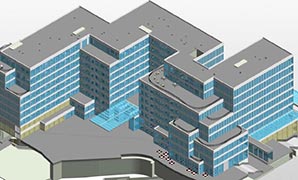 Architectural BIM Model
An architectural company required a 4D BIM model of a multi-storey mixed-use building in the UK. The team at Hitech CADD Services prepared a clash-free 3D model with 4D sequencing and scheduling.
The model enabled the client to complete the project on time by improving design communication with their end customers through sequential video.
Read Complete Case Study »
5. Enhanced visualization promotes safer site installation
Walkthroughs reinforced with AR/VR capabilities benefit contractors with a comprehensive visualization of architecture, structure, and MEP systems. The ability to interact with multiple building components in real-time guides higher efficiency, visual model validation, and constructability.
Construction simulations that include phasing and logistics help contractors create and manage workflows to achieve better installation milestones and onsite safety protocols.
According to Autodesk® and Dodge Data and Analytics, 53% of large contracting companies are deploying software to manage inspections and safety on half of their projects.
Futuristic view: Automated generative design to find optimized design alternatives
Revit automation enriched with tools like Dynamo, APIs, and Macros is set to transform generative design for present-day complex construction. The capability to create and modify model prototypes with parametric design will simplify and boost processes and productivity. The presence of customized Revit content drives standardization across every project phase to build high-quality installation deliverables.
Optimized design performance through task automation, compliance, customized scripting, model uniformity, etc. will extend Revit capabilities to model, document, design, and detail complex systems. Quick conflict resolution will continue to filter out ambiguities in the preconstruction stage, while repetitive functions will be taken care of with Revit BIM automation using Dynamo.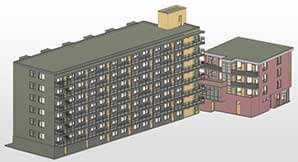 Final Deliverables in Dynamo
Dynamo automation saves up to 50% time and up to 18% costs for a project with 100% accuracy to create hundreds of BIM models with precise construction documents.
Read Complete Case Study »
Evaluating design parameters through automated generative design reflects changes on the existing design, energy load calculations, and construction budget. Integrated workflows reinforced with rule-based modeling help make informed decisions with multiple design prototypes.
70% of contractors believe advanced technology can improve productivity by 78%, enhance schedule by 75%, and improve safety by 79%.
The use of automated generative design draws faster project execution through automation of repetitive tasks, reduced errors and risks, and improved productivity through seamless workflow integration. Transforming the design process by codifying rules and objects, project goals, and libraries can help contractors build and leverage compliant and efficient designs.
Wrapping it up…
There is a host of opportunities contractors can take advantage of with the use of BIM. The preconstruction stage being decisive to achieve effective and efficient fabrication and installation requires BIM to be deployed as early as possible.
With an intuitive 3D modeling process, contractors can convey exact client expectations through early flaw identification, precise schedules, risk management, and cost validation. Partner with us for your BIM modeling needs.