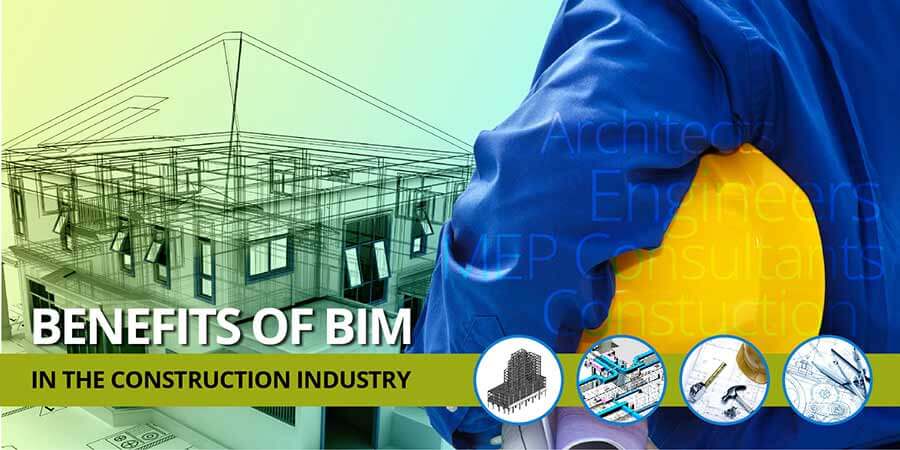 The construction industry is transforming fundamentally. Right from designs to executing those designs in construction stage, method engineers and contractors have changed the processes radically. One of the reasons to this shift is the introduction of Building Information Modeling (BIM). It has hit the design planning, coordination, and construction planning with parametric design offerings, and today there is no looking back. The best example can be of Autodesk Revit which serves as an excellent and the most widely used BIM platform globally.
This is an effort to provide some insights as to how exactly do BIM Implementation aid various disciplines of building construction projects. Most EPC firms and contractors have shifted to CAD for integrating drawings obtained from the architectural, structural and MEP stakeholders. However, when construction projects get complex, coordinating designs from each discipline gets difficult; hence the strong inclination towards BIM.
Building construction project approach without BIM
Imagining a grandiose construction project like constructing an airport terminal building or a multi-specialty hospital without BIM is a horrifying picture. It would take tens of hours to coordinate the drawings, find out in-consistences or detect clashes between building elements, and resolving them would take forever. Consequently, it goes without saying that the project timelines are delayed. Alternatively, if these clashes go unnoticed, they would emerge during construction and result in mistakes that cannot be corrected. It adds to the labor, costs, materials waste, and inevitable delays. But thankfully, today we have BIM.
Building construction project approach with BIM
While, BIM Implementation unarguably addresses aforementioned challenges, it goes the length for the contractors, site engineers and architects for the good. It has delivered undisputable designs, hassle-free construction plans, ease in facility maintenance and accurate decision making for retrofitting.
BIM for Architects
BIM for architects and architectural consultant have helped their clients to visualize the construction designs better in 3D visualization and immersive presentation. Master plans can be developed in 3D with rendered properties to differentiate each building element from one another.
Converting architectural drafts into 2D and 3D from paper and pdf
Sectional drawings, elevations, ceiling plans and retaining wall
Demarcation of kitchen, living area, rooms, stairs etc. in 3D floor plans
BIM object creation
Architectural furniture designs models
3D Walkthrough and 360° Panoramas
BIM for Structural Engineers
While on other hand, when building designs are developing, structural engineers' drafts go hand in hand with architectural designs. BIM helps in imparting appropriate strength details about designed architecture, and helps coordinating the plans seamlessly. From skyscrapers, condo hotels, and high-rise building to infrastructure construction bridges, dams, gates etc. can be made structurally sound with accurate steel detailing through Tekla and in accordance with architectural designs. All these can be achieved only when designs from both, architectural and structural disciplines, are coordinated on a single platform like Revit.
BIM for MEP Engineers / Consultants
With its introduction, BIM has made a huge difference to the MEP contractors and consultants – this is because MEP teams are the ones with the most complex hierarchy. MEP engineers, since they get on board the projects quite late; face the maximum level of difficulties in coordinating the layouts across the building systems. But with Navisworks, they can essentially do that without much hassle and reworks.
Some of the key BIM services offers to MEP engineers include:
2D fabrication drawings, shop drawings, assembly & installation drawings and piping layouts
3D MEP modeling as per any internationally accepted standard including ASME, BS, etc.
Developing Revit families for MEP & HVAC
MEP BIM coordination with architectural and structural designs
Clash detection and resolution for MEP components using Navisworks
BIM for Contractors & Construction Companies
With designs from these three disciplines in a common data environment of BIM, eliminates the design coordination challenges for contractors and construction firms. What remains to be done is coherent planning and costs.
4D and 5D BIM modeling capabilities have helped considerably when it comes to coherent planning and cost reduction. Construction sequencing through animated videos and cost estimation with the help of third party software done through as-built BIM models, with LOD 500, is a way out.
Also, during retrofitting and refurbishment, point cloud scans converted to as-built BIM models help construction companies in making informed decisions and construct with prior planning. It gives insightful data sets to surveyors in generating accurate BOQs and BOM and allows bidding precisely with handy construction documentation.
We, at Hitech CADD Services, are a leading BIM support service provider delivering 3D BIM models, BIM implementation and BIM Execution Plan (BEP) to several named EPC firms and construction firms across the globe.
Talk to us for your BIM needs and our BIM managers and consultants will get right back to you.