Contractors use BIM on site to speed up workflow and increase efficiency thereby providing customers increased confidence in the project execution processes.
The path to profitability is an arduous one for general contractors. Tight deadlines, complex logistics and scheduling, placing sub-contractors, shortage of skilled labor, and communication gaps across stakeholders and most importantly staying within budgets are just some of the multiple challenges they face.
Application of BIM technology has changed the tide. Government mandate to use BIM further enhances efficiency of construction management through technology interventions. The extensive collaboration and coordination across disciplines and the visualization that BIM offers, have eased out most of the construction challenges. BIM ensures that projects are viable and that contractors remain competitive.
McGraw Hill reports higher ROI on BIM investments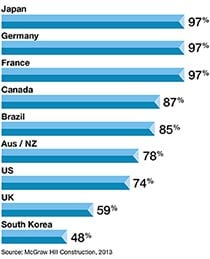 The survey on business value of BIM in major global markets reported 75% of surveyed contractors showing positive ROI in the range of 10% to 25%. Japanese, German and French contractors showed the highest ROIs. 60% believed that the collaborative abilities of BIM and visualization enhancements offered would further improve their BIM ROIs.
Higher profitability, productivity and customer satisfaction and reduced RFI's, unplanned changes, cost and project disruption are some metrics for measuring BIM ROI.
So what are the challenges that BIM addresses?
The traditional 2D drawings provided by designers for bidding, tendering estimates, design coordination etc. had limitations which made them time consuming and error prone.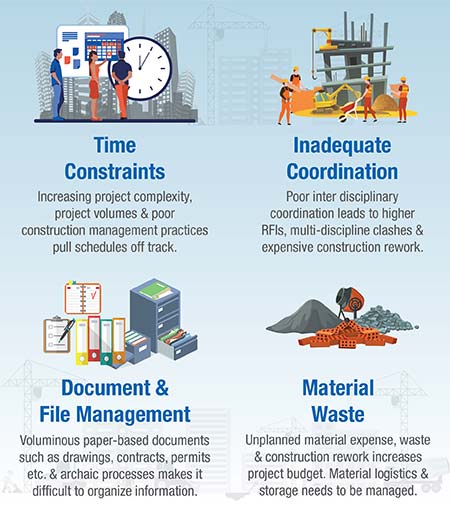 How do Contractors get the BIM advantage?
Boston Consulting Group estimates that "full-scale digitalization in nonresidential construction will lead to annual global cost savings of $0.7 trillion to $1.2 trillion (13% to 21%) in the engineering and construction phases and $0.3 trillion to $0.5 trillion (10% to 17%) in the operations phase".
BIM serves as a common digital platform for modeling, planning, integrated design and collaboration. It also streamlines construction, repair, maintenance and upgrades of facilities throughout the life cycle of the asset. Virtual simulation of a project by BIM during preconstruction phase eliminates inefficiencies and problems that could rise during the construction phase.
Reduced errors, reduced rework, lower construction cost, lesser project duration and improved site safety are key project benefits of BIM. Enhanced collaboration among stakeholders, ability to integrate with external tools, better estimation and accurate scheduling are also important process benefits that BIM brings to the table.
Integration with external tools
BIM integrates with ease with external tools and data systems such as analytics and value engineering software, project management tools, facility and asset management tools etc. The holistic environment created by blending geospatial contacts into BIM digitally transforms infrastructural design and construction. GIS provides accurate information about disaster-prone areas that helps contractors plan supply logistics and construction sequences for all stages of the construction lifecycle. GIS integration with BIM facilitates planning, designing and execution of urban projects.
Site logistics and site monitoring
4D BIM simulations created by cloud computing tools such as Navisworks® simulate site logistics and track site activities such as on-site truck movement and construction equipment. This visualization of construction sequence highlights associated site-safety risks before a project goes on site.
Hitech developed a 4D BIM model for construction scheduling for a multistory mixed use building of a UK based architecture firm. Using Revit® and Navisworks, a 4D model with time liner video was developed for hassle-free and seamless construction operations. The 4D model enabled the architectural firm to significantly improve design intent communication with their end customers while saving costs and reducing rework.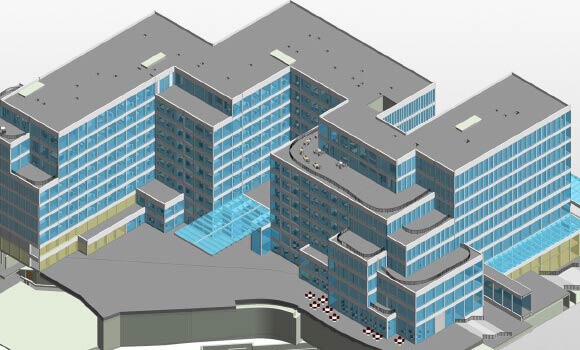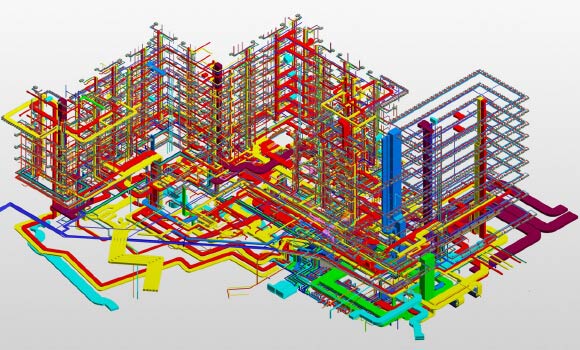 Read Complete Case Study →
Integrating data from past project, RFID (Radio-frequency identification) and sensor tracking with project management tools further optimizes the sequences and resource allocation, significantly reducing non-value added services. An early heads up on construction sequences allows for advanced preparedness by all stakeholders.
3D laser scanning with 4D BIM tracks progress and improves productivity. Comparison between the structures captured by 3D scanning and existing 4D BIM model detects deviations during construction process.
Interdisciplinary coordination
BIM's coordinated interdisciplinary 3D model with 4D simulation detects and resolve clashes prior to construction. Collaboration across disciplines through federated BIM enables quick and easy interface check across disciplines and model elements. Coordination saves time, cost and protects design intent.
BIM enables stakeholders to collaborate, coordinate and share data in real-time across value chain during construction phase. Right information received at right time, in the right place makes collaboration less error-prone and more efficient. Leveraging BIM technology during the erection of structural steel components, the stadium project of the Washington Nationals baseball team in Washington, DC reduced the RFI (request for information) to 100 from the estimated 10,000.
Material takeoff and estimating – 5D BIM
BIM automates material-quantity take-off and estimates directly from 3D model and eliminates the need for manual quantity take-off from 2D submittals. Any design change in a BIM model automatically reflects in all related construction documents that include schedules, take-offs, counts and measurements that are used by the estimators. BIM automation hence reduces human error and saves time.
BIM benefits suppliers and subcontractor during bidding phase as well. Accurate information provided by BIM, makes tendering process more efficient and transparent.
Enhanced design intent understanding
Presenting 2D drawings at every junction of the project is often inconvenient. But a contractor's access to a 3D model communicates a better understanding of design intent.
The design intended model developed by designer may not show assembly details that are required for construction. Contractor modifies the model as per the constructability of the elements. The modified elements will show how to construct elements in the field so as to streamline construction process and to measure exact quantity of material. For example, contractor splits the slab from the design intended building information model and divides it into individual concrete pours to show the construction sequence. The divided parts would be shown as individual cast-in place concrete slabs.
3D survey for refurbishment project
See how a UK construction company implemented 3D BIM for its project on an educational institute building's mechanical backyard. They used scanned data to make informed decisions, mitigate risks and reduce costs by knowing spatial arrangement beforehand.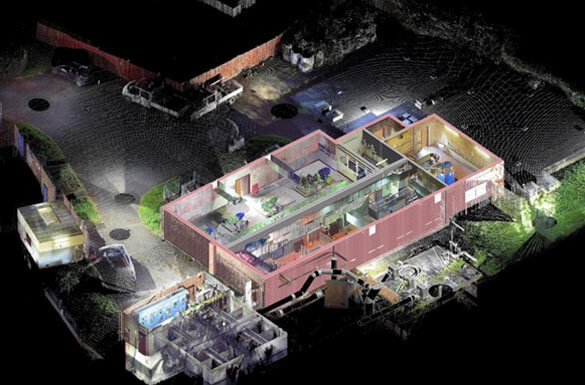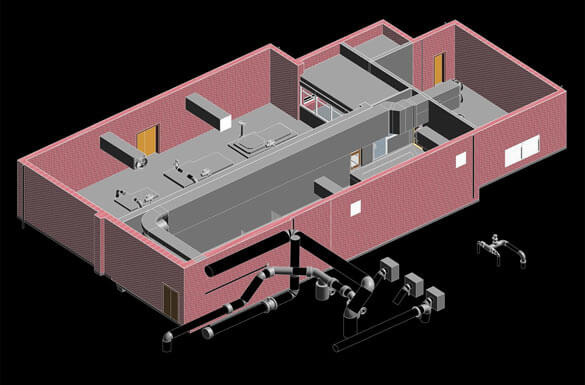 Case Study →
Renovation and refurbishment projects carry higher cost risks as unknown facts about building structure often get discovered during the renovation process. Therefore it is crucial to understand the building before the renovation begins on site. Point Cloud and 3D scanning helps create accurate 3D building information model of the existing building during early stages. This model gives contractor quick understanding of the required renovation work and construction related risks without visiting the site.
6D and 7D open doors to the future of BIM
BIM heightens efficiencies at all stages of building lifecycle. After the completion of construction, BIM software integrates with the facility management software. 6D BIM involves inclusion of information to support facilities management and operation. This data may include data about the manufacturer of a component, its installation date, required maintenance and details of how the item should be configured and functioned for optimal energy performance, throughout its lifespan. Addition of this information into project's building information model during construction phase facilitates facility manager to manage the assets as intended.
Conclusion
Customer experience and profitability are primary drivers of any business strategy. Given that technology and digital tools help contractors build operational efficiencies and engage better with customers, the challenges of upfront investment on technology and resources are easily overlooked. The time is right not just for contractors but for the entire construction industry to jump into the digital bandwagon. Contractors need to reinforce their digital capabilities through workplace skill upgradation and even partnering with external stakeholders to accelerate learning and compensate for any lack of internal technology knowhow. Building a central innovation team to institutionalize digital activities would be critical to enhancing digital competencies in the construction space.