Revit Family Creation is a powerful marketing tool for furniture manufacturers to enhance client connect by displaying their products in a 3D view. Companies are harnessing its 3D visualization and detailed display capabilities to market custom products in a more effective manner.
To remain relevant and competitive in a volatile business world, manufacturers must innovate, differentiate and be exclusive. Successful marketing strategies dictate the need to leverage on right and collaborative tools and technology. Platforms used should allow access to all stakeholders including architects, designers and developers.
Revit family creation services allow customers to explore products online, in the comfort of their homes, without visiting physical stores. All this while getting direct access to enriched information and customization capabilities. Revit family creation software provides 3-dimensional interactive product visualization for furniture manufacturers which they can provide to clients, architects or designers.
What are the challenges of 2D drawings for furniture manufacturing?
Standardization issues
Lack of coordination and BOQ, BOM related issues
Lack of trained personnel
Lost opportunities to collaborate
Accurate Revit family models irrespective of size and design.
Create them
Using Revit families is the solution
The furniture industry has gradually made the move from AutoCAD to Autodesk Revit for the number of benefits the latter offers. The new "Buzz" is about Revit families that are product categories with a common set of properties and related graphical representations. Revit families create standard custom elements of a building model representing similar types of product families based on the products usage and behavior.
Benefits of Revit family creation
Revit family creation services are extremely beneficial to furniture manufacturers for various reasons. Some of them are:
1. Increase in win rates and revenue growth
With the use of Revit Family creation, manufacturers can instantaneously resolve any uncertainties about the products and align customer expectations and needs with the reality of the products by instilling a sense of ownership even before viewing the actual, physical product. This leads to higher conversion rates, as viewing 3D product visuals on a website from different angles, gives potential customers a life like representation of the product. Individual and specific preferences or requirements can be reflected in hyper reality. Putting these tools in the customer's hands is a proven and powerful sales driver that ensures increase in revenues.
2. Revit provides a competitive edge to manufacturers
Furniture manufacturers nowadays want to adhere to the "new" standards of BIM by digitizing all products on their website where in they can incorporate their portfolio aesthetically and technically. By using Revit to participate in a BIM collaborative network, their chances to be considered in requests for proposals (RFP) by leading A&D (Architectural & Design) companies increase. Revit (BIM) implementation results in a competitive advantage for furniture manufacturers by maximizing product reach and customer engagement.
3. A three dimensional view of products for websites
Revit family creation services have gained huge popularity among furniture manufactures due to their ability to provide a three-dimensional view of products on websites to architects, designers, as well as clients. Furniture manufacturers usually provide a free downloadable version of software on their website, which allows designers and architects to download it and incorporate the 3D products into their current or future projects.
They can try several choices and choose the best option that fits within client budget and requirements. They can even customize and preview their choice of material.
Accurate display of over 550 Revit families of furniture products on website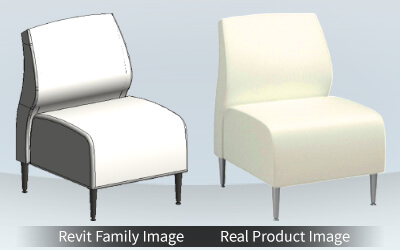 A leading furniture manufacturer in Canada needed to display their products on the website. The detailed product range needed actual dimensions, variations and sub variations of material, size, color, shape etc. adhering to new BIM standards.
Partnering with Hitech, the company was able to achieve this. The 550 + Revit families' creation by Hitech in minimized size, maintained accurate geometry of all furniture products in a standardized format. The .rfa output maintained product integrity as per Autodesk Seek Standard. The project also resulted in creation of a product library.
Read Case Study →
4. Detailed display of product design & dimensions
Revit family creation has the ability to provide high quality detailed 3D models to display all design elements and product parameters to Architects and Designers from different angles that can be zoomed in so that detailed aspects of the product like the quality, texture, material etc. can be easily viewed. For example, designers and architects can choose various products in 3D form using Revit family creation services, try various options to get the exact fit in the layout, what dimensions are perfect for the space and make sure their plans and calculations are flawless.
5. Increased accuracy in BOM and BOQ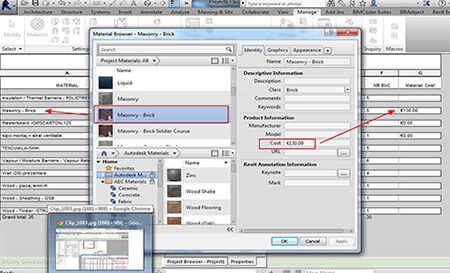 The Dimension tool of Revit automatically assigns dimensions to the elements of products, calculating the weight and volume of all items and materials based on the technical data provided by the 3D model. Furniture manufacturers can accurately calculate the amount of material they need for manufacturing each item, with approximate prices, which increases the accuracy while calculating Bill of Material (BOM) as well as Bill of Quantity (BOQ). This leads to minimal waste of resources and budget spending during the production process.
6. Easier modifications with Revit family editor
Revit Family creation allows easy modification with relevant tools in Family Editor, which can be parametric or non-parametric. This gives the designers, architects the flexibility to design as products can be modified as per the specific client requirements, budget or as per the layout of the room.
With the use of Revit families, stakeholders spend less time on modifications, and more time can be given to other important projects. Savings in valuable time and effort can be gained by reusing the components of the Revit family for various other projects.
7. Better collaboration with architects and designers
Furniture manufacturers often cater to requests for custom products as per the designers and Architects' requirements. Revit family creation services enable manufacturers to create customized and exclusive objects in 3D, which the architects and designers can use for their specific projects. After the final selection of the product, the manufacturer makes the real version as per the required specifications. This benefit both the Architects and Designers, who get the opportunity to explore all available choices or options for a product, as well as the furniture manufacturers who can avoid wasting time and resources for production until the item design is approved.
8. Ability to create libraries
Revit Family creation allows furniture manufacturers to create a standard library their products with variations and sub variations like shape, size, color, material etc. Whether it is a chair, table or couch, all the relevant information like the exact specifications, details and dimensions are stored in the library and can be used for years to come.
Futuristic view
In the future, Furniture manufacturers may team up rendering tools and Augmented Reality (AR) to increase their sales and achieve growth in business by providing with an interactive experience where they can view the furniture at the comfort of their home or office. All parameters with exact specifications including shape, size, and color inside an area or building will be available and customizable before buying the actual product.
Conclusion
From creating libraries to getting a competitive edge, Revit Family creation helps in boosting sales by gaining collaborations with various Architects as well as Designers. Revit Family creation enables furniture manufactures to create and deliver customized 3D models of products. An effective tool that leads to increase in orders and sales by collaborating with the target audience, Revit family creations is the need of the day for manufacturers.
Get stunning visuals and 3D models for sales and marketing.
Get in Touch →