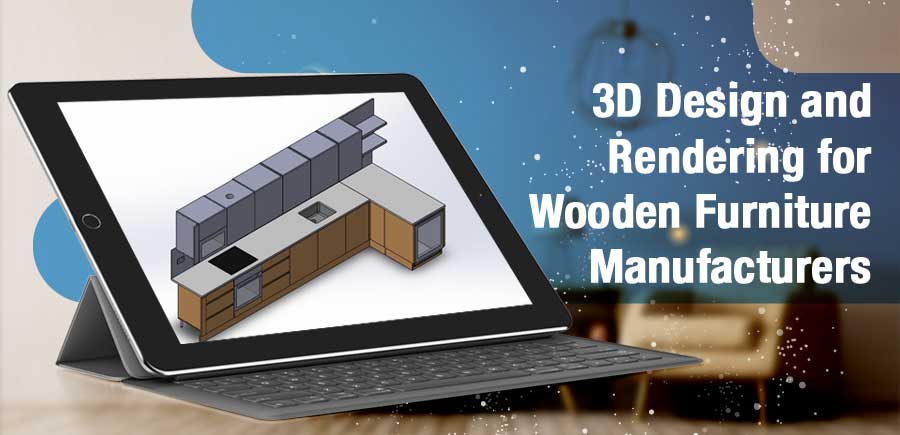 3D design and rendering services for furniture is increasingly seen as a meaningful solution by manufacturers to effectively communicate the product design intent for manufacturing, sales and marketing requirements.
The services include developing virtual 3D CAD models for wooden furniture products like cabinetry, vanities, countertops, desks, chairs and furnishings for living, dining and bed rooms. These models are then converted to photorealistic images using 3D rendering techniques that can be utilized for visualization and also in sales and marketing documents. The high quality 3D rendered images of the furniture are significantly cost-effective and are faster to create as compared to traditional studio photography methods.
With 3D design and rendering services, furniture manufacturers can gain multiple benefits. The 3D furniture model eliminates communication errors during manufacturing, eventually helping to bring the products to market faster. The same 3D models can then be utilized for 3D rendering requirements, and since everything happens virtually, making changes to the design or changing the scene for image capturing is easy and quick.
3D rendering has essentially replaced product photography as the virtual platform offers endless possibilities of creating appealing product images, without requiring investments in physical build-outs or waiting for the right lighting to capture the moment. Besides, with 3D rendering, it is possible to create 360-degree product images to help increase the sales conversion rates.
Having a 3D CAD model and photorealistic rendered images of furniture products has got other additional benefits for manufacturers apart from lower cost than traditional photography. The models and images can be utilized by manufacturers in their online catalogs and brochures and also on their websites. A 3D model is again important to implement design automation for built-to-order furniture products and speed up the engineering and manufacturing cycles.
How Furniture 3D Rendering Works?
The rendering process for furniture products at Hitech begins with gathering manufacturer's requirements. It is important to ensure that the rendered image of the furniture looks exactly as it should. For this, we get details on the wooden material used; texture of the fabric used to cover the cushions or sofa sets, surface finish required and reference images of the scene where the furniture will be placed. We then import the CAD data or develop the models from scratch using tools like SOLIDWORKS and Inventor® as a part of design services.
Our rendering specialists then develop conceptual renderings using 3ds Max®, Revit®, AutoCAD®, V-Ray® and Photoshop CC®, which are then worked out mutually with the clients to finalize the rendering image.
Outsource or In-House 3D Rendering?
Most often it is believed that 3D rendering is a process that can be performed in-house. However, this requires knowing the software in and out to generate professional level rendering images. It can take number of hours to create one rendering, if the operator is not proficient with the tools. Outsourcing on the contrary is a better alternative. A 3D rendering service provider has resources with expert level of understanding in design and rendering. Working on multiple, different types of rendering projects, their massive experience maintain an assurance of high-quality professional models and rendering images. Besides, outsourcing service providers have the right software and hardware infrastructure required for modeling and rendering.
High-quality 3D Design and Rendering Services from Hitech
Hitech is a leading 3D design and rendering service provider, with specialized experience in the furniture domain. We have established extensive experience in developing 3D CAD models and 3D rendering images for wooden furniture manufacturers developing furnishings for residential, commercial, institutional and healthcare facilities.
Work with experts in the field of 3D design and rendering for furniture. Send us your project requirements to info@hitechcaddservices.com.