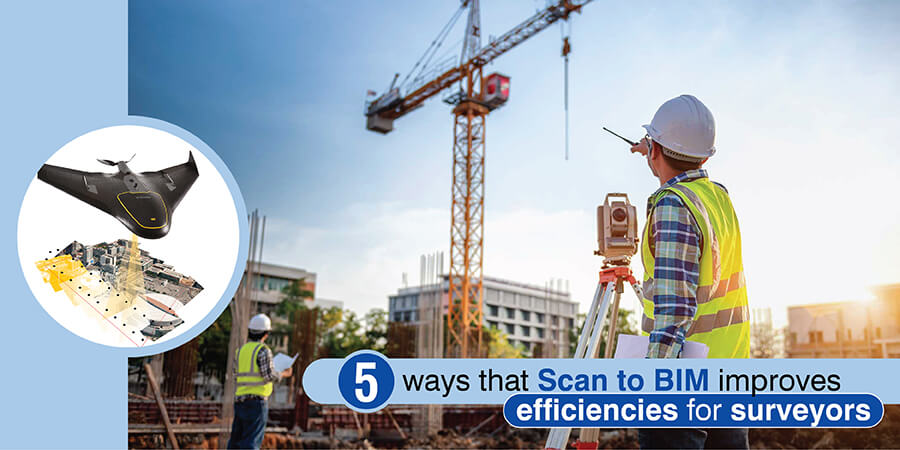 Scan to BIM allows for greater modeling accuracy for efficient renovation and restoration by digitalizing as-built conditions. Information-rich 3D BIM models enable surveyors to quantify and analyze spatial parameters in three-dimensional geometry.
Time, budget and quality are critical project metrics for any renovation or restoration project. A surveillance of "as is" conditions of existing buildings or structures by surveyors often throw up multiple renovation challenges such as:
Lack of documentation or drawings or substandard project design documentation
Difficulty in reaching congested or hard to reach areas
Inaccurate cost estimation and BOQs due to paper-based systems or spreadsheets
Lack of project visualization for asset maintenance leading to cost and time overruns
Scan to BIM overcomes these challenges by allowing surveyors to easily convert captured and scanned data into content-rich 3D BIM models for as-built conditions. The parametric 3D BIM models provide three dimensional visualization and easy identification of structural elements and component connections.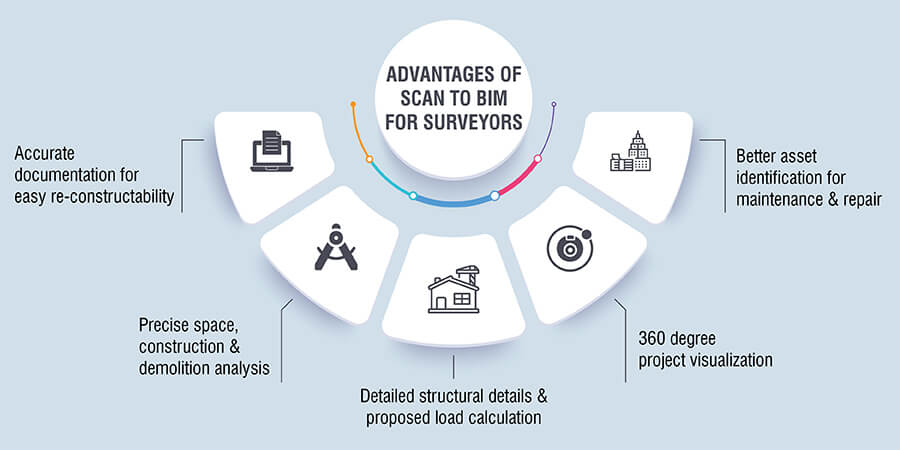 In this blog, we discuss challenges faced by surveyors, how Scan to BIM resolves them and the benefits of Scan to BIM for surveyors.
Top 5 Scan to BIM Benefits for Surveyors
1. Accurate documentation for easy re-construction
In the absence of construction documents and drawings, restoration or re-construction of heritage buildings becomes quite challenging.
Scan to BIM converts laser scans of every minute detail in the building in its as-built condition into accurate 3D BIM models. The accurate and detailed information with precise measurements of all building components in the BIM models reduces rework and increases productivity. Restoration can be made without damaging a building's architectural structure and by maintaining aesthetic value.
Digitized models and documented deliverables offer better project renovation insights. Surveyors can reduce onsite wastage with precise material quantity surveying, resulting in lean buildings. Scan to BIM models streamline supply chain management, minimizing logistic problems.
Accurate 3D Scan to BIM model helps client save project time for heritage building
To renovate a heritage building, a UK-based laser scanning company required a Revit model with LOD 400 details.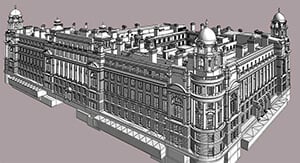 BIM Model at LOD 400
BIM experts at Hitech CADD Services leveraged scanned data to create a 3D Revit model with accurate shapes, sizes, planes, extrusion, and curves. The detailed 3D BIM model offered accurate documentation and precise timelines for restoring and renovating the heritage building.
Read Complete Case Study »
2. Accurate space, construction and demolition analysis
Before demolishing any part of a building or structure, surveyors or surveying companies need to have a complete understanding about every nook and corner of the building structure. Often the limitation of manual survey methods, makes it difficult to get accurate information about the structural systems of the building. Thus in order to have a safer demolition, the construction team may need to provide extra temporary supports which can increase project budget and project turnaround time.
Scan to BIM provides greater clarity on how a portion of the structure will react when demolished via demolition analysis. Surveyors and surveying companies can utilize point cloud modeling for demolition to visualize what the structure and its adjacent spaces will look like after a part of it has been demolished. They can get detailed spatial layouts and can visualize how building components in a structure will co-exist and function.
Accurate demolition analysis enables informed decision making for European construction project
Point Cloud to BIM Model
Revit experts at Hitech CADD Services used scanned data to create an accurate structural 3D BIM model for an 111,000 m2 building. The project was commissioned by a European topographic service company.
Demolition analysis enabled the client to check load calculations for the new building as well as the impact of demolishing a apart of the building on the overall structure.
Read Complete Case Study »
3. 360 degree project visualization
The accuracy of measure drawings depends on a surveyor's site sketches. Blurred videos and images from site with inaccurate or missing information result in erroneous 2D drawings and documents. All this ultimately results in rework, delays and budget overruns.
Scan to BIM allows surveying companies to get a 360 degree view of the entire building or structure. 3D models and drawings offer better asset visualization and mapping of spatial geometry to gain a complete view of the project space. Granular visualization helps surveyors measure all the visible elements in the scan and extract accurate drawings from the 3D model.
The three dimensional view leads to informed decision making and early clash resolution, reducing rework and ensuring that the project is completed within time and budget.
Project visualization via Point Cloud Conversion drives efficient mine topography analysis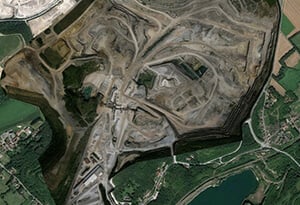 Point Cloud to CAD Conversion
A French scanning and data consultant partnered with Hitech CADD Services to created CAD drawings of mine topography and generate detailed spreadsheet reports for site data analysis.
The BIM experts studied the scan-droned files which provided granular visibility into even the hard to reach areas. They assessed the topography;prepared detailed CAD drawings for the haul road, safety berm and quarry face and computed stockpiles. The in-depth visualization into the topography provided by the drawings helped establish an easy and safe workflow for mine digging operations. It also helped optimize project cost and time.
Read Complete Case Study »
4. Accurate structural details and load calculation
3D BIM models created with scanned data from hard to reach places like behind the ceiling and above roof and lofts, precisely show existing roof frames and other structural elements. Thus the project team can plan construction and renovation with data-based decisions facilitated by BIM model. They can design optimum scaffolding and support for the safety of workers and remaining structure in a shorter time period.
Scan to BIM modeling provides load calculation to gain an estimate of the maximum severity of the load on a structure. These loads can be dead loads, imposed loads, wind loads etc. Precise structural load calculations enhance sustainability and safety of tenants for the entire life cycle of the building.
Accurate load calculations help UK based client mitigate risks and reduce costs for an educational building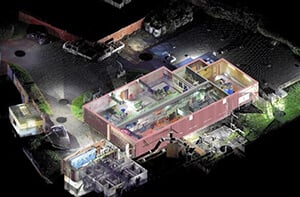 Scan to BIM Conversion
A UK-based building construction company shared scanned data of an educational institute building's backyard with Hitech CADD Services. They needed these point clouds of architectural and structural systems to be converted to a parametric 3D BIM model.
An information-rich, coordinated BIM model at LOD 300 with 10mm accuracy was delivered by the Hitech engineers. The model helped client calculate load calculations, make informed project decisions about the new building design, mitigate risks and reduce costs.
Read Complete Case Study »
5. Better asset identification for maintenance and building condition assessment
A building may have undergone various upgrades to accommodate needs of occupants which may not be recorded in 2D drawings. Using outdated or inaccurate 2D drawings for repair or FM purposes may lead to rework and financial loss.
Scan to BIM 3D models provide crucial information required for facility management and an exact understanding of how the various building spaces are being used. Surveying companies can quickly visualize the complex as-built geometry of the building and project site along with power components, machinery, pipe works, etc. which show the framework of a building.
For repairs or upgradation in congested places, Scan to BIM models provide clarity on how to plan new services and select material to fit into a specific space. They can help determine exactly where the repair, upgrade or new element should go and integrate with the current layout.
Surveyors and surveying companies can even integrate COBie with Scan to BIM models to extract non- geometric information such as building component names, warranty details, etc. The model can also be used to help ease maintenance runs, gain analyses for technical upgrades while saving operation costs.
Accurate building assessment helps a US based client submit project ahead of schedule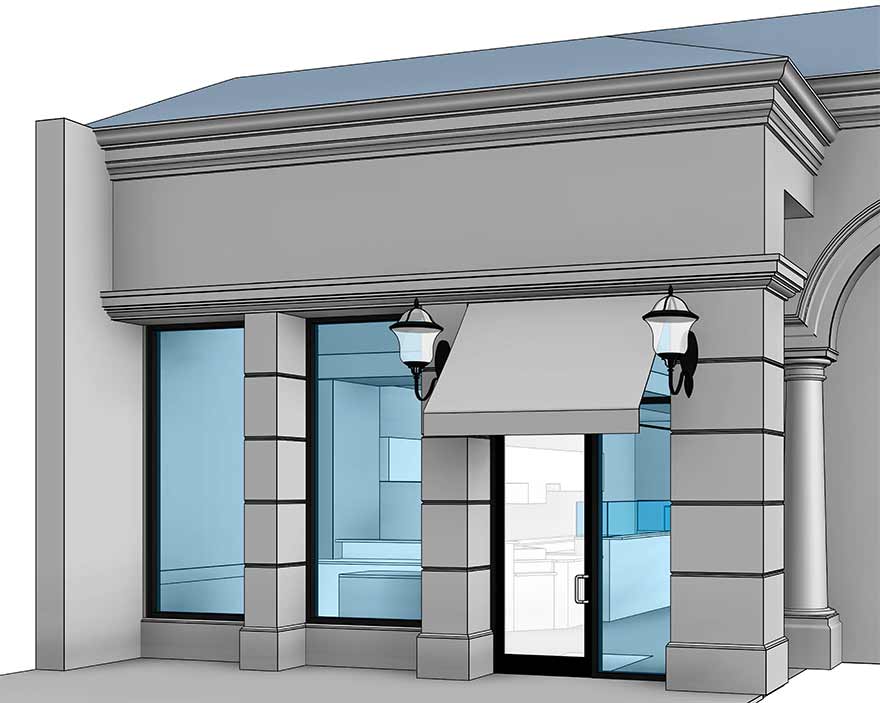 A leading USA-based building survey company needed to create survey documents for a popular cafe outlet to facilitate building condition assessment.
The team of Revit experts at Hitech CADD Services converted the scanned data into 3D BIM models with an accuracy of +/-10 mm. With a shorter turnaround time, clients could submit work ahead of schedule and gain building condition assessment in a collaborative environment.
Read full case study »
Digital Capture is the Future
Digital capture, as well as image recognition software, already in use in areas such as e-commerce, healthcare, manufacturing etc., is the future of scanning for surveyors. It can help surveyors detect, identify as well as capture areas and objects in digital images. AI will allow features such as optical character recognition, gradient matching, pattern matching, scene identification, etc.
AI enabled road automation is being extensively used in the Netherlands. It has proven to detect 95% of defects including potholes, cracks, repairs, etc. Technology has also made it easier for surveyors and inspectors to get accurate road analysis reports without making multiple site visits.
Conclusion
The real value of Scan to BIM is realized when information is incorporated in the BIM workflow using 3D modeling tools for the creation of accurate and reliable project deliverables in real-time. For surveyors, Scan to BIM makes it easier to capture higher data volumes without additional effort. When correctly deployed, Scan to BIM helps surveyors in collaborative working through visual performance.
Centralized storage will help surveyors reduce repetitive surveys, minimize ambiguities, cut through unnecessary documentation, and more. The reduction in hundreds of hours spent on surveying helps surveyors gain time and cost savings through a comprehensive database of accurate digital information, records, and models.