Autodesk Inventor has become a leading 3D modeling and design tool in the woodworking industry. Its ease of use, design efficiency, adaptability and accuracy in creating manufacturing drawings helps modern woodwork designers outperform those using conventional methods.
Over recent years, working patterns in the furniture industry have evolved significantly. Today, most woodworking shops are equipped with CNC manufacturing tools for cutting and shaping. But these CNC machines need precision CAD design inputs that can't be met properly by 2D CAD drafting techniques. 2D drawings pose challenges, such as:
Much time is lost in developing veneer schedules, cutting lists, project documentation, etc.
Creating parts, specifications and Bills of Materials (BOM) is tedious and error-prone in absence of parametric designing.
Limited visualization and difficulties in communicating spatial arrangement of parts in 3D space.
Inventor® is one of the leading 3D modeling software for woodworking that simplifies the design process. It offers:
Generating comprehensive parametric 3D CAD models and documentation for manufacturing and installation such as BOM, cut sheets etc.
Enabling direct export of various dimensional parameters and component quantities with specific descriptions for drawing creation.
Allowing for easy changes to dimensions and sketches.
Automating repetitive tasks, reducing time taken to generate specifications by 50%.
Woodwork design drafting challenges faced by design engineers
Design engineers face multiple challenges that can lead to wasted time, reduced efficiency, and increased scrap. These include:
Tedious dimensioning and development of BoM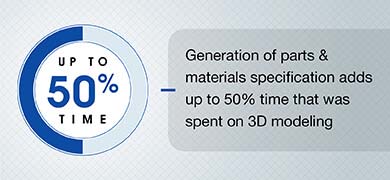 Manufacturing instructions, accurate dimensioning and tolerances, footnotes etc. are critical aspects of woodworking drawings. But designers have to tactfully eliminate some to avoid too much detailing.
Frequent design changes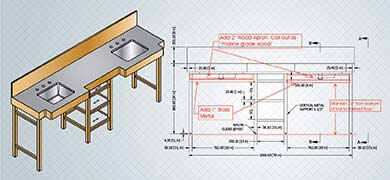 If there is a change in one dimension of a cabinet, it should be reflected in all related parts. If the drawing fails to reflect such changes, designs are jeopardized and have to be redone.
Detailing shop drawings for seamless manufacturing
Developing shop drawings to clearly communicate part orientation, bending, holes, lumber grade etc. for minimal change orders or RFIs from the shop floor is a time-consuming process.
Autodesk Inventor® provides woodwork designers the tools to address these challenges, make the design phase easier and pave the way for streamlined production.
Beat woodworking challenges and manufacture without interruptions
Get a quote →
How Autodesk Inventor drawing and modeling benefits woodworking industry
Simplified furniture skeleton creation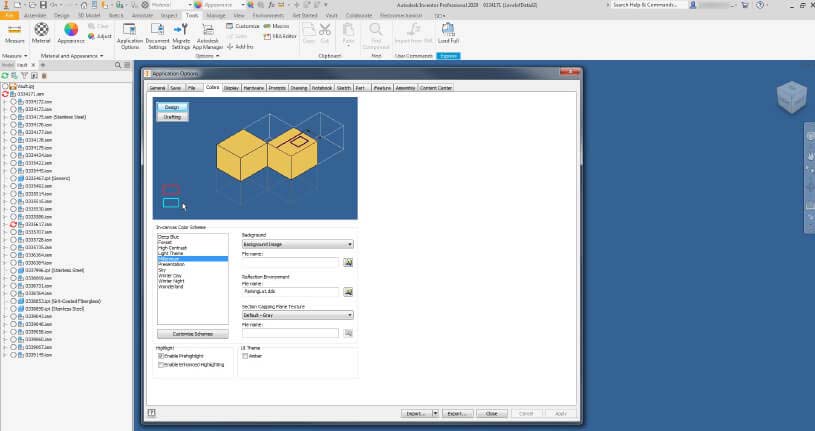 Skeleton into a standard Autodesk Inventor assembly & continue
to use it at the assembly level
Inventor drawings for woodwork offers a set of DressUp features that has commands to efficiently and quickly create base-frame structures of furniture items based on the furniture volumes and design complexity.
To create the board body of the furniture piece, the designer needs to simply specify the volume and thickness, which also helps in creating the shelves of the cabinets. Then the designer has to specify the working surface and the furniture product's shape, to transform it into a board.
To automatically create the cabinet, all that a designer needs to do is indicate the body of the board that has already been created and specify the offset distances clearly.
An illustrative case:
Inventor's iLogic Configurator reduces engineering time from 4 to 5 days to a few hours.
The sales team of a leading US-based manufacturer of doors and vanities received high volumes of drawing change request from customers which was difficult to manage for the engineering team.
With the application of Autodesk's Inventor iLogic Configurator, Hitech's automation team reduced the engineering time from 4 to 5 days to a few hours.
The solution helped the client to customize products faster and provide more accurate quotes to customers.
Read Complete Case Study →
Joinery library and drawing standards with Woodwork for Inventor
Autodesk Inventor offers an in-built library of pre-designed, customizable joinery components and parts. Woodwork designers can easily access, drag and drop these parts and put them in their design models. It will not only save time but also ensure consistency due to all standardized parts. Additionally, there are tool like Woodwork for Inventor, that are fully integrated with Autodesk Inventor to help designers create complex designs easily.
Further, Inventor doesn't enforce any specific drawing standard. It allows the designer to choose any drawings standard and format the project needs to adopt. This makes the design workflow flexible and more collaborative when multiple engineers working on the same designs.
Easy material assignment
With Inventor, assigning furniture materials such as solid wood, laminated board, multilayer board, rod, desktop, veneer/film, edge banding, paint can be done visually.
Construction of complex furniture from cabinets to stairs, wooden windows etc. can be done easily with Inventor as it enables selection of material types from a wide range.
Inventor can efficiently handle both the design of simple and composite parts, and the calculation of materials and parts.
Automated models and Inventor drawings development with accuracy (iLogic)
iLogic provides design automation solutions for generating necessary manufacturing documents, installation guides, 3D models and shop drawings.
It uses logical rules to automate visualization area in the drawing sheets and set the parameters for generating holes based on the grain direction, and edge bending as a part of the documentation. Additionally, since every technical drawing is generated using logical rules, the accuracy and precision of manufacturing drawings and BOMs is almost 99.99%.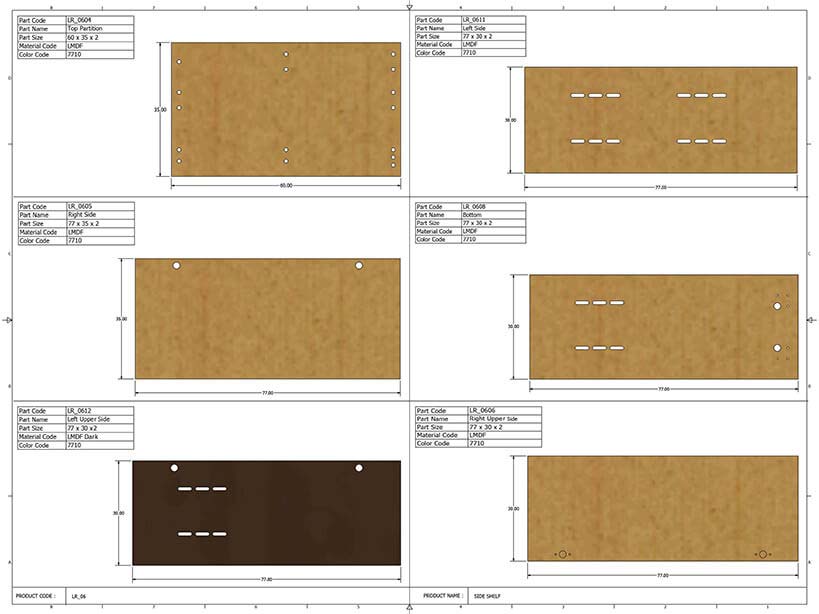 Automatically generated documents
Raise productivity of your designers with complete design automation solutions
Let's talk →
Data integration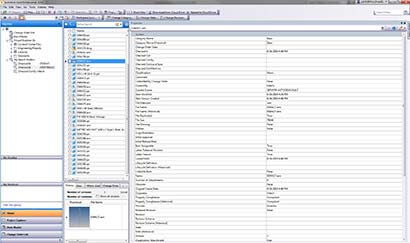 Automatically included along with the component into
the Autodesk® Vault Professional data
Autodesk Vault Professional allows integrated product data management and information integration.
Various data parameters like workpiece dimensions, material or color codes can be automatically transferred with the proper configuration of Inventor and Autodesk Vault Professional.
Systems can be set up so that any parameter generated in Inventor could be moved to the Autodesk Vault Professional data tab. For example, NC files can be generated automatically for manufacturing. This goes as an additional component property.
Moreover, Inventor can be configured to include used files in Autodesk Vault Professional data.
An illustrative case:
Institutional millwork manufacturer delivers high-quality museum furniture using Autodesk Vault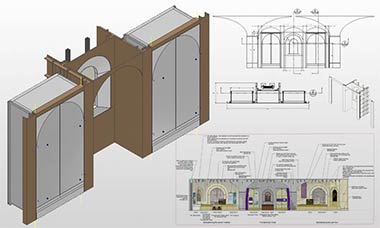 The furniture manufacturer was looking to develop manufacturing drawings for wooden cabinets. To preserve the essence of historical architectural designs of the museum, they needed precision drawings
The millwork team at Hitech CADD Service developed detailed cabinet shop drawings for them using Autodesk Invertor. The plans were shared with the manufacturer using Autodesk Vault to eliminate design data loss and faster TAT.
Read Complete Case Study →
Supports adaptation
Inventor is adaptable to the woodworking industry needs and is user friendly. It offers self-updating for various features which is missing in AutoCAD®.
Inventor's adaptability and user-friendliness make it stand out. It offers self-updating features, surpassing software like AutoCAD®, which can pose challenges in updating parts when geometry is manipulated. The delete and repeat technique used by woodwork designers gained popularity with the powers offered by Inventor.
Unlike AutoCAD, Inventor offers self-updating for various features and doesn't require layers, a command line, or a UCSISON, making it a top choice for woodworkers.
Inventor for Woodworking: An Essential Tool
Regardless of furniture design complexity, Inventor for woodwork ensures quick and accurate delivery. Additionally, paired with iLogic it overcomes challenges in customizing existing designs.
You can not only add your own components to the Inventor Library but also download 3D models of components and parts from your supplier's website.
For professional carpenters and woodwork designers, Autodesk Inventor has become an indispensable tool. It guarantees enhanced design efficiency, data integration, and unparalleled adaptability, positioning it as a leader in the woodworking industry.
Get in touch today! →