Hitech remains fully operational amidst the Covid-19 challenges. Our business continuity plan is fully in place and allows our teams to conduct 'business as usual' remotely and safely. For any questions, please connect with Bachal Bhambhani (USA)
+1 408 338 8047
or Brett Parnham (UK/Europe)
+44 782 436 5444
.
Project Information
Client Profile
Institutional furniture design and manufacturing firm
Industry
Institutional furniture manufacturing
Inputs
Architectural plan drawings and hand sketches
Deliverables
CAD shop drawings, assembly and installation guides
Services
Millwork and Casework drafting
Client Challenges
Slower design cycles due to iterative design intent communication between designer, manufacturer and general contractors.
Interpreting detailed architectural layout of the museum to develop detailed shop drawings for millwork, casework and joinery keeping natural light and museum architecture intact.
Business Needs
The client needed precision millwork shop drawings to communicate right design intent on shop floor owing to historical architectural design of museum. Also, since the furniture had multiple components to be modeled, client wanted an efficient solution with quick turnaround times using their online CAD Vault systems.
Our Solutions and Approach
Project engineers studied the architectural drawings and hand sketches shared by the client to understand fitting of various joineries across the museum. Based on our prior experience in millwork and casework drafting, we suggested veneer selection and material choices for various fit outs and then started developing CAD drawings.
After first few meetings with the client, we developed first drafts shop drawings studying the architectural layout and shared them with clients.
After having series of conversations with the client and multiple RFIs, our CAD engineers produced skeleton modeling based on the input drawings. 
Based on the client's feedback, a team of three CAD engineers and drafters revised and updated the first drafts of shop drawings in AutoCAD by importing PDFs.
Once the detailed information was received; we prepared CAD drawings and assemblies which were dispatched as Pack&Go files to Vault on local drive of client's server
Documents like design process monitor, project register,  material information, equipment call off, design change register was shipped to client in zip file formats.
Architectural Floor Plan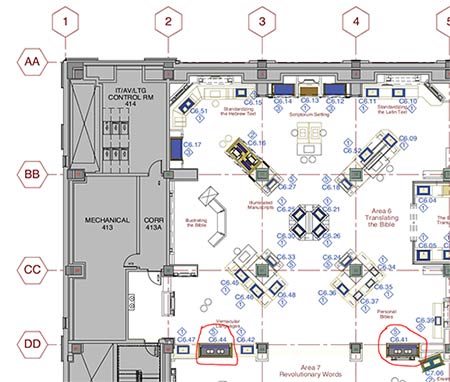 Architectural Layout Detail Drawings
The project engineers delivered high-quality manufacturing drawings with detailed joinery and installation instruction guide. These drawings assisted foremen on site and lead elimination of interruptions during installation.
Business Impact
With the accuracy of manufacturing and precision in installation guides, the client could completely eliminate any rework. Any need for size adjustments back on shop floor once the products were dispatched on site was eradicated with synchronized communication between teams. Also, client could significantly reduce turnaround times and achieve high-quality outputs using vaults and replicating models.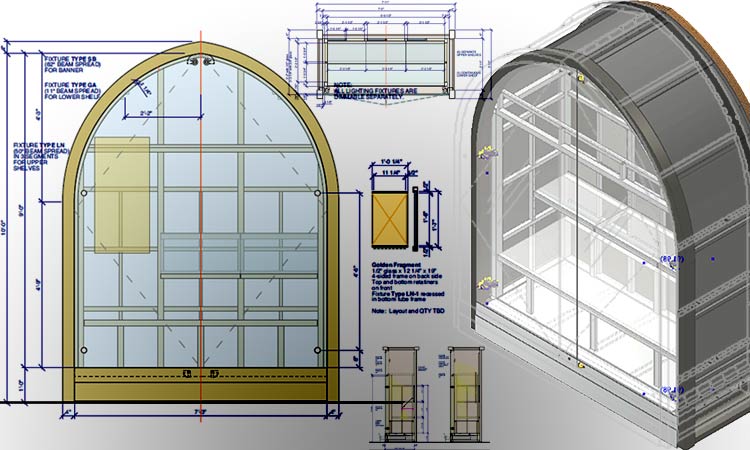 Display Cases Drawings with Model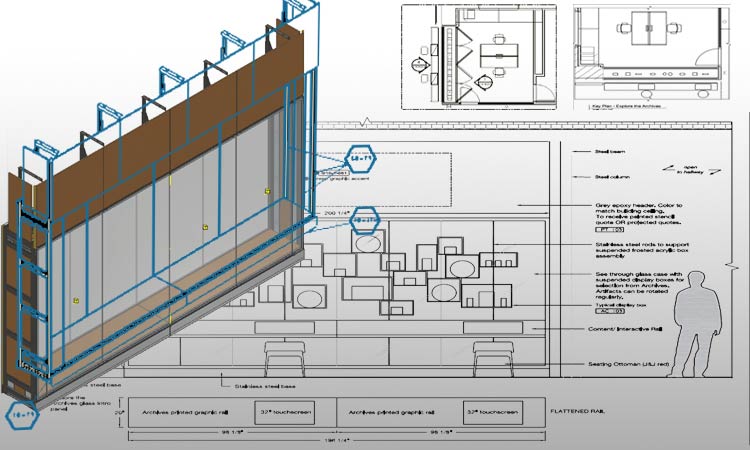 Display Cabinet Drawings & Model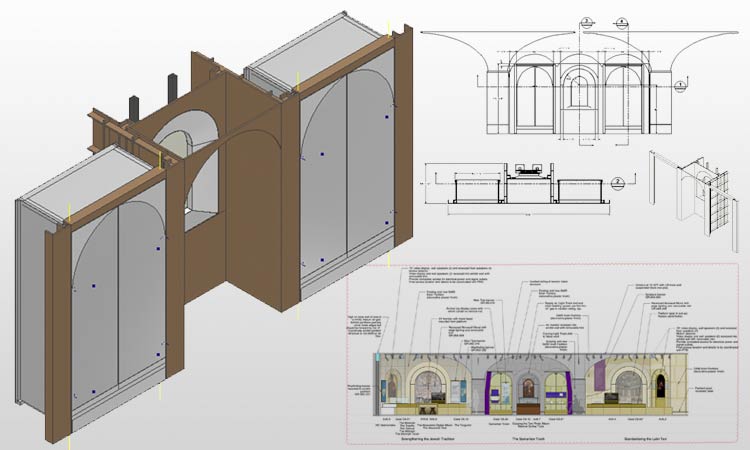 Display Cabinets Drawings & Rendering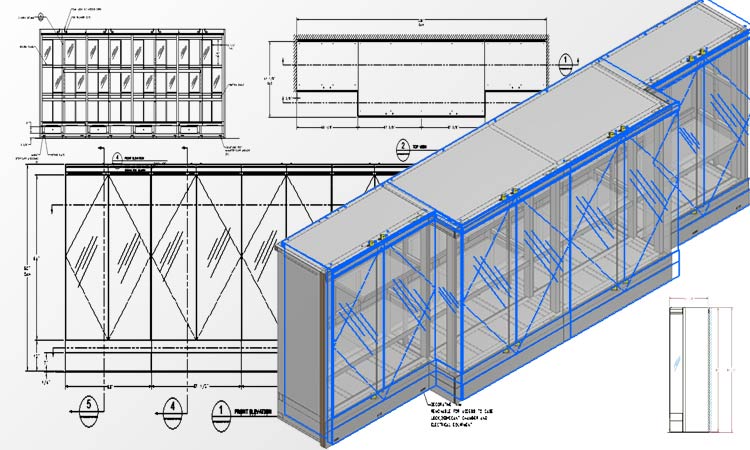 CAD Library Models