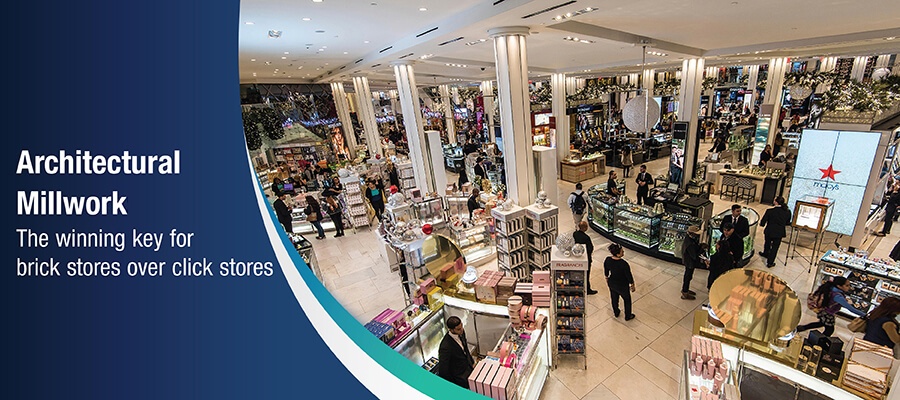 As more businesses shift online, store owners see a steep fall in retail sales. For physical stores to attract more customers, intelligently developed architectural millwork is the key – something that online stores will never have!
The eCommerce industry has seen exponential growth in recent times. The primary growth driver is minimal investment and maintenance costs.
Is it the beginning of the end for brick stores?
Will online sales completely throw brick stores off? Or
Can the differentiating factor – architectural millwork drafting – still save the fall?
It is not the end for retail stores; not yet! Market trends are optimistic about growth in the eCommerce sector. However, online sales still trail behind retail sales. And that is because of the enhanced customer shopping experience that physical stores offer with attractive architectural layout and interiors. This is something that online stores can never have.
Challenges that keep your store from performing
Human interaction of physical retail stores through attractive furniture and layout is a huge selling point over online stores. However getting the right architecture for your store presents its own set of challenges.
Cutting corners on millwork shop drawings leading to hassles during installation.
Significant investment to offer immersive and interactive experience to customers by using attractive shop fit-outs and racks and shelving.
Benefits of Millwork Shop Drawings for Physical Retail Stores
Seamless design communication
One of the biggest benefits of 2D millwork shop drawings is that it helps both, the shop owner and the fabricators to visualize what the furniture is going to look like and the role it will play in building an interactive seller-customer relationship. This results in speedy design approvals by establishing clear and consistent lines of communication between fabricator and your retail space designers.
Greater design options for different layouts
Millwork shop drawings help you pick from grid, free-flow, loop or angular layouts and more, depending on your store layout and architectural plan. The detailed drawings with all manufacturing, assembly and installation information and manufacturing BOMs enhance the quality of final deliverable. And a product with fine form and finish is sure to delight customers.
Millwork CAD drawings optimize cost on retail furniture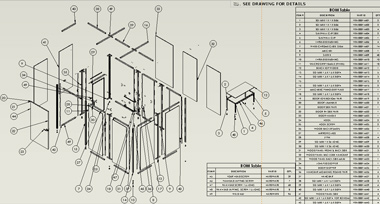 Design engineers from Hitech CADD Services worked with a retail store owner to develop fitting room furniture for their stores. Aligning new furniture designs with the existing store fixtures was a major challenge.
Detailed and accurate millwork CAD drawings helped client:
Save 60% on design costs
Get 30% inventory benefits
Detailed geometric dimensioning and tolerances
Consideration of door width and wall depth is essential to ensure the perfect fitting of the designed furniture into the available space. Millwork shop drawings convey minute details with precise spatial and outfield dimensions.
What a millwork drafter needs is concept drawings presented by the client or the architects to convert drawings with geometry, limits and tolerances for shop floor decision making. Such detailed drawings essentially help manufacturers in maintaining consistencies to fit parts across assemblies.
Costs under control
Detailed millwork shop drawings control material wastage to ensure that the shop remodeling process stays within budgets and schedules. These drawings drive accuracy in shop layout planning and furniture size.
Minutely detailed drawings eliminate trial and error practices and benefit fabricators/manufacturers to create meticulously accurate furniture. Dimensionally precise furniture drawings guarantee seamless installation and assembly of furniture pieces onsite, which saves countless work-hours. Material optimization makes considerationand management of material usage possible at the drawing stage itself, which ultimately saves money.
Better millwork detailing of aesthetics
Millwork shop drawings provide benefits other than just assisting in designing and planning of shop furniture. They illustrate the use of columns with aesthetics like cabinets, supporting racks, and mantelpieces to offer an engaging and interactive shopping experience in-store. They enable millwork drafters to highlight the innovative lighting, crown molding, and decorative motifs that enhance the ceilings and wall paneling. Hence, millwork detailing not just helps design stunning interiors but ensures that the shop perfectly aligns with its brand image.
Millwork & Casework Shop Drawings from Architectural Plans of Museum, USA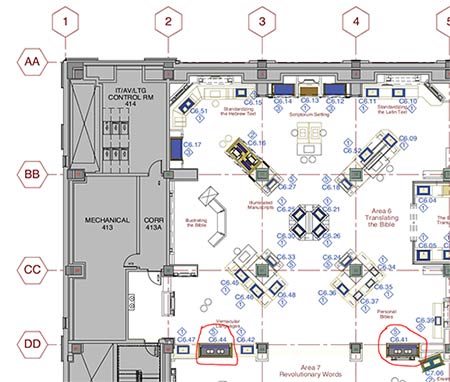 Hitech millwork experts have achieved zero reworks for institutional millwork with precision drawings and installation guides. The deliverables in form of detailed millwork shop drawings resulted in synchronized communication between designers, contractors and manufacturers to achieve high quality and faster turnaround times.
Read Complete Case Study »
Partner with expert millwork drafting companies for maximum gains
"By partnering with an offshore company store manufacturers and designers both get the benefit of drawings that perfectly capture the essence of your objectives. You get the advantage of minimal redlines and error-free manufacturing." Ripudaman Singh – Engineering Design Manager,
Hitech CADD Services
To leverage the full potential of millwork shop drawings, you need to work with a reputed company, with a proven track record of delivering high quality architectural millwork drawing services.
Look for a company that offers a variety of services including architectural millwork drafting, millwork shop drawings, fabrication drawing and custom millwork design and drafting.
Benefits of partnering with an outsourcing firm for millwork drafting
Access to skills & expertise

Specialized resources with experience and domain knowledge support error-free design communication on shop floor; knowledge of industry standards (AWI, ANSI, BS, etc.)

Reduced costs

Save on costs related to infrastructure, software and talent. Minimal rework and wastage due to design inaccuracies carried to production also save costs.

Output in required formats

Get finished millwork drawings in file formats as required by you such as .dwg, .dxf, .jpeg, or .pdf.

Time zone benefit

24*7 operations owing to time differences allows meeting of tighter deadlines and better project scheduling.
To Conclude
In a world, where ecommerce is giving your brick and mortar store stiff competition, you need to up the ante, and use visually appealing retail store design to boost sales, and change customer opinion in your favour. Investing in millwork shop drawings will help you realize even the most challenging design, thus helping you differentiate your store from its competitors.
You also save on remodeling and redesign costs resulting from trial and error and a back and forth between you and your fabricators. This investment will pay off in the long run by way of improved sales, higher profitability and meaningful customer engagement.