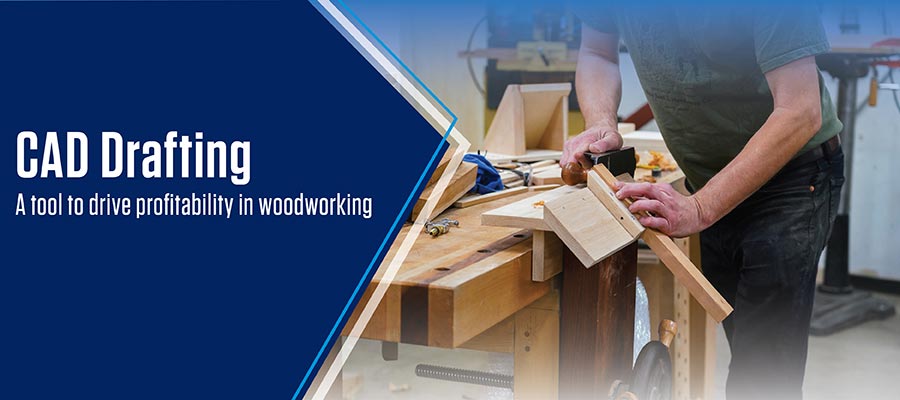 The woodworking industry has undergone a profound transformation owing to technological advancements in design tools and manufacturing methods. The influence of CAD drawings and drafting is particularly conspicuous, at every stage from initial concepts design drafting to the final woodworking manufacturing drawings. Woodwork CAD drafting experts, play a critical role in ensuring success of woodworking projects.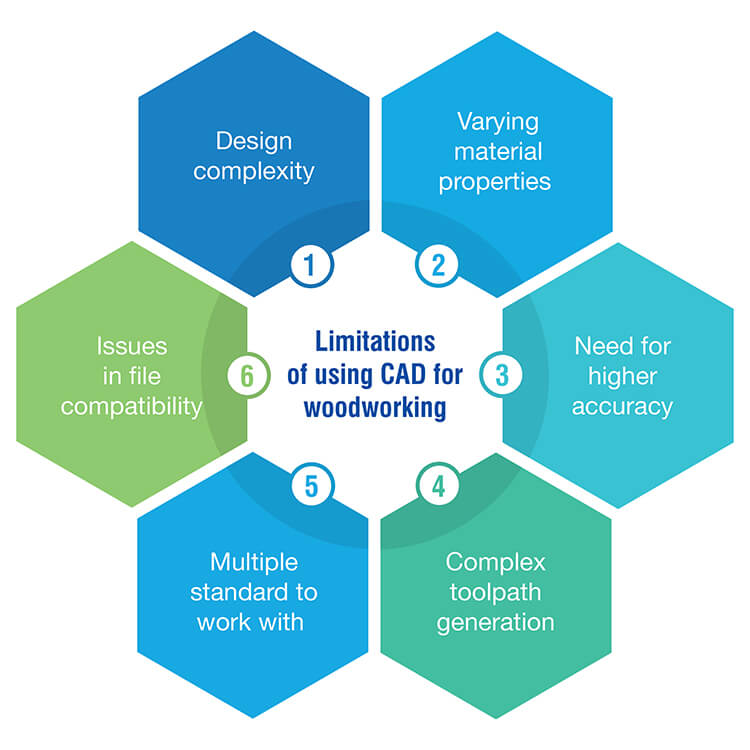 CAD for custom woodworking design has resulted in substantial cost savings and has become a preferred choice for millworkers and furniture manufacturing companies. It has not only streamlined the manufacturing processes but has also opened new avenues for custom design and craftsmanship. While the engineering-focused furniture manufacturing sector has fully embraced CAD, the non-engineering-oriented segment of custom woodworking has some catching up to do, despite CAD's dominant presence in the drafting domain.
A CAD drafting expert comes with years of experience in 3D CAD for woodworking. Hence can deliver accurate joinery drawings, cabinet drawings and other manufacturing drawings for a range of products. With their expertise they not only help with woodworking design using CAD, but also material optimization in CAD.
What are the key benefits of using CAD software in woodworking?
Using parametric CAD platforms in woodworking provides an array of benefits that enhance the way woodworkers approach their design development. Here are some of the key advantages:
Precision and Accuracy: CAD software allows for precise measurements and detailed drawings, reducing the likelihood of errors and ensuring that the final product meets the desired specifications.
Ease of Modification: With CAD, changes can be made quickly and easily, without having to start from scratch. This flexibility is invaluable when dealing with complex designs or last-minute modifications.
3D Visualization: Woodworkers can create 3D models of their designs, enabling them to better visualize the final product and identify any potential issues before the manufacturing process begins.
Improved Efficiency: CAD software streamlines the design process, making it quicker and more efficient. This saves time and allows woodworkers to focus on other important aspects of their projects.
Enhanced Creativity: With the vast array of tools and features available in CAD software, woodworkers can experiment with different designs and materials, unleashing their creativity and expanding their horizons.
Integration with CNC Machines: CAD software can be integrated with CNC machines, automating the manufacturing process and ensuring that the final product is exactly as designed. Some software offers robust CAD/CAM capabilities in woodworking to directly generate NC programs for CNC machines.
Cost Savings: By minimizing errors, reducing material waste, and speeding up the design process, CAD software can result in significant cost savings for woodworkers.
Improved Collaboration: CAD files can be easily shared with clients, contractors, or other stakeholders, improving communication and collaboration.
The benefits of expert CAD drafting in creating woodwork drawings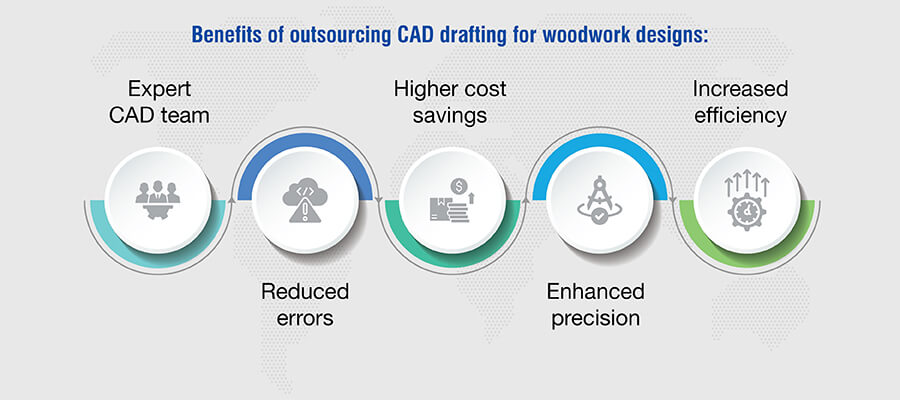 Woodworking is a field that combines creativity with precision. In today's competitive market, it is crucial to leverage technology to deliver the best possible products. Expert CAD (Computer-Aided Design) drafting brings a multitude of benefits to the woodworking industry, enhancing the quality, efficiency, and profitability of the projects.
The Importance of Expertise in CAD Drafting
The complexity and detail involved in woodworking projects require a deep understanding of both the craft and the software tools. Expert CAD drafters for woodworking bring years of experience and specialized knowledge, ensuring that the designs are accurate, practical, and aesthetically pleasing. They can interpret the vision of the client or designer and translate it into a detailed and precise CAD model.
Minimizing Errors
In woodworking, precision is everything. Small mistakes can lead to misaligned joints, ill-fitting parts, and ultimately a compromised final product. Expert CAD drafters utilize advanced software tools and their in-depth knowledge to minimize errors. They can foresee potential issues and rectify them in the design stage, preventing costly mistakes and streamlining woodworking process.
Cost Savings
Hiring a CAD expert for woodworking CAD drafting results in significant cost savings by minimizing material waste through precise and accurate drawings, reducing project timelines and associated labor costs, preventing expensive design errors, and optimizing designs for cost-effective manufacturing. This investment in professional CAD drafting services ensures efficiency and accuracy, ultimately cost saving in woodworking and contributing to the overall success of the project.
Customization and Precision
Every woodworking project is unique, and clients often have specific requirements. Expert CAD drafters can provide highly customized designs, tailored to meet the unique needs of each project. They can create intricate and complex designs with precision, ensuring that the final product meets the client's expectations.
Increased Efficiency and Productivity
Expert CAD drafters utilize the latest technology and software tools, which significantly increase efficiency and productivity, enhancing woodwork design efficiency. They can quickly make changes and iterations in the design, facilitating better collaboration and communication among the team. This streamlined process allows for faster project completion and the ability to take on more projects, ultimately increasing the revenue of the woodworking business.
Woodworking Success Starts with Expert CAD Drafting
Reach Out Now
How to Get Started with CAD Drafting for woodworking drawings
While getting started with woodwork CAD drafting can seem to be a daunting task, some checks can help.
Popular CAD Software Options for Woodworking
Several CAD software options are highly popular and effective for woodworking drawings. Some of the most recommended choices include AutoCAD, SolidWorks, and Inventor. Each of these programs offers a range of features tailored to the specific needs of woodworking projects, allowing you to create detailed and accurate designs.
Factors to Consider When Selecting CAD Software
Before settling on a specific CAD program, consider the following factors:
Compatibility with your hardware and operating system.
The specific features and tools offered, and their relevance to your woodworking projects.
Ease of use and availability of tutorials or support.
Your budget and the cost of the software.
Specialized CAD Plugins
When it comes to CAD software for woodworking, specialized plugins can greatly enhance the design and manufacturing process. Two of the most prominent plugins are SWOOD and WoodWork for Inventor, which seamlessly integrate with popular CAD platforms to deliver a range of features specifically tailored to woodworking.
SWOOD:
SWOOD enhances woodworking design by integrating seamlessly with SOLIDWORKS, providing a tailored suite of tools for precision crafting of furniture and wooden structures. Its extensive library of parametric components streamlines the addition of drawers, doors, and panels, while advanced features like CNC integration optimize the journey from design to manufacturing. With an intuitive interface and comprehensive features, SWOOD stands out as a top choice for woodworkers embracing CAD.
WoodWork for Inventor:
WoodWork for Inventor boosts Autodesk Inventor, offering a specialized suite of features including a comprehensive material library, automated part generation, and tools for crafting joints and other elements. This plugin empowers users to intricately design and visualize projects, ensuring perfection before manufacturing. With CNC integration and a user-friendly interface, WoodWork for Inventor is a go-to for woodworkers using Autodesk Inventor.
Guidelines for developing good relationship with woodwork CAD experts
Basic thumb rule is that a super quarterback for one NFL team may not play well for another NFL team; until he gets to know other players, follow this rule religiously. Check out a few CAD drafting service providers for woodworking to see what looks good. Doing a few small jobs together to check out if smoothening of details and format issues along with due dates and pricing; is not at all a bad idea.
Also verify:
Decide the frequency as to how much face-to-face contact you feel is required and comfortable on both ends.
Upon selecting CAD based services, how should they interface with your operations?
In absence of a plotter in your team, will CAD service providers deliver appropriate pencil-plot drawings?
If you do have a plotter, are your programs compatible? You may discover that it's more cost efficient to do plotting in-house, or you just may prefer to get a finished package in the mail.
Final word
Integrating expert CAD drafting into the woodworking design drafting is a strategic move that significantly boosts profitability. By leveraging the precision, efficiency, and creative freedom offered by CAD software, woodworkers can elevate the quality of their products, reduce costly mistakes, and optimize their workflow.
Furthermore, expert CAD drafters bring a wealth of experience and technical skill to the table, ensuring that every design is not only beautiful but also practical and cost-effective. The synergy of expert drafting and advanced CAD tools is a game-changer in woodworking, ultimately leading to higher customer satisfaction, repeat business, and a stronger bottom line.