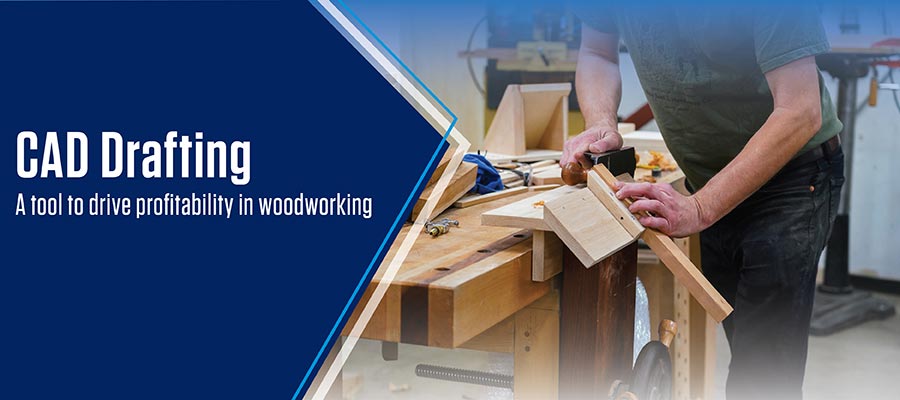 Woodworking as a profession, as projects and as an industry overall has witnessed a fundamental change due to advent of technology. Impact of CAD drawings and drafting is particularly witnessed across everywhere, right from conceptual to finished products stage. CAD experts, CAD drafting solution providers, CAD libraries and various other aspects to the trade, join the bandwagon from here.
The development and application of computer driven systems of drafting and machining have elevated this conventional craft to a new level of accuracy and efficiency, cost benefits, and of course company preferences. This not only has streamlined the manufacturing processes, but also has improved opportunities for design and craftsmanship. Across non-engineering oriented furniture manufacturing industry, involved in custom woodworking as well; lags behind bigtime when it comes to CAD – though it rules the drafting world.
Woodworkers, CAD drafters, woodworking drafting – a dynamic relationship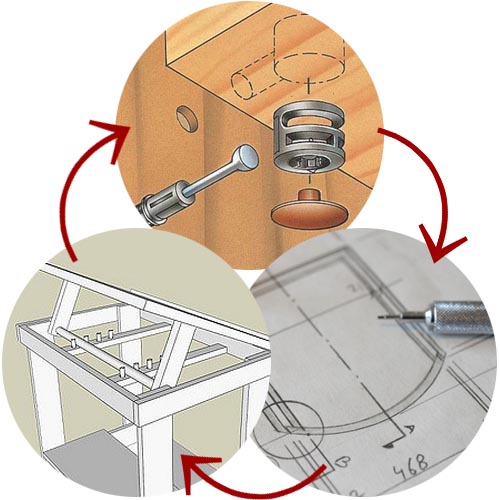 Europe and the United States have scant education for drafting, especially involved with woodworking industry. No doubts about that basic level training in the high school level tech programs, which were adequate enough to leave a lot of things as desired. This makes hiring woodworking drafters/draftsmen, an exasperating experience.
Also, American and European woodworkers share a dynamic relationship with woodworking drafting accomplished by drafters. Small shops avoid using it. Architectural woodworking companies have no option but to rely on it. Kitchen cabinet and other related trades are satisfied using stock drawings. Production furniture manufacturers tend to use highly detailed parts drawing, to help justify production costs. All these wood manufacturing niches do have in-house drafting departments; but the need of the hour is a thorough grounding in traditional woodworking skills and new computer centered abilities. So this was all about the woodworking professionals and trades. Now we will get down to the CNC shop.
Here, in today's world a project is "built" in the CAD/CAM lab, before reaching the shop floor. This is being followed ingeniously due to a valid reason that computer generated drawings not only provide information about dimensions and materials; but lines of the drawing often deliver machine programming information for processing on the shop floor.
Computer controlled milling centers have become a norm for woodworking industry, and the competition as well demands that woodworking or woodworkers utilize modern means of production if they are to survive and prosper. This sea change in manufacturing techniques, in fact overall wood technology, combined with software like CabnetWare, CADCode and AutoCAD to design and document woodworking projects; requires drafters, layout specialists, machine programmers and operators working with CNC panel saw or in a CNC machining center, to master both.
So, with inadequate in house capabilities and in that rate race to mitigate risks and cut costs; the only way out for the entire woodworking industry is to opt for design support from CAD experts.
Why design support from CAD experts?
Design support from CAD experts is something when capabilities are required the most but are not available in-house. They come in handy for tasks across, woodwork or furniture drawings for approval to working out tasks with multiple complexities. In such situations, these CAD support solution providers bring in business, which otherwise would have gone to competition.
Another reason to seek their expertise is the much known feast or famine nature of the woodwork business. Mid or large size woodwork business should consider asking for drafting support service, similarly the way they would opt for manufacturing plastic laminate boxes – in-house staff can concentrate on work where timing and/or coordination is critical, while repetitive or long-lead jobs can be subbed out to a service. Other option is to break large sized jobs, and getting it done partially by CAD experts and rest by in-house furniture professionals. Small shop floors can opt for CAD experts to fill a void when the need arises.
Due to the lack of workflow in custom woodworking, it is inevitable to be under or over booked. It calls for a smart move of keeping the staff lean and contract the work out to third party CAD experts. This arrangement has proved its worth for several third party box shops and small local wood shops to survive, and turning mid to large size architectural woodworking and store fixture manufacturers – profitable.
Myth – along with cost, control goes south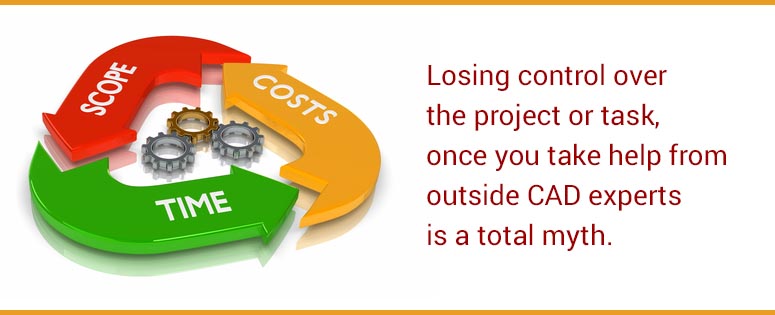 Cost and Control are the two major aspects that work as barriers when woodworking manufacturers think of taking design support from CAD experts. Losing control over the project or task, once you take help from outside CAD experts is a total myth. Let's be practical. In all working relationships, one is required to pay adequate attention to the details and mutually agree to certain ground realities. With a firm cost proposal in place, followed with a thorough and satisfying check about the capabilities of the subcontractor's capabilities – it works like never before.
Drafting service providers would give woodworking manufacturers, a fixed or a lump sum price. This may or may not include plotting, revisions or not. It is your choice if you would want to partner them for their expert CAD services, to work hourly or at an upset maximum – which is agreed mutually.
However; the proven fact is that it's not all about the dollars per hour. It is about the job cost. Your in-house team is all equipped to pump out the work faster than anyone else – but those typical tasks. However; CAD experts aware of your conventions and has a library to put at task of your work, will be able to deliver prompt outputs – at lower costs.
CAD drafting solution providers do what you want them to – for you
A woodworking based drafting solution provider, the one with considerable experience in the field and wisdom about drawing conventions followed with manufacturing procedures, are the ones who will do what you want them to – for you. See, there is always going to be some amount of give and take, here and there. CAD drafting experts with more clients from millwork shops might share drawing presentations showcasing sections and dimensions relating directly to assembly and stock-listing. However; you are looking for cabinet backs, loose bases, raised panels with applied rims, raised panels with built-in veneer over edging; it's just that you are required to make your requirements and preferences very clear to those CAD experts.
Being in the business and industry for so long, your priorities are supposed to be clear, whether you need plans and elevations with a few sections or full sections and details for all construction issues. It is required that you communicate this very clearly, or else you either will end up with no detailing at all or may be twice as much than what you needed. For CAD solution providers also, time is money. If you want every corner detailed, i.e. production parts drawings, you will have to pay them.
Unique & typical design-build requirements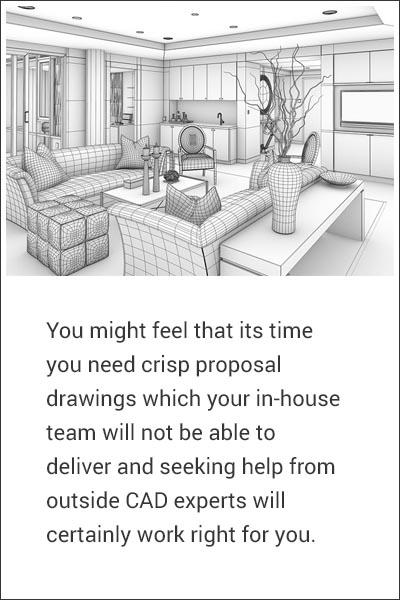 Design-build market has its unique and typical requirements. You may have in-house team to handle it, or at times the sales/design person may handle it directly – making you feel that outside CAD experts are not required, however; that is not the case. Your needs for shop drawings vary.
Architects may demand large sets of drawings, & at times certain odd jobs might not require anything more than sketches & shop foreman's skills. Or, you might feel that its time you need crisp proposal drawings which your in-house team will not be able to deliver and seeking help from outside CAD experts will certainly work right for you. A CAD service can catalogue repetitive details for you, and they can give you a really impressive ink schematic or 3-D presentation (if they work in 3-D).
Challenges of furniture houses – production or custom
Production furniture houses face similar challenges as custom houses, when it comes to taking help of CAD experts; but with a different flavor. Best furniture drafting and designing workflow can be developed only with proper understanding of concurrent market dynamics and new products; and certainly not with price estimates & rates. It is so because when you know of the market, you know when the crunch is likely to hit; and so you can block out those downs with your drafting sub to avoid the hassles of training your employees.
Secondly, to figure out job cost as a percentage of sales in such cases is nearly impossible. But reaching a conclusion with regards to costs, considering the fluctuations in staff requiring training is much easier by subcontracting the work to CAD experts. All what you need is to work out a mutually agreed upon SLA – Service Level Agreement with them in and around the hourly rate, upset maximum, or lump sum.
End of day, you are the boss when it comes to agreements and overall control. CAD drafters of solution providers should be made to prepare drawings exactly as you need in order to scale preferences and machining conventions. Also, when it comes to parts drawings, you know very well where exactly to dowel and where to mortise.
CAD – woodworker & production work
Though CAD is being known from providing a competitive advantage to woodworkers, its benefits are commendable for production work as well. If you have experts whom you can partner for CAD, you can go ahead to hand over the block drawings to them, to prepare mix and match for new products and configurations – now that's what is innovative business idea as we say. Keeping the costs low is it seems the DNA to the process of outsourcing CAD solutions. By doing so, there is drastic reduction in the drafting costs over time, while at the same time the solution provider may become an integral part of your operation or may be able to help set things up in-house.
Cost advantages & CAD drafting experts
Effectiveness in controlling monthly billing, holding down fixed overheads, entering market niches which otherwise would be lost opportunities; are some of the advantages realized with the use of CAD drafting experts. Apart from these indirect ones, there are several other direct costs saving as well including avoiding the cost of staff search and training fees, and various others that are line items on a job-by-job basis.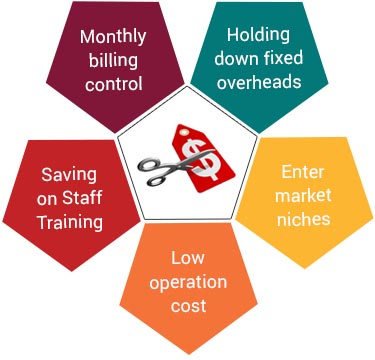 Usually, there is no threshold of a job size, upon outsourcing which becomes a cost effective affair for you. Any large size job can be turned into an extremely good price by CAD experts. As mentioned at the beginning of this article, outside drafting services won't have a major impact directly on your profitability. Real profitability is established in the sales room and on the shop floor.
The place where one can certainly make huge money with help of CAD experts is in operations. Maintaining a lean staff that does its job well, is what you can start with. This should then be followed with reliable CAD experts or CAD services, empowering you to expand monthly billing without expanding the overheads. It opens up doors to new opportunities and bid on work you might otherwise pass up. Also, if you are working with a break-even volume-numbers in your mind, and balance sheets; this partnership with CAD experts will prove to be a real profit maker. You also end up saving on staff training and conscious; as you no more need to steal foreman from other shops or train architects to do your drafting.
There is money to be made on a job-by-job basis, but you need to know your own costs. If you are clear on drafting costs, including overhead and taxes, then you can shop outside drafting just the way you would shop lumber – of course, you won't want to sub out work if you are barely full in-house. And be realistic about the potential savings. A CAD service might save you 1% of the uninstalled price. While this is nice, bigger profits come from sales and manufacturing.
Guidelines for developing good relationship with outside CAD experts
Basic thumb rule is that a super quarterback for one NFL team may not play well for another NFL team; until he gets to know other players, follow this rule religiously. Check out a few service providers to see what looks good. Doing a few small jobs together to check out if smoothening of details and format issues along with due dates and pricing; is not at all a bad idea.
Also verify:
Decide the frequency as to how much face-to-face contact you feel is required and comfortable on both ends.
Upon selecting CAD based services, how should they interface with your operations?
In absence of a plotter in your team, will CAD service providers deliver appropriate pencil-plot drawings?
If you do have a plotter, are your programs compatible? You may discover that it's more cost efficient to do plotting in-house, or you just may prefer to get a finished package in the mail.
Conclusion
Outsourced CAD drafting solution providers are known for delivering diverse advantages to woodworking manufacturers. From, offering increased drafting/engineering experts and expertise at peak periods without additional costs of training or increased overhead to assisting their clients with their CAD libraries to save costs, of course over a time when you maintain healthy relationship with the same service. Exchange of details with CAD experts seeking opinion is an added advantage. If you have an understanding of your own drafting costs, there are chances that you would attain modest saving on a job-by-job basis.