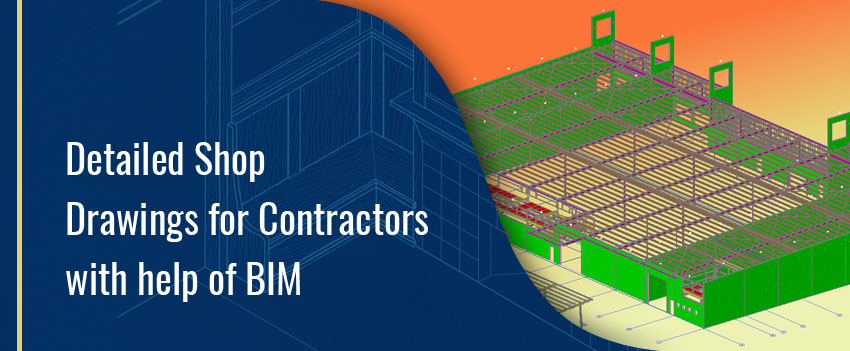 Building construction sector is facilitated by project coordination, asset management and cost estimation by ever evolving Building Information Modeling – BIM. Architectural, Mechanical & Structural shop drawings are the three primary shop drawings required for any construction project. Engineers equipped with AutoCAD® (Archi, Struct), Revit® MEP (MEP), Autodesk® BDS (Archi, Struct., MEP), Tekla (Struct), STAADPro (Struct) are the ones who could help you with all these requirements.
Architectural Shop Drawings
Construction documentation can be termed to be the bridge between building design and physical buildings. It covers the preparation of drawings that streamline the detailed requirement for the construction of a building. Most of the times, this is all about LOD 400 Revit model with detailed information about the building.
Architectural shop drawings are prominently required by the architects and are created from LOD 400 which includes minutest details pertaining to the size, location, shape, assembly and several other vital details.
Mechanical Shop Drawings
Mechanical contractors always need HVAC shop drawings and piping shop drawings. They usually opt for HVAC shop drawings and get duct shop drawings that are SMACNA (Sheet Metal & Air Conditioning Contractors' National Association) compliant, with required linings and insulation thickness.
MEP drawings have been useful to mechanical contractors to ensure coordination between mechanical piping and sprinklers. To initiate the right process, you can have the sheet metal drafting done as per the standards of sheet metal and duct fabrication detail drawings.
Mechanical contractors can plan and execute the work more efficiently with the given shop drawings. The majority of the layouts are in context of architectural walls and structural columns that can aid in locating mechanical members simply. Mechanical shop drawings compliant to HVAC ASHRAE standards, address the sustainability crises prior to actual construction.
Structural Shop Drawings
Structural shop drawings mainly are used for expressive representation of a building with sequential explanation of the construction phase including, floor plans, reflected ceiling plans, elevations and various other details. Contractors need construction drawings for residential and commercial projects works such as renovation, retrofitting, construction of new structure and so on so forth.
2D construction drawings from 3d models are useful in making estimate of the building plan. Attaining parts, assembly and DXF drawings for complex wooden structure from 3d models is an added advantage. Structural construction drawings serve 2d drafting & detailing, portable structures as well as as-built construction.
We at Hitech CADD Services are competent, reliable and experienced AEC service providers in India. We are your one stop solution to get shop drawings for HVAC, structures, electrical and plumbing work, 2d CAD drafting for all three architectural, structural and MEP disciplines of building construction projects.