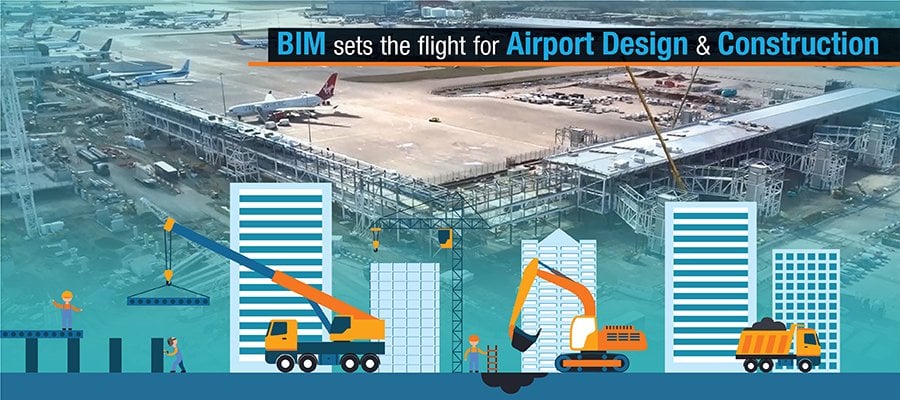 Digital BIM models offer a realistic visualization of various physical and functional components of an airport at the pre-construction phase. This allows AEC stakeholders to foresee design and construction problems and make informed decisions.
Constantly evolving airport designs to keep pace with traveler expectations, the sheer size of airports and complexity of operations pose multiple construction challenges – challenges that must be addressed before the actual construction commences. Interdisciplinary coordination, budgeting, onsite safety, activity scheduling and avoiding design and constructability errors are some of them.
BIM technology allows all project stakeholders to visualize the building at the preconstruction stage. A complete walkthrough of the 3D model with AR/VR technology gives a realistic feel of the entire airport project to enable resolution of problems before the actual construction begins.
"Using BIM helps improve project outcomes in infrastructure by minimizing errors and omissions, resulting in greater cost predictability and improving schedule performance and design optimization." Dodge Data & Analytics
Top 5 challenges in airport design and construction
Design and constructability errors lead to rework, inflated costs and delays -such as incorrect utilization of space for runways, terminals, gates, etc.
Complex operational challenges based on the flow of people, baggage, ticket systems, etc.
Improper quantification of construction material, equipment and onsite manpower lead to resource wastage and impact costs.
Low-quality MEP systems for air-conditioning, electrical systems, plumbing and fire protection.
Baggage check in problems due to confined spaces lead to poor customer experience.
How can BIM modeling help overcome these challenges?
Airport project stakeholders can leverage BIM to build efficient and sustainable airport infrastructure thereby overcoming these challenges. With accurate 3D BIM models, stakeholders can ensure better space management for passenger flow, get exact energy calculations and gain precise design constructability based on BIM processes.
Stakeholders can adopt BIM to visualize, design, construct and manage the entire infrastructure- from spacious terminals to baggage handling and security verification for effective operations.
6 benefits of BIM for airport design, construction and maintenance
1. 3D visualization saves on rework and costs
Airports span huge spaces. The design and construction of such massive infrastructures require accurate and detailed designing. A single deviation or design flaw can have disastrous consequences.
BIM provides a three dimensional view of the entire airport infrastructure during the initial stages of construction helping stakeholders pre-empt issues that may occur at a later stage. Stakeholders can give their inputs during the initial stages of design, facilitating disciplines to collaborate flawlessly, validate aesthetics, account for functionalities and improve building constructability. Identifying and resolving clashes at the pre-construction stage reduces rework at a later stage thereby helping stakeholders save on costs.
2. MEP BIM models save cost and energy
Airports have a complex and huge infrastructure, so they need heavy energy requirements in terms of daylighting systems, air conditioning, water systems, temperature regulation, etc. A singular 3D MEP BIM model serves as a focal point to evaluate all the energy calculations for every component.
Air Conditioning is crucial as it spans most of the internal airport infrastructure, be it gates, terminals or resting areas. This calls for robust HVAC systems with the right ducts, refrigeration, temperature regulation, piping systems, etc. Equally important are effective fire protection systems based on temperature sensing.
BIM ensures that all the mechanical, electrical, plumbing components are installed with clash free and accurate MEP models, hence saving cost and energy.
Airport project saves $7M in 6 months by leveraging a clash-free MEP model
Hitech CADD Services was outsourced a BIM project for airport construction in Muscat, Oman by a general contracting company. The requirements were clash-free MEP 3D Model and MEP coordination drawings based on IFC drawings and BIM models for architecture and structure. The team at Hitech CADD Services was able to produce the deliverables in time wherein the client saved $7M and could carry out MEPF equipment installation without any hassles based on a clash-free coordinated model.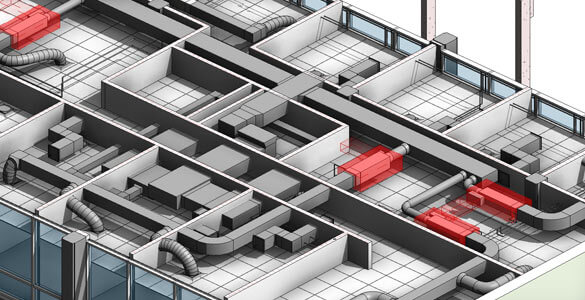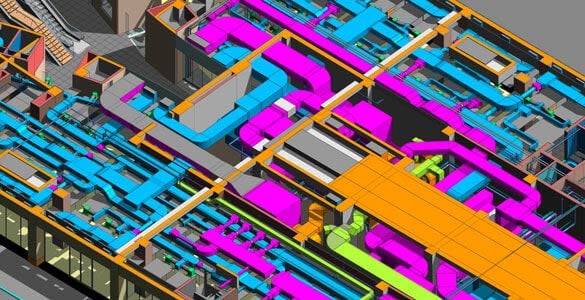 Read Complete Case Study →
3. Accurate 3D BIM models streamline passenger queues
As millions of travellers pass through airport terminals daily, it is crucial that the walking and resting areas are spacious. BIM helps project stakeholders build simplified and efficient walking queues and resting areas for passengers based on accurate 3D BIM models.
With specifications received from the government and airport authorities, AEC companies can collaborate to build BIM-based architecture and structure for better space management in various areas like Terminals, Gates, Resting Areas, Walkways, etc.
4. Faster construction of airports with prefabricated components
Prefabrication in BIM is the essence of building quick. Prefab components not only help with new airport construction but in renovation as well to ensure operational continuity. Prefabricated components are easy and safe to install based on the minutest of specifications and dimensions inserted in the 3D BIM model.
With the use of prefabricated components and proper quantification of airport building materials, BIM models guarantee better scheduling and cost estimation with optimized structural analysis.
5. Ensure traveller safety at airports with BIM
As millions of travelers go through airports daily, every space or location on the airport needs top-of-the-line security. The meticulous installation of security systems for baggage checks, x-ray machines, fire sprinklers, exits etc. is aided by BIM.
BIM allows AEC professionals to build strong architecture and structure by understanding performance of building material under various conditions and factoring them into the parametric 3D BIM model. BIM models allow accounting for natural and manmade disasters.
6. Quick renovation for airport structures with scan to BIM
Renovation, including expansion, is an integral part of maintenance related construction activities. Traditional surveying or renovation methods would be completely chaotic as that would call for close-down of a facility, building or infrastructure.
Reality Capture allows using 3D laser scanners to scan existing airport infrastructure. This scanned data converted to 3D BIM models in Revit®, makes it easy for AEC firms to study the airport infrastructure and renovate or integrate accordingly. The process saves greatly on cost and time. The scan to BIM process also facilitates airport maintenance where the data plays an important role during the "as – is" or project handover process.
The Changi Airport in Singapore is a construction marvel. Meticulous planning of the construction framework aided by digital BIM models and the adoption of 4D and 5D techniques helped the project get voted as the world's best airport. Adoption of BIM also allowed stakeholders to work in tandem to achieve high levels of efficiencies.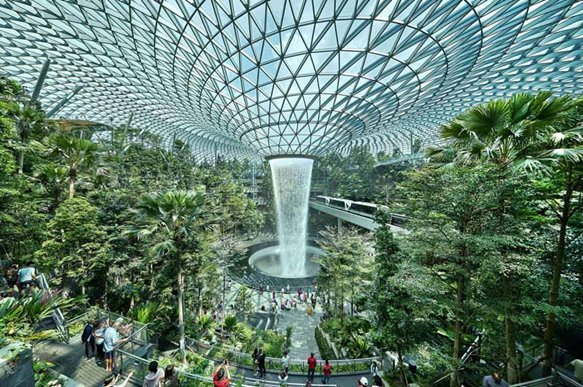 Wrapping it up
With more than 8 billion travelers set to go through airports by 2037, governments, airport authorities and AEC companies will need to make concerted efforts towards building high-performance airports. BIM services will play a critical role in handholding the construction sector to meet this objective.
While the total transition from traditional construction to BIM-enabled construction will meet with initial resistance, there is no denying that BIM technology is here to stay and grow. 3D BIM models enriched with 4D and 5D layers, positively impact costs, deadliness and airport project sustainability. This competency of BIM will drive the construction sector to make the big switch.