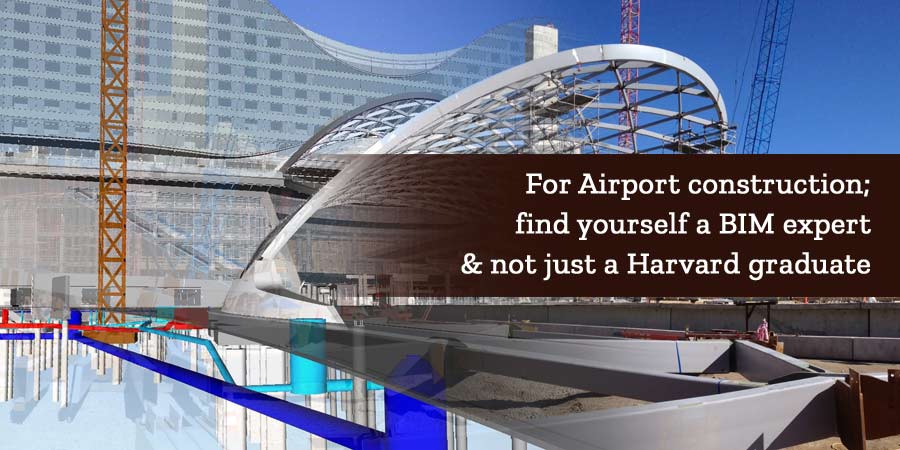 Two things that are inevitable in airport construction projects, one is the variety of construction strategies and second is the presence of more than one contractor on-site. What is more intriguing is that each strategy and each contractor have their significant role to play and all these are more or less interrelated; however, they usually take opposite stands.
What happens with airport construction is that it involves design, planning, construction and maintenance of heavy infrastructure including multiple roads, several buildings, landing area, MEP works across large facilities, aerodynamically sound architectural consideration and much more. If you were to ask an EPC firm or a general contractor specializing in airport construction, it'd be the most certain answer that they perceive airport construction as the development of a small city.
While all construction sites are only colossal and haphazard in the initial stages, it is a well-designed plan and efficiently managed construction activities that turn the site into a facility. Aesthetically sound and structurally strong building from a construction site emerges with well-coordinated design plans such as in BIM. The journey of this transformation isn't without any hurdles, in fact; contractors would encounter challenges with every step they take forward in that direction.
BIM management – A blessing in disguise when challenges are too many
It should not come as a surprise that airport construction is a massive business. To further strengthen this argument, let's consider some of the prominent airports of recent times namely New Mexico International airport or Beijing airport. Both these airport roughly clock the land area of about 7-8 million square feet, individually. It approximately equals that of a 100 football turfs put together! Now imagine the complexity of construction works in this big area and how inconvenient it is to accurately track, transport and manage the logistics in a construction site this big.
Today when EPC firms are on a taut margin of cost and timelines for the project, it becomes a serious concern for them to undertake such massive projects – projects that are basically of constructing a whole small town. Besides, several other factors such as litigation clearance, permissions from local authorities, tender approvals, bids, surrounding buildings and their height of construction, cross border tourism, international investments and much more accounts for airports development projects. These factors are pretty dynamic and also sensitive to some extent. They tend to shakeup the progress and hence, managing onsite logistics.
On the other hand, the alternative of populating all these information and constrains pertaining investments, litigations and standards, on a single platform, could actually satiate the chaos for large construction site management. BIM platforms and design modeling software namely, Revit, Autodesk's BDS, Navisworks, AllPlan etc. have persistently brought about some radical changes in construction management.
BIM platforms empower contractors and EPC firms map out every element on the construction site. Once that has been mapped out and documented in a graphical 3D model file, conversion to 4D BIM will ease the management and logistics part. It would allow the stakeholders to efficiently plan and install components accurately.
Precisely, 4D BIM solutions would even take care of when the installation of a certain electrical wire should be done and what sequence foremen should follow for plumbing and electrical lines that are parallels. The construction sequencing in a framed manner and virtual real-time progress in BIM keeps a track of what part of construction work has been completed and how shall it proceed further.
By far, the most revolutionary change brought by virtual design and construction through BIM 4D models, is freeing up contractors and site engineers from guess work. It ties up the loose ends while installing components and puzzle pieces from design plans in the manner of engineering principles and rules.
Outcomes of guess works get piled up various times, resulting in cost overruns and inefficiencies, quality control headaches, and take longer than expected to meet the pre-decided project construction stages. However, with BIM they can speed up the entire process efficiently.
Airport construction is not all about engineering it's about management
For one thing, let's just agree that since numerous civil engineers and well-learned architects have been hired, they are obviously there to take care of the technical and engineering aspects of the projects. Bottom line – that is what engineering professionals and architects are being paid for. When it comes down to designing and constructing one aesthetic and technically sound airport from scratch, it is more of the efficiency maintained on-site and offsite logistics and procurement.
An engineering professional working at a general contracting company that belongs to the tier of GMR construction and may also be a Harvard graduate, but if he doesn't have a sharp eye for precise logistics and construction sequencing in BIM environment; he won't be a fit for airport construction site engineering. Because for taking an airport construction from haphazard, messed-up construction site to a well-built runways, hangars and aesthetic waiting lounge, you need to partner a BIM expert and not just a Harvard graduate.