Building Construction
5D BIM Bridges the Gap between Concept Design and Pre-Construction
Posted by Hiral Patel on October 4th, 2016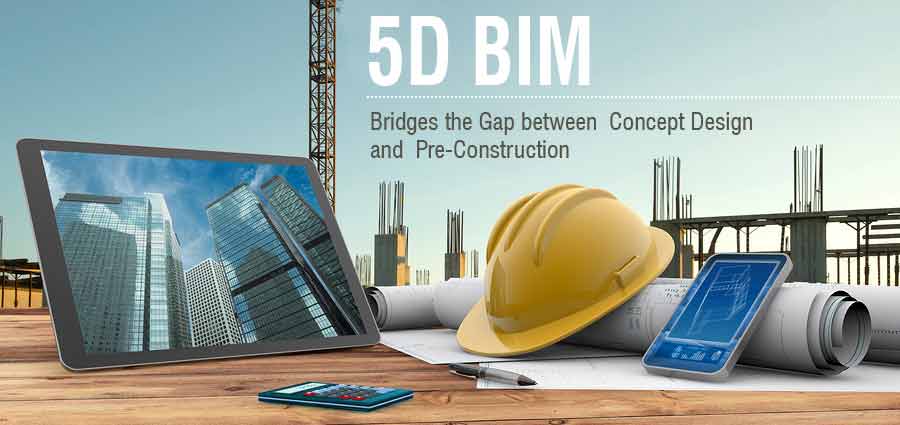 The conceptual design and pre-construction phase often involves owners and architects discussing about the aesthetics, facility requirements, the need for new facility or changes required in the existing one. This discussion is usually done over rough sketches, which are ineffective in clearly defining the requirements and leads to increase the gap between conceptual design and pre-construction budget and scheduling. 5D BIM (Building Information Modeling) however, is turning out to be critical in closing this gap.
5D BIM involves extraction of construction information from intelligent BIM ready virtual building models. The 3D environment enables owners and architects to easily understand the impact of changes in the building design such as materials, layouts and other elements on cost and construction schedule.
Conventionally, the conceptual design phase and pre-construction phase often involves unplanned, less-detailed information that stretches the construction time and consumes significant cost. Opposed to this, 5D BIM tightly integrates the concept design and pre-construction phase to freeze the design with clear details on the cost and construction stages required.
Pre-construction and concept design are crucial stages of the building development process, which are entirely based on the requirements of the owner, accurate cost estimations and project deliverables.
With 5D BIM, it is possible for all the stakeholders including owners, engineers, architects and builders can discuss about the building design and effects of revisions on cost and construction schedule effectively. Thus, it helps in defining a clear, accurate project scope.
5D BIM offers other significant benefits to help owners take informed decisions right from early design stages till the building is developed. These include:
Predicting the cost on each building system using parametric formulas helps in defining clear project scope quickly.
All the stakeholders involved in the building development project are clear about the design requirements and cost drivers, since they have access to vital information such as accurate scope, cost and schedules.
Since the data is generated in real time, it is easy to evaluate alternative concepts and see the subsequent change in cost and construction scheduling. The estimation time is thus reduced when compared to traditional methods.
It is possible to tailor the information as per the project requirements based on industry experience. Hence, only meaningful and reliable data can be extracted to avoid any discrepancy.
5D BIM is also best suited for design-build delivery method, where one party is responsible for delivering all the build aspects right from design and engineering to construction. In this setting, the architect may require completing the design first, so that the contractor can add the cost and construction scheduling.
However, with 5D BIM, every team member can work in real time as the model develops, saving time and cost significantly. This directly benefits the owners since they get a clear picture on how the design will look, how much it will cost and how long will it take to get constructed.
At Hi-Tech, we have been helping project owners, sub-contractors and architects realize the potential of 5D BIM in improving the conceptual design and pre-construction phases of the building development project. Utilizing powerful BIM tools like Revit, we have improved the efficiency of wide range of building projects including hospital, commercial, airport and residential projects.
About Author: Hiral Patel is a news editor and has been contributing to the AEC industry since last 7 years. She mainly writes about the application of BIM across Architecture, MEP and Structural sectors. Her focus is towards encouraging construction companies, sub-contractors and architects to adopt right technologies to improve efficiency and profitability.