When CO2 laser cutting, fiber optic laser cutting, flame cutting, laser welding etc. are gaining momentum across the sheet metal fabrication industry, it becomes vital for sheet metal contractors and fabricators to stay aligned with these new developments and stay profitable. Instead of conventional metal cutting and joining process with machine tools, these methods are gradually taking over the fabrication business and hence fabricators need to align their designs and drafts with the upgrades.
Cleaner environment, efficient process, saving of metal scrap and flexibility of these new technologies are some of the key factors that run in favor of discarding conventional processes, as new technologies continue to grow.
It goes without saying that when laser cutting or welding of sheet metal is involved, it isn't about fabrication drawings [Fig. 1]; it is about nesting drawings and reports. Fabricators insist [and should insist] on having a comprehensive nesting report form their CAD design engineers in order to utilize metal judiciously and effectively. Enclosures, HVAC ductworks and other sheet metal components are seen as commodities and companies from all over the sheet metal fabrication industry are looking for reducing costs by quick fabrication and bringing these commodities to markets faster.

Fig. 1: Nesting report for sheet metal laser cutting
Standalone traditional CAD systems aren't enough for laser cutting requirements
With sheet metal fabrication, it isn't about where you start from; it is in fact all about what will be the end product. While all application materials require precision in laser cutting for efficient finish and accurate geometry, designs too have got to be precise and comprehensive. Designs that are focused on the fabrication process chosen, materials to be used and machine technology to be deployed, are essentially the designs of requirement.
Unlike other CAD drawings, designs developed for laser cutting are difficult as far as interoperability is concerned. When it comes to exporting the drawings generated in SOLIDWORKS and Fusion 360, they are incapable of exporting in a format that is ready for laser cutters. Besides, these CAD platforms also lack feature-rich capability to generate highly detailed laser cutting drawings.
As an alternative, many fabricators ask their design engineers to turn to Inkscape, an open source. However, Inkscape isn't an actual CAD tool and fails to have the critical features such as specifying dimensions for non-standard parts. Instead, it is a best way out to combine both, SolidWorks and Inscape, and enable exporting files. The exports will facilitate direct feeding to CNC laser cutting machines and automate the process.
For instance, a sheet metal fabricator in USA turned to 2D CAD generated nesting drawings to get the comprehensive nesting report and decide on the optimum blank orientation.
Engineers at design support service provider end could generate final drawings in DWG and DXF formats from blank information provided by fabricator to make nesting reports accessible for CNC machines. It not only reduced the manufacturing time but also saved a considerable material up to 50% due to sheet metal nesting.
Fig. 2: Nesting report for sheet metal laser cutting
Bring changes CAD designs for metal joining to save costs
Usually, for metal joining process, spot welding is being used extensively across the sheet metal fabrication industry. However, the limitation with conventional spot welding used for these components, is it requires highly skilled workers for maintenance and controlling the welding process.
It also puts a cap for allowable metal thickness and sheet metal gauge. On the other hand, laser welding process proves to be extremely versatile and can weld composite metals as well.
This can be explained by the fact that sheet metal enclosures used for HVAC and ductworks in building product having different thickness and uses different materials like stainless steel, aluminum, galvanneal and other metals. Laser welding for these products proves to be efficient and allowing HVAC contractors to use manufacture prefabricated building products – a booming requirement in construction industry.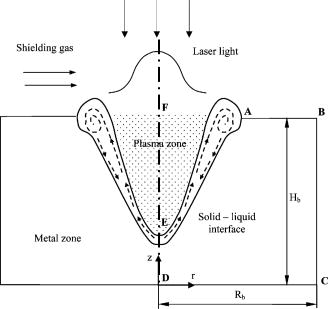 Fig. 3: Weld pool formation in laser cutting
(Image by: http://heattransfer.asmedigitalcollection.asme.org/article.aspx?articleid=1448822)
Because laser weld beam is very narrow, unlike the spot weld, the CAD design and nesting report will also change since it will require only a single access to the part. Besides laser welded parts are more stiff and rigid than spot welded parts, making design procedure all the more complicated. This is because it will increase the rigidity of the entire component.
Initially while designing part for laser welding; it requires having an area for weld accessible form top. Since the tools and laser beam will act nearly perpendicular to the weld excluding the weld joint face. A good part design will be the one that has adequate clamping for the weld entirely along the length.
Since the laser welding process is based on the heat transfer between the parts, it becomes essential for parts to have intimate contact. When such aspects are accounted for designs, weld flanges can be made smaller which will save the weight of the sheet metal part.
Advancements in technology have shown significant increase in production rates through laser welding. It points to the fact that when right CAD design and information in the nesting drawings are clubbed with advanced technology, a considerable savings in costs can be made by deploying evolving techniques.
Take care of designs; it will care about expenses and brand reputation
Laser cutting machines are expensive and needs to be handled with care. For instance, fiber laser cutting machines cost about $25k to $65K, while some may cost about $10K as well. Besides, when laser cutting can cut the parts of any size, and the cuts effect the product directly, sheet metal fabricators on shop floor should insist on having comprehensive CAD drawings and nesting reports beforehand they initiate fabrication process.
Furthermore, a CAD generated nesting report ensures that the cutting process will begin with specific prerequisites that are met with because they are in a format that can be directly fed to CNC laser cutting machine. This will safeguard machine as well as the workpiece while cutting and ensures that nothing goes wrong.
Also, when metal is cut through laser, its properties change because of highly concentrated laser beam. Thus, to analyze cutting process and understand its adverse or positive repercussions, sheet metal fabricators are keen on a 3D CAD model for virtual simulation to develop insights for effective cutting and fabrication process.
Apt CAD models and designs for laser cutting will enable smooth cutting, and can save materials up to 50% because of dimensional accuracy obtained. Additionally, developing a 2D CAD file will ease future modifications in the component design and facilitate reduction in the manufacturing time with a greater goal of better market reputation and brand building.
Similarly, for laser welding process, helium gas, and mixture of helium – argon gasses, etc. are used as shielding gasses to protect the weld pool from being contaminated by air [Fig. 3]. However, these are expensive gasses and the fabricator cannot afford to re-weld the part for mistake correction.
It proves extremely costly in terms of money spent and also material consumed. As a result, the fabricator insists on having a detailed report for information about the entire metal joining process to plan the fabrication efficiently. It will give fabricators an edge over the entire process of accurate fabrication for better projection in the markets.
Times are changing from machine tool cutting to laser cutting; and spot welding to laser spot welding. Sheet metal fabricators need to gear up with CAD nesting drawings to stay profitable in terms of costs and market value.