Communication of accurate design intent through detailed yet clutter-free fabrication shop drawings is critical to metal fabricators. Leveraging industry best practices for modeling and drafting will minimize rework and optimize costs.
Sheet metal components are frequently used in industrial equipment, furniture, kiosks, doors and windows, HVAC equipment, roofing and electrical enclosures. And each component, assembly and sub-assembly has a customized manufacturing approach.
Any typical sheet metal fabricator spends a huge amount of time, energy and money to fabricate these unique products. It requires detailed understanding of design features, parameters like sheet thickness, bends, holes, slots, notches and their specific standards. Designers and fabricators should have a thorough understanding of manufacturing process dynamics and types of material for effective sheet metal part modeling.
Challenges of custom sheet metal fabricators and benefits of using CAD
Today, fabricators of MSME and SME segment of sheet metal industry creating furniture, building components, and process equipment face challenges like:
Maintaining control over pricing and high-quality parts and assemblies
Offering enhanced communication across manufacturing value chain for industry 4.0 needs
Offering multiple product design prototypes for customer convenience
Managing tools, labor, and on-time material supply keeping ROI in focus
CAD technology has significantly reduced design-to-manufacturing time and enhanced sheet metal part modeling accuracy for manufacturers. Best practices in sheet metal drawings and detailing drive:
Up to 90% reduction in rework and redesign of sheet metal components
2-7% savings on manufacturing cost
40-70% acceleration in design to manufacturing processes
60% improvement in team's productivity
4 best practices for sheet metal part modeling
Feature Based Parametric Modeling (FBPM)
Feature based parametric 3D models and 2D drawings share parent-child relationship as drawings are generated from models. This bi-directional parametric link between models and drawings allows the design engineer to evaluate changes in 2D sheet metal shop drawings and 3D model simultaneously.
Complex sheet metal components use multiple features to convey design intent and show part functionality. Figure 1 shows a typical sheet metal component model with design features.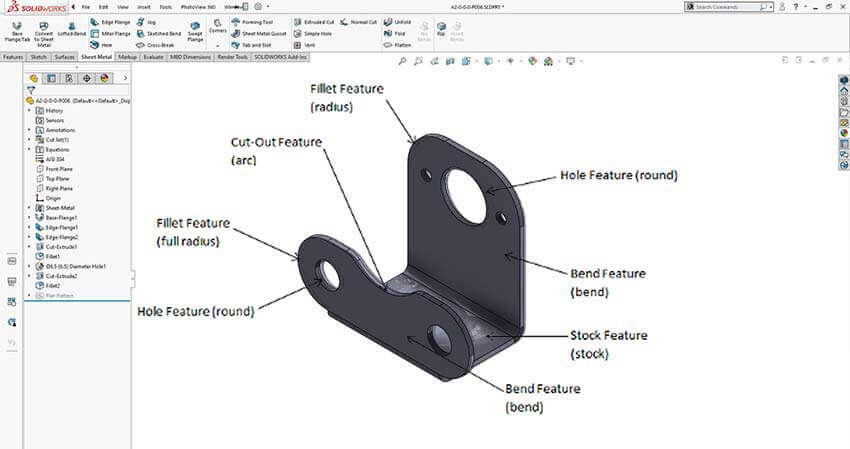 If you are working on a single component, you can apply Design for Manufacturing (DFM) concepts and it directly conforms to standard manufacturing processes. Adherence to DFM guidelines for 3D models helps optimize manufacturing operations such as nesting, bending, holes, and punching.
Benefits of using of FBPM:
Quick changes in parts with parametric 3D designs
Better alignment of features with shape, geometries and dimensions
Unlock opportunities for design automation and rule-based part modeling
Save 70-90% of time spent in creating separate 2D detailed drawings
Uplift design and manufacturing drawings quality
Enhance inter-team communication through concurrent environment
Parametric modeling of sheet metal industrial equipment for plant reengineering
Hitech CADD Services' design engineers carried out reverse engineering of a recycling plant in Europe. They recorded physical dimensions and developed a 3D plant assembly model in SolidWorks. Deliverables also included GA drawings, 2D part drawings and parametric 3D models. That assisted design engineers to take informed decisions for plant restructuring and improving efficiency.
Read Complete Case Study »
Top-down Approach
Top-down approach is used for modeling a product with multi-component sheet metal parts. This design approach allows you to create a geometric frame having space constraints assigned to all parts and sub-assemblies. It builds the master model in such a way that they can be used for CTO and ETO feature customization for products such as doors and windows, metal and wooden furniture etc.
CAD tools like SolidWorks, Inventor and Creo allow a top-down approach for very large and complex assemblies. These include heavy duty bulk material handling plants having 10,000+ components in a single master model. These CAD platforms are also fit to handle small assemblies of sheet metal door frame having not more than 20 to 30 parts with dexterity.

Advantages of top-down design approach:
Accommodate large number of components having parametric design features with constraints for customization
Promote large scale design automation
Ease in manipulating space constraints and developing individual parts
Evaluate changes in dimensions, shapes etc. and their impact on other parts and assembly
Meet functional, spatial and aesthetic aspects of design
Faster installation of walkway and hopper with top-down design approach
Hitech CADD Services engineers developed manufacturing drawings along with 3D models of a recycling industry plant and equipment manufacturer. Project engineers adopted a top-down approach to convert STEP files and solid models of the plant assembly for walkways and hoppers. A systematic approach of building the model met all design guidelines, avoided reworks and saved time in redesigning.
Read Complete Case Study »
Follow DFM/DFMA Guidelines
Design for Manufacturing (DFM) and Design for manufacturing and assembly (DFMA) allow design engineers to capture requirements as per shop floor capabilities. Following these guidelines nullifies most of the design errors that rise from non-conformity with the standard shop floor practices.
DFM guidelines help design engineer bridge the gap between real world and ideal world while creating features like holes, slots, bends, end reliefs, etc. Below, figure 3 and 4, are examples of hole creation and bend radius creation respectively, in sheet metal.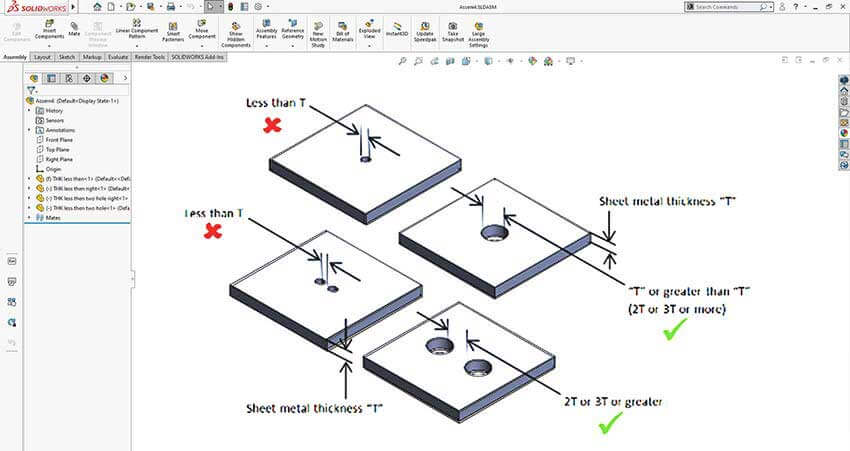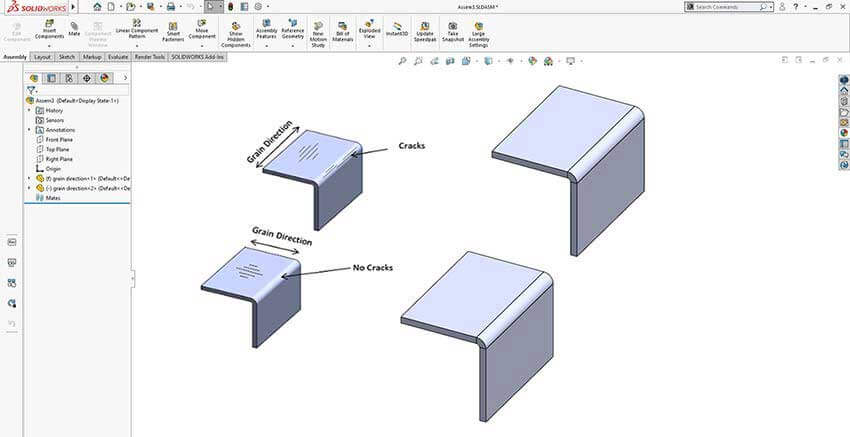 With DFMA guidelines, engineers are empowered to optimize designs by controlling the number of components and steps involved in manufacturing. With fewer components, fabricators can save costs and speed up the production process due to ease in assembly and fabrication.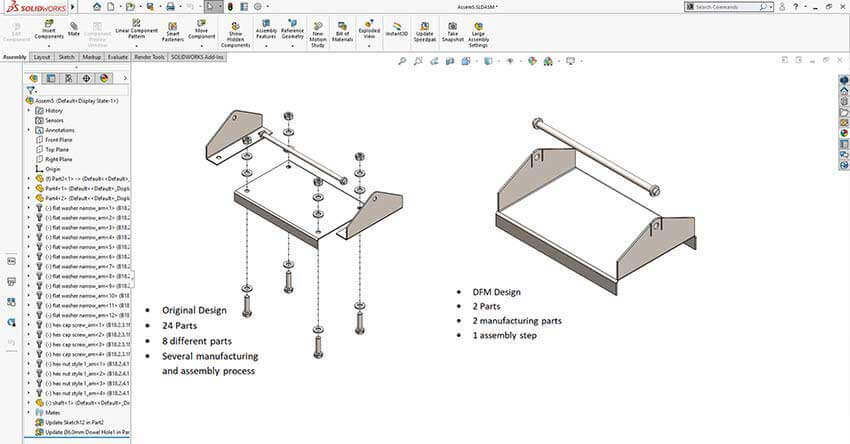 Advantages of DFM and DFMA:
Design by considering 360 manufacturing process aspects during the design
Almost zero design iterations rising from the shop floor
Design parts that meet the assembly processes requirements and shop floor facilities
Optimize the design assembly by reducing number of parts
Saves cost of product by 70-80% with fewer components
Improves manufacturing speed by more than 30%
Eliminated manufacturing rework using DFM rules for a stairlift manufacturer
Hitech CADD Services's sheet metal design team migrated legacy design data from AutoCAD® to SolidWorks using APIs for a Stairlift manufacturer. This enabled standardizing all files in SolidWorks as per DFM guidelines and international design standards to eliminate rework.
Read Complete Case Study »
Model Based Definition (MBD) Approach
Advancement in tools like SolidWorks ensures incorporation of high level of manufacturing and quality information in models. They have provisions to annotate models with product manufacturing information and create single source of truth for all design and manufacturing stakeholders. By saving all information in one place, this concept has a significant potential to meet the needs of Industry 4.0.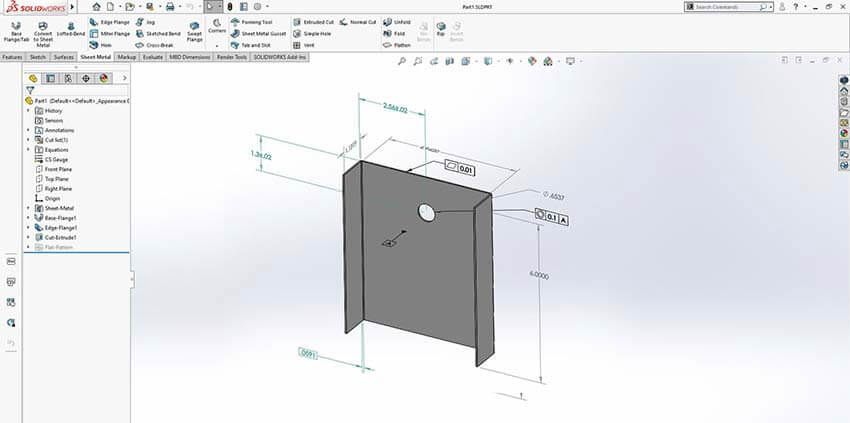 A complete set of product information for manufacturing and suppliers such as quality measurement, tolerances, other footnotes etc. is communicated using a comprehensive 3D model. This is called the Model Based Definition (MBD) approach.
MBD creates a single, reliable CAD file for the entire value chain to improve collaboration, save time and prevent errors. If used efficiently along with DFM, DFMA, FBPM, and Top-Down approach, MBD can prove to be significantly advantageous to the manufacturers.
Advantages of MBD:
Ease in information management for manufacturing, quality, suppliers and product catalogue
Eliminate the need for creating 2D detailed drawings for component manufacturing
Improve speed from design to manufacturing by more than 80%
Effective ways of representing parts or products to all stakeholders including customers
Enhance downstream/upstream coordination and communication for improved quality
Reduce errors in communication and part manufacturing
MBD reduces 50% engineering lead time for electroform systems manufacturer
An electroform systems manufacturer accelerated design development of high-precision metal parts and cut the time to almost half using SolidWorks MBD. A single file for all inter-team communication accelerated publishing of PMI in 10 minutes instead of one day and eliminated the need for paper drawings. (Source: SolidWorks)
Conclusion
With advanced CAD technologies and smart modeling practices in SolidWorks, Inventor and other tools, sheet metal component manufacturers and fabricators can speed up their design cycles. Best practices such as DFMA, MBD, top-down and FBPM improve design engineers' productivity and offer a first time right design approach. They bring down design iterations during sheet metal part modeling and hence the total costs of manufacturing projects.
These best practices have been in use in the engineering design industry for a long time and have proved beneficial for fabricators. As the industry gears up for Industry 4.0, shop floor fabricators seek enhanced communication across teams. Adopting workflows like MBD or FBPM and DFM is critical to staying competitive.