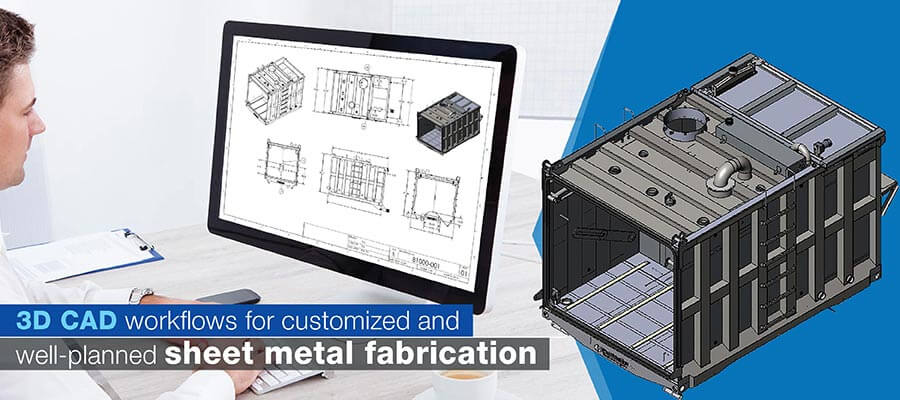 Legacy design development methods for modern building product fabrication are iterative and inaccurate. 3D CAD modeling allows sheet metal fabricators to speed up engineering lead time, offer visualization and personalization, and enable direct manufacturing.
Sheet metal building products fabrication is a customer driven market where every product demands bespoke design and fabrication approach. Whether it is a door/window frame, an enclosure, ducts or panels, customers want 360-degree visualization of the final product before ordering. Standalone 2D drawings fail to clearly communicate design intent and impede quick design customization. This leads to reworks, additional cost, and delayed project timelines.
A comprehensive 3D sheet metal modeling platform is the key to seamless design handoff between designer and manufacturer. 3D CAD workflows communicate detailed product features, material insights and fitments through a single file and keep every stakeholder updated.
Sheet metal fabrication challenges using 2D drawings
Although, sheet metal fabricators have long relied upon 2D shop drawings, they now recognize the numerous and unavoidable challenges of 2D.
Increased design errors as there is no consistency in hand sketches or photographs
Limited visualization capabilities as they are difficult to interpret for a non-technical person
Sluggish design development and increased project costs
Lacking insights to select the right tooling and fabrication methods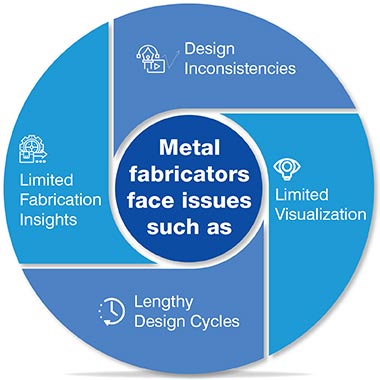 Benefits of 3D CAD modeling for sheet metal building products fabrication
3D CAD workflows not only capture the design intent and put the product prototype in user environment but also communicate manufacturing aspects to meet the end goals.
CAD modeling software offer:
Enhanced final product visualization and insights into how it fits with the rest of the building structure
Customized geometric constraints with precision
Flexibility in design models to accommodate customer reviews and feedbacks
Accelerated functional validation with reduced design iterations
Adherence to DFM and DFMA during design stages
Meticulous product designing with details such as tolerances for holes and slots, dimensional need for notches, etc.
5 key features of sheet metal modeling in 3D CAD that enhance fabrication efficiency
DFM Guidelines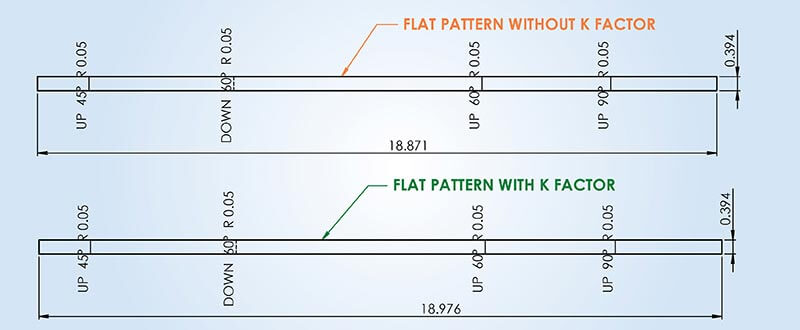 CAD tools like SolidWorks & Inventor have in-built features for DFM guidelines that allow auto-calculations. In absence of such automated suggestions and red flags, the designer has to do the calculations manually which are often error-prone.
Let's take the example of bending – a common feature of any sheet metal component. While designing bends, the designer has to consider accurate "K" factor to reduce the spring back effect (or band back). Values for "K" factor are different for different materials. Advanced CAD software have these values as an in-built feature for different materials such as steel, copper, brass, and aluminum.
Flat Patterns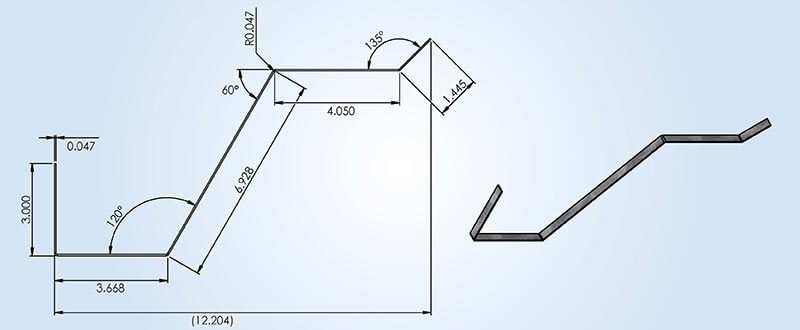 With the help of a 3D model, the designer can create accurate flat patterns that help generate DXFs for cutting and cost calculations.
Nesting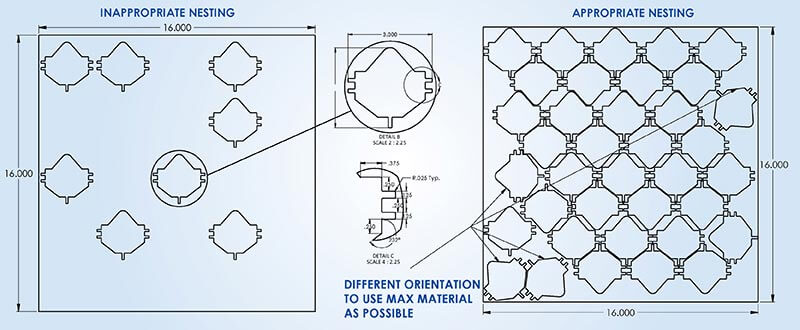 Nesting makes optimized use of raw material in sheet metal component manufacturing and helps reduce the scrap. It obeys the following rules:
Orient all parts closer to each other
Enable maximum numbers of cut pieces from a single sheet
Use the same sheet layout for different part families having similar shapes but different dimensions
Following these rules becomes easier for the design engineer with 3D design models.
Assembly with DFMA
With DFMA guidelines, the designer can control the number of components in 3D assembly model. Modern CAD tools provide quick clearance checks along with DFMA rules. CAD platforms show suggestions to combine different parts and reduce the total number of components that come together to form the assembly.
Detailed 2D technical drawings with BOMs
Sheet metal 2D drawings with all technical details can be directly generated from highly precise 3D CAD models. These models have all technical details with geometric dimensions and notes to minimize errors in manufacturing.
Since detailed 2D drawings are derived from the parent 3D models, any changes in models are reflected in drawings. This improves communication between the shop floor, purchasing, and quality teams. 3D CAD models of sheet metal parts also have accurate BOMs that help calculate the required material quantity to maintain inventory levels.
A European stairlifts manufacturer faced challenges managing orders with specialized bends resulting in lengthy engineering lead times. Hitech CADD Services' engineers translated the legacy design drawings to SolidWorks models and generated APIs to customize the designs. Fabrication shop drawings were generated later as and when needed. This ensured seamless and faster design data exchange between design teams and the shop floor.
Read full Case Study »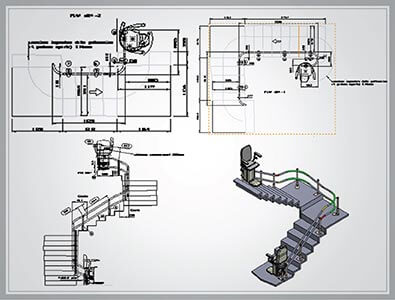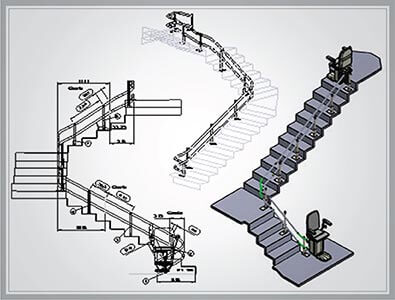 Advanced features of 3D CAD workflows that enhance customer engagement
Modern CAD tools have a lot more to offer in addition to seamless communication between designers and manufacturers. They enhance design visualization and designer's efficiency by connecting nodes between sales and manufacturing.
Design visualization and customization
Visualization and personalization are the key requirements to win customers. 3D CAD enables 360-degree visualization with rendering and walkthrough of personalized designs of building products.
Visual Configurator
3D visual configurator allows configuring the designs in the form of rules and specifications. For instance, a customer can select the door frame directly from the portal and define his exact requirements. Once the design is finalized, the 3D CAD enables 360-degree visualization with rendering and walkthrough of personalized designs of building products. They receive a design quote and delivery time immediately even in absence of sales personnel.
Direct manufacturing and Model Based Definition (MBD)
Advanced 3D CAD modeling platforms have made direct manufacturing possible by feeding DXFs to machines used for cutting metal sheets. This means, there is zero human interference during machining and errors are minimized.
Additionally, MBD features in 3D modeling improve the value chain and collaboration performance from sales to manufacturing. The designer can embed all product information into a single 3D CAD model that serves as a single source of truth across the value chain.
For a US-based door manufacturer, the Hitech CADD Services automation team developed a door configurator using SolidWorks and DriveWorks to achieve a faster design cycle. It reduced total time to rsspond to a customer inquiry and also brought down the design cycle time by 70%.
Read full Case Study »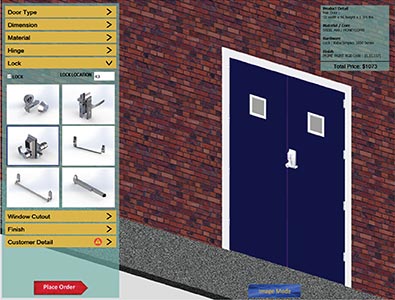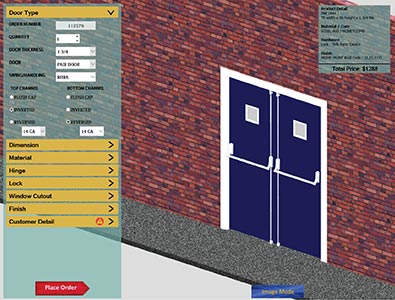 Conclusion
Given the increased customization and need for accelerated product delivery, good product visualization and responding to customers is critical. Sheet metal building product fabricators can offer this by reducing design inefficiencies, communicating with customers, and controlling material waste.
CAD platforms help you offer profitable customer centric services by enhancing collaboration between all design and manufacturing stakeholders. With 3D CAD sheet metal modeling, fabricators can derive shop drawings from approved design models ensuring accuracy and no design data loss. They also open a gateway to automate designs and eliminate unproductive tasks to help you stay productive.