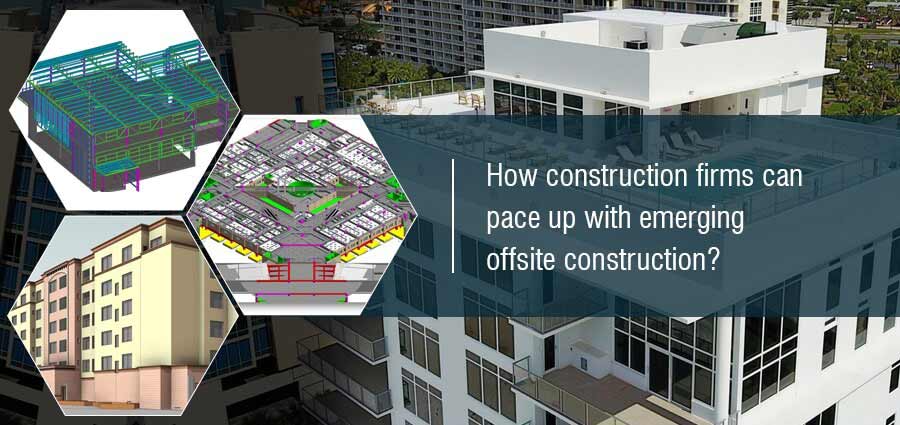 Offsite construction has gained popularity in commercial construction markets across the US very recently. There are some construction professionals who claim this concept to be age-old. Tight budgets, difficulty in finding skilled labor and increasingly shrinking deadlines are some of the reasons that have propelled the popularity of offsite construction across the construction industry.
New York's My Micro [Carmel Place] is the most explicit example of how modular and offsite construction can prove to be really effective. Such instances show how significant has offsite construction become today when contractors construct entire building units offsite and only assemble them onsite.
Offsite construction, when adopted, shows a clearly visible effect on costs, and project schedules are shortened. These are the changes that push major industry players to look beyond the construction site and make the most out of their labor skills and resources.
Let's have a look at the trends and changes which small and medium construction firms should watch out for before embracing offsite construction.
Design companies will help drive the benefits
Starbucks, the retail chain giant, has availed design modeling and design coordination services of Autodesk and its products like Revit for designing a chain of outlets and manage their construction works across the world. This stands as an inspiration for all those emerging building construction companies to give up their traditional best practices and partner with a building design services company, which can give insights and align them with current trends.
Additionally, by partnering with design consultants, established & emerging construction firms gain access to latest technologies needed to coordinate design, one of the essential factors to practice offsite construction. When units are constructed offsite and assembled later, contractors cannot afford to practice clash detection and resolution during assembly. It is irreversible, and even if corrected, such mistakes prove to be very costly for them in terms of time and costs.
A BIM services provider takes care of design modeling from pre-construction concept stages through to detailed offsite construction stages including assembling components for building or infrastructure construction project. Only approvals, planning and management are the disciplines that contractors now have to worry about.
More involvement of contractors in design coordination
Just a decade ago, most of the building construction and infrastructure projects were site-built, due to which contractors remained buried under tons of paper and struggled to manage their resources efficiently.
But today, since construction is going offsite, it cuts contractors some slack. But project completion in short deadlines with limited resources is still a challenge for contractors. Not to mention, coordination challenges add up to the situation.
To foresee inevitable last-minute changes or events on site, contractors should rather use their free time to plan their construction more efficiently.
4D BIM planning which allows planning by design coordination for all disciplines, as well as contractors, give them that advantage of putting across their process challenges. This is important because designers know their designs but are unaware of the challenges that originate onsite which only site engineers and contractors can forecast.
A better and proactive involvement of contractors with the construction firm for design coordination facilitates the ease of offsite construction.
Ensure that your suppliers are OK with offsite supplies
With offsite construction being a new concept in commercial construction markets, a majority of suppliers are not used to offsite supplies. They have the mindset that supplying material for onsite bigger construction projects is profitable.
Smaller site supplies aren't attractive to them. In order to change this mindset, suppliers should be brought onboard early during planning and QTOs so that they get an idea of the grandiosity of the construction project.
Also, working on modular projects can be a first of its kind for many suppliers. This invites unknown challenges for such suppliers and resolving them can be intimidating. However, by involving those in coordination with the engineers will result in huge savings since the waste is reduced and materials can also be supplied efficiently in batches or in bulk appropriate locations.
Bringing it altogether
It is likely that offsite construction will become widely accepted with each passing day. As construction companies grapple with newly emerging technologies as well as look for new opportunities for their profits, prefabrication or offsite construction is growing over them. Unless they want to be out of business in coming years, they should start looking for opportunities to improve their methods which are compatible with offsite construction methods – be it prefabrication of units, construction designs, and professional participation at every stage or construction planning.