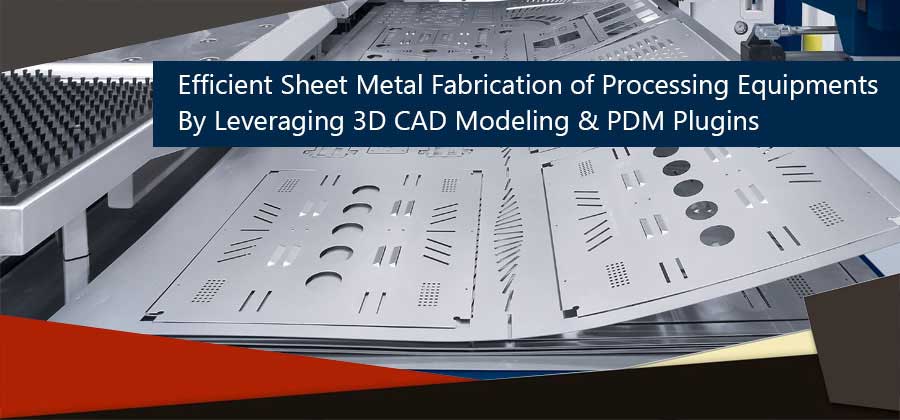 Processing equipment fabricators often require special alloys with inherent anti-corrosion properties, as they are mandatory for fabrication of tanks, conveyers, mixers and feeders. The biggest challenge for sheet-metal fabricators involved in fabrication of aforementioned equipment, is constantly increasing prices of alloy like stainless steel [the best corrosion resistant].
Surcharges for grade 304 and 316 stainless steels showed a sharp rise of 34% and 25% respectively in the last year. With rising prices and demands to meet, fabricators try to minimize errors and automate sheet metal design workflows.
Sheet metal fabricators of processing equipment used 2D CAD drafting in their early days. Gradually, as the CAD technology advanced, fabricators then shifted to 3D CAD models along with the plugins for Product Data Management – PDM for fabrication of complex assemblies ranging from simple welded joints to accurate products with maximized automation.
Add CAD to subtract errors and rework
Besides drafting, modeling and quoting of products, one more important aspect is of maintaining design quality. Quality of designs is important because it will form the basis of product development until the time it is fabricated and commercialized. CAD does QC of designs and checks errors such as machining error, fabrication error and human error and nullifies them. Such CAD aided QCs subsequently reduce about 10% of the fabrication rework.
The Product Data Management (PDM) plugins play important role even for the ongoing improvements and manages all the development by enhancing the quality output. It not only ensures improvement of proper information embedded on the part files and assemblies but also performs required inspections in designs to take approval and avoid costly mistakes down the supply chain.
3D CAD and PDM helps fabricators to accelerate sheet metal fabrication
Adopting 3D CAD modeling and PDM plugin brings in uninterrupted fabrication as an inherent benefit for sheet metal fabricators of processing equipments. Fabrication of complex sheet metal products becomes marginally quicker and efficient with CAD software like SolidWorks. PDM tools automatically develop rules to produce felt patterns and codes that cut the part and thereby automate the workflow.
Besides with PDM, designs once developed can preferably be reused for fabricating another sheet metal component; and ultimately reducing times and costs. With PDM plugins, designers can find relevant data to be reused from existing design attributes like geometry that will save about 40-50% of his time.
Reusing designs for customization & business processes efficiency
For customizing 3D CAD models as per customers' requirements, DriveWorks along with SolidWorks is used prominently. PDM plugins work well with this software and adds design data management for sheet metal components.
DriveWorks proves to be a highly productive tool for automating and customizing sheet metal designs for the convenience of fabricators. When existing designs require customization, DriveWorks with PDM plugins come in extremely handy to automate the design configuration while maintaining healthy profits. It saves time by eliminating the time consumed in generating designs from scratch every time and allows design development to evolve, as needed.
Fabricators can entertain each new sales inquiry as fast as possible with best costing, orders and accurate quotes. It not only gives an easy but also a transparent communication channel between sheet metal fabricators and processing equipment suppliers. All above mentioned aspects allow sheet-metal fabricators to maintain their market reputation by automating time-sensitive activities for each customized products.
Ultimately, what matters most is product performance
With the above mentioned positive impacts of CAD software and its PDM plugins, fabricators are able to do more with their resources. Sheet metal fabricators sought a clear production side without frequent downtimes. This can be easily delivered by CAD and its PDM plugins with faster product development, automated workflows and improved quality.
It has empowered fabricators to deliver their customers a comprehensive support with data throughput in the models to satisfy the needs and confidence that fabrication is correct. Equally praiseworthy is CAD's communication during fabrication of sheet metal that pays attention to little details for large sheets, making the whole business a success.
Upon adopting CAD and PDM plugins, sheet metal fabricators are able to leverage their resources. These fabricators seek a clear production side without frequent downtimes, which can easily be delivered with quality product development by CAD automated workflow.
CAD and PDM plugins together have empowered sheet metal fabricators to deliver their customers a strong support with data throughput in annotated CAD models with PMI. Equally praiseworthy is CAD's ability of design intent communication during fabrication that pays attention to little details for large products, making the whole business a success.