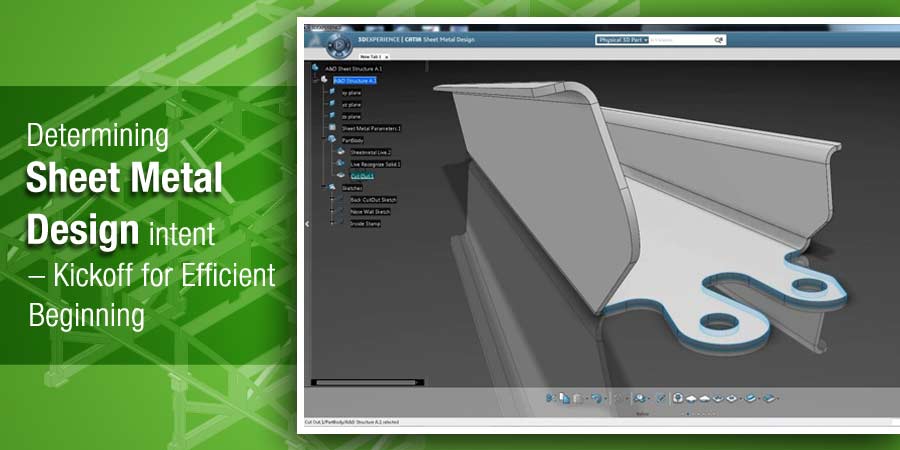 My first question to my readers is, "How would you know that a particular 3D CAD model is to be treated as a sheet metal part?"
From CAD software's viewpoint, a sheet metal part may have several limitations; and they tend to vary with the software. It might be different in SolidWorks than in Autodesk's Inventor. A few of which will include uniform wall thickness of the part, some considerable and specific distance between two seams, non-permissible crossover bends etc.
With multiple limitations as mentioned above, it certainly becomes difficult to figure out the best place to start designing in CAD. Many times, several sheet metal design engineers see that converting a 3D CAD solid model to sheet metal part by assigning it the properties of sheet metal is an efficient way out. Other times, some may say that design engineers should pay extra attention to CAD models to be efficient in fabrication.
Figuring out efficient beginning with CAD models
Whatever it maybe, but most sheet metal fabricators see that wasting too much time on figuring out the product design may banter the time allotted to their fabrication process. However, it isn't true. When product designs are carefully planned and with an aim to compliment the fabrication process, they prove to be beneficial.
Another takeaway for fabricators would be working upon models to be realistic. Once that is set, design features are selected according to its functionality, fabrication, and maintenance. One might question as to how deep should the fabricator penetrate into design intent? And what exactly is meant by design intent?
The design intent is, in fact, a good place to start the fabrication in case of sheet metal. Owing to varied constraints of software for sheet metal part and other solid models, it is a good practice to specifically define the design intent so that products can be fabricated with sturdiness and robustness.
Why defining design intent in CAD model is crucial?
Bottom line is – a good and well-defined CAD model speeds up the entire product development process from concept through fabrication. A good CAD model will have clearly stated design intent, is self-documenting, speedy and hence accustomates the fabrication process, it is supposed to undergo.
Engineers who advocate the 'Sheet metal fabrication depends on cutting tool efficiency' phrase will argue that designing a sheet metal part in CAD means taking care of bend factor, sheet metal wall thickness, and K-factor. However, sheet metal engineers working on CAD station will know how different it is to design; while keeping fabrication needs in mind.
DFM Guidelines essentially state several empirical formulas and values that speed up the process and confirms the design to safety operational standards. However apart from design and fabrication compatibility, design process encounters unavoidable challenges that may arise due to the shortage of tooling capacity. Thus, if a fabricator properly plans design intent early; shop floor requirements can be arranged to suit the design requirements.
More often if the design intent is not planned efficiently initially; it certainly will lead to engineering change orders, delays, spending unnecessarily on manpower and raw materials, reworks; putting fabricator's reputation at stake. Cumulatively, feeble design intent planning will lead to situations which can be corrected at later stages of product development; but they prove to be very costly – in every manner.
Success comes cumulatively
A 3D CAD platform makes it easier to model and declare a sheet metal part; what it requires is CAD expertise and experience of using sketch tools in accordance to DFM guidelines, along with design purpose.
More often than anything, it needs a cooperative input from sheet metal design engineers, experts on the shop floor, and fabricators to define and spell the correct design purpose and intent to achieve success. It thus is a wise option to invest in design intent planning, considering a place to start sheet metal fabrication, especially when fabricators worldwide are running to stay competitive.