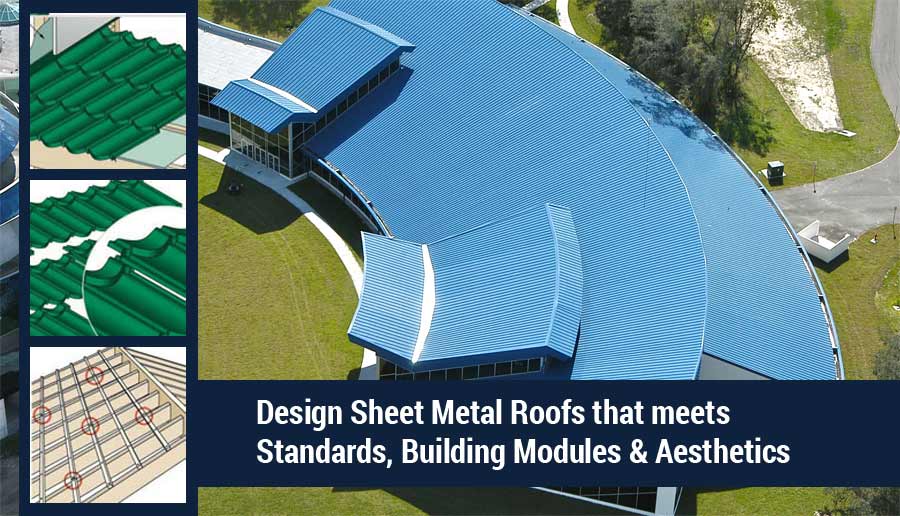 Client demands have changed and are evolving big time. No more satisfied with conventional products that simply adhere to the design and budgetary needs, customers now want each element of a building project to fulfil certain expectations across a range of aspects. This stands true when it comes to selecting a sheet metal ceiling as well.
Mechanical and electrical integration often dictates the material required for ceilings, which are often looked at as merely a finish that stays overhead. Along with aesthetics, acoustic performance, environmental requirements, maintenance, accessibility, and life-cycle, are all that get highly influenced by the type of ceiling used.
While specifying ceilings for commercial buildings, or for that matter, it can be residential or a multi-purpose buildings as well, the two most common choice is sheet metal. The second preference is given to mineral fiber. Enlisted is an overview of both options, and advantages and disadvantages of each.
Costs
Cost of ceiling has mainly three aspects over its lifetime, Initial material and installation cost, ongoing maintenance cost and the replacement costs.
No fun hiding the fact that the material cost of sheet metal roofing is usually more expensive than other materials, to an aggregate of 20% as price difference. However; partnering a sheet metal roofing designer, can help you minimize this cost. With help of best sheet metal designs, sheet metal fabricators can bring down the wastage to merely 2%, as compared to 8% of mineral fiber. The installation costs for metal roofing are 5% cheaper than alternative materials.
One thing that we should pay attention to is the ongoing costs; as they can add significant cost over the life cycle of a ceiling or roof. Upon installing, sheet metal ceilings require only basic maintenance over the life of the product. However; costs of a mineral fiber ceiling are likely to become a burden, as they are prone to deterioration and have greater maintenance requirements.
Mineral tiles, on getting slightly damaged or stained, need immediate replacement. They typically need replacement after 5-10 years, sending the old tiles to landfill. On other hand a well-designed sheet metal roof can almost have a life span of up to 30 years, and have a residual value and can also be recycled. So net – net, the total cost savings on sheet metal compared to other material over a 20 year period would be close 20.65%.
Acoustic
Acoustic performance of a room can be critical to the desired use of the space when it comes to commercial, office, retail and healthcare buildings. The Green Building Council of Australia (GBCA) is of the opinion that inhabitants tend to spend up to 85% of their time indoors, considerable increasing health risks and lowering the productivity as well.
End users have a preconceived notion of mineral fiber to be a better performer when it comes to acoustic comfort. However; technically it is proved that hard surfaces reflect sound, enabling it to travel further, distorting it to increase the level of audible comfort.
With sheet metal roofs, these issues are eased through specification of the systems, incorporating acoustic pads and perforations on the metal surface, conveniently available with any of the sheet metal fabricator or sheet metal ceiling/roofing manufacturers. These measures ensure that your sheet metal roof performs to acoustic expectations.
Access and Maintenance
Metal roofs or ceilings; apart from staying as a finish overhead, are also used to house mechanical and electrical components. Roofing designers know that the ease of access and durability of the ceiling is an important aspect for the facilities team.
Mineral fiber ceilings do not facilitate frequent and access, and if in case accessed frequently; takes its toll on the ceiling's performance and appearance. Constant removals and replacements involved in accessing these utilities cause damage and deterioration, invites ongoing upkeep and shortened life of the ceiling.
It is here, that the durability of a sheet metal roof is really advantageous. With little or no deterioration to the ceiling, generally the only maintenance required is dusting or wiping down from time to time.
Environmental Friendly
Sheet metal is 100% recyclable and can be recycled numerous times, while its properties remain unchanged. Most steel also has about 20% recycled content, which is GreenStar accredited. Sheet metal designers ensure that their window and door designs do not generate any scrap or waste, and the minimal waste that is produced is recyclable. However, this is not the case with mineral fiber panels, as the waste generated, ends up in a landfill.
Conclusion:
Sheet metal roofing or ceilings are the best choice, which outperforms other materials in nearly every category. It is however equally important to take utmost care during the design process to ensure that roofs and ceilings are engineered as per the standards.
Engineers and Designers at Hitech has extensive design support experience of metal roofs for a plethora of sectors across Australia including commercial, retail, transport, healthcare and educational facilities. Our teams assist in developing designs that focus on achieving highest performance, return on investments and of course the sustainability required. We provide functional, cost effective and customized sheet metal roofing design support to suit any building module or aesthetic demands.