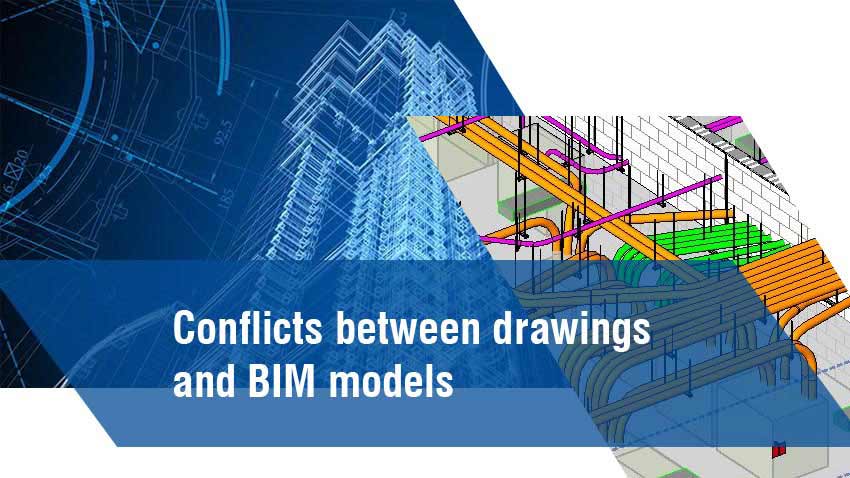 Building contracts mostly contain a "priority of documents" clause, but not always does it happen that they identify which "design" document is to be given utmost priority in case of inconsistencies. Chartered Institute of Building (CIOB) Contracts for Use with Complex Projects prefers building information models over drawings.
However; the International Federation of Consulting Engineers Contracts, a widely preferred firm in Qatar, or any of the contractors, have given any statement about the use of BIM. This raises a flag to give careful consideration as to how inconsistencies should and would be resolved.
Don't you feel that a contractor is the one who should be really concerned about the conflicts between the drawings and 3D BIM models assigned to them by architects or BIM service providers, for completing the building construction projects in a timely yet cost effective manner?
Though there has been an advent in building construction technology that has brought about fundamental changes for architects, general contractors, MEP contractors, HVAC contractors, facility managers, building design surveyors, building product manufacturers, BIM managers, and many more; BIM modelling is mostly used along with physical drawings or you can say 2D drawings.
Though, inconsistencies between the hard copy designs and BIM facilitated models can lead to significant complications; BIM is used extensively on some of the major infrastructure projects in Qatar. Adoption of BIM in the Middle East Construction Industry has been commendable, with GCC regions following footsteps of UK.
Just to comprehend, BIM is a digital representation of projects from concept design to construction across operations. Used mainly for designing, pricing, programming, coordinating, integrating and sequencing work activities, it also helps in MEP clash detection between items of work. A first; truly global digital construction technology, that will soon be deployed in every country. A 'game changer' it is, and we need to recognize that it is here to stay.
BIM though used on a project, hard copy drawings still will be used by the design team. Difficulties are bound to happen, if there are inconsistencies between the 3D, 4D or 5D BIM models, and the hard copy drawings. The drawings may show different dimensions, as compared to the layouts and configurations of the BIM models. So why not check out on some of the contractual considerations, while using BIM on future projects.
BIM at Tender Stage
Bidders are issued with BIM models and drawings as part of tender documents. If inconsistencies are found between the two, bidders may not know which they should rely on to determine the correct quantities to calculate the tender prices.
Architectural firms are the ones who should ensure that the BIM models and drawing are consistent. Architectural design support experts with virtual design and construction (VDC) and BIM technology experience have successfully navigated architects through mega projects including skyscrapers, stadiums, commercial buildings, ports & dams, tunnels, bridges, airports, and many more.
The tender documents submitted to the bidder should also give the clarity about the document or model that needs to be referred first in case of inconsistencies between them. In case of identified discrepancies, and absence of "priority of document", bidders should raise a tender clarification, and bring it to the notice of the architects; in order to avoid any conflict of interest post contract is awarded.
BIM at Contract Award
The contractors are supposed to execute the work in accordance to the design documents. If in case, physical drawings form a part of the contract documents, chances of inconsistencies between the drawings and BIM models are likely to occur. These inconsistencies may go to the extent of scope of work for the contract, as in whether the contractor should go ahead to execute the work in accordance to the drawings or BIM models.
Said that, drawings and BIM models are treated as design documents to describe the scope of work, and ideally, there should be no inconsistencies between them. The best practice should be that both the documents, as they form the part of the contract, should be awarded the same priority. However; the fact remains that as there are no set rules, bidders should carefully scrutinize their contracts in cases where BIM is to be used.
BIM Post Contract Award
One of the prominent challenges with BIM is to make sure that all the stakeholders involved for a project buy into and use BIM software like AutoDesk Revit®, AutoDesk Navisworks®, AutoDesk Building Design Suite (BDS). Some design and build contractors may have challenges getting their supply chain to use BIM. This happens mainly due to the lack of expertise or increased cost of recruiting a BIM manager.
This would lead to a situation where some of the stakeholders on the project would continue producing drawings, irrespective of the priority given to the design documents in their contract. They would be unaware of the fact that BIM models must be updated throughout the design process – regularly.
One more aspect to the entire discussion is that do these conflicts between drawings and BIM models affect the "Level of Development" – LOD as well? The impact may be across LOD100, LOD200, LOD 300 and LOD 400 as well. I.e., though a contractor doesn't need to know what a door or window looks like, but they do need to know the dimensions to coordinate with things around it.
Failing to do so, may result in not only project inconsistencies but also incomplete or inaccurate design documents, leading to severe time and cost consequences.
In construct-only-contract arrangements, architects and architectural firms should take the ownership of, correcting the inconsistencies in the design documents issued to the contractor, and updating the BIM models. The contractors and sub-contractors should be entitled to additional time and cost reimbursement due to such inconsistencies, although not all contracts address this particular issue.
In design and build arrangements, typically, the contractor has single point design responsibility and, unlike construct only contract, here the contractor is responsible for correcting all design inconsistencies and updating the BIM models as well. The contractor is not liable to collect additional costs from the employer, however; they may have remedy in form of design sub-consultants. It also facilitates the contractors to drill down the liability down to the supply chain, with help of back-to-back contracts; in-case the sub-contractor is not using BIM. This also is the reason why contractors must see to it that they regularly update and effectively manage BIM Models.
Irrespective of the arrangement, irrespective of your role in project execution, wherever BIM is used, BIM deliverables and the responsibilities of each party in terms of updating the BIM models should be clearly defined in the contracts.
Bidders, contractors, sub-contractors, supply chain stakeholders and many more, should be well aware of their liabilities with regards to conflicts between drawings and BIM models, especially then – when the contract is silent or unclear about the use of BIM.