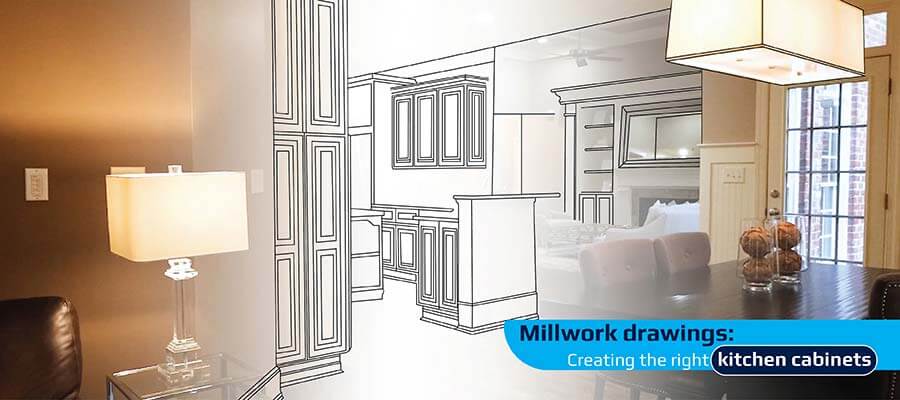 Architects and cabinet makers need to work in tandem to ensure the right designs, placement and positioning of kitchen cabinets. Millwork cabinet drawings bring both stakeholders on the same page by incorporating cabinet layouts and manufacturing information in a single file.
Contemporary interior designs are fast gaining prominence in kitchens, playing a pivotal role in conceptualizing spaces and defining function and aesthetics. Commercial kitchens have now transitioned from soot-laden cramped quarters to airy, well-lit and functional livable spaces.
Kitchen design is highly influenced by factors such as trends, space availability, project costs, and functionality. On any kitchen project, architects and cabinet manufacturers need to be on the same page to ensure flawless design development, manufacturing, and installation.
Millwork drawings for kitchen cabinets help to define the balance between durability and aesthetics while optimizing project costs. Detailed cabinet drawings enhance communication and ensure faster decision-making with complete information packed into a single file.
Factors affecting kitchen cabinet design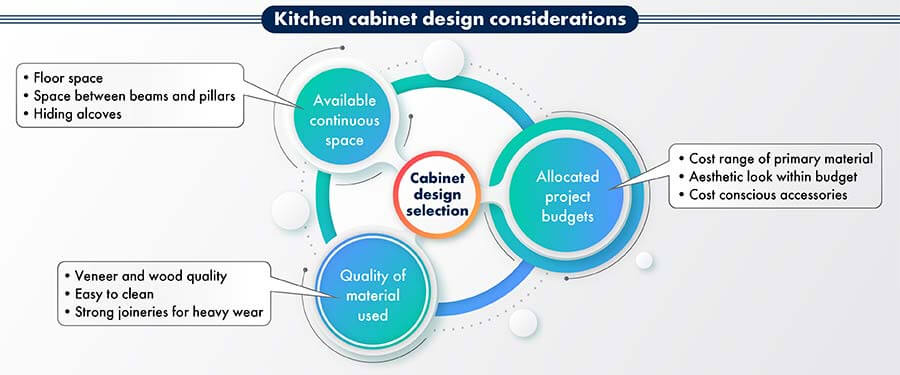 Space availability: Interior spaces influence cabinet designs and forms. Most of the time, spaces are constrained, inconsistent, and lost from sight between beams and pillars. This makes it difficult to design and place cabinets.
Durability and cleanliness: Kitchen cabinets are used frequently, and have higher wear and tear than other cabinets in a house. They are also exposed to water, oil and heat which affect the operational life of casework. Thus, architects need to select suitable veneers and wood with the required durability and material properties. Manufacturers also need to ensure stronger and corrosion and wear-resistant joints and connections.
Costing: Cabinets are made traditionally from wood. Modern cabinets also make judicious use of metal, plastic and also glass with different finishes like transparent, frosted, mirrored, etc. To impart durability and water resistance, PVC and metal drawers are often used for spaces under the kitchen counter. The costing of each material is different and the choice of material depends on the allocated project budget.

Communicating these aspects accurately to the shop floor is the key to perfecting cabinet designs. Millwork drawings for cabinets preserve the design intent by encompassing detailed information and sharing it across stakeholders.
Find out the top 5 ways to perfect millwork drawings for cabinets
Read more here »
Details addressed in millwork drawings for kitchen cabinets design development
Millwork drawings for cabinets are ideally developed from the architectural layouts of the kitchen. These drawings are detailed to get the right mix of sturdiness and looks.
Let us look at the critical information needed in millwork drawings for cabinets:
Cabinet layout and positioning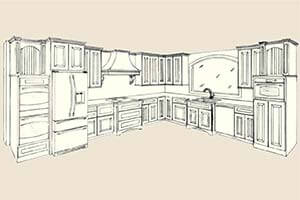 As open and island kitchens become common, thorough planning for kitchen storage becomes crucial. Modern kitchens also make use of corner cabinets with circular and rotatable storage platforms to optimize space use. Space planning for micro apartments has become smarter with an entire line of new and multi-tasking furniture, including kitchen cabinets, becoming popular.
Architects need GA drawings readily available to put design aspects together. They break down the entire space into different modules like cooking, utility, cleaning, etc. Once the zones are decided, the cabinet drawings are developed by allotting space for drawers, overhead cabinets, double-leaf cabinets, open shelves, pull-out cabinets, etc.
Dimensioning and standards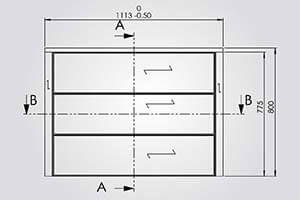 Once the space is allotted for different modules, and electrical appliances are assigned to their spaces, the furniture manufacturer needs to calculate dimensions for storage furniture. Some follow specific standards, while some are custom-made to suit the sizes of electronic, electrical and other equipment. Millworks drawings account for local and global standards and specify dimensions that are viable.
Material planning and cost estimates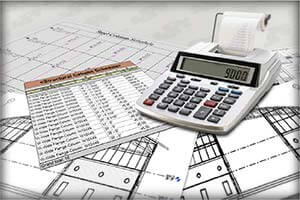 The next stage is deciding the type of wood or metal as primary material and veneers. As the primary material of the cabinet changes, the total cost also varies. Wood may be cheaper than metal in some cases, but the latter is more durable and water-resistant. Further, in wood as a primary material, various categories dictate the price, such as MDF, particleboard, solid wood. And each of them has specific manufacturing instructions mentioned in the cabinet drawings for quality. The costs of metal parts also vary according to the specifications.
Cost calculation for kitchen cabinet can be tough. Hitech's millwork specialists leveraged Excel spreadsheet-based macros, to eliminate tedious calculations. The result was an increased bid-to-win ratio.
Read Complete Case Study »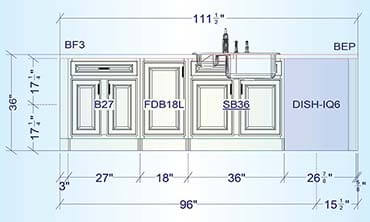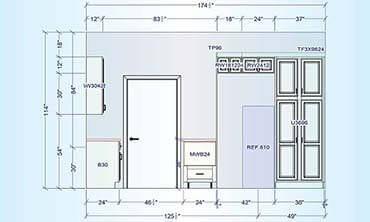 Manufacturing documentation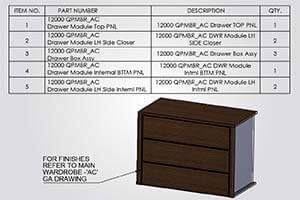 Cabinet shop drawings are the most critical documents for cabinet makers and millwork developers. A complete submittal for cabinet drawing includes manufacturing drawings with annotations, symbols, etc., and Bill of Material (BOM). DXF files are also used to leverage CNC machines and attain better finished cabinets.
These drawings go beyond shop floor manufacturing and provide insights for assembly, joineries, screws, etc., for packing and unpacking the parts. Some designers also create animated sequential videos to assist the installation site supervisor for tricky spaces, like under the kitchen counter or corner cabinets.
How CAD platforms impact kitchen cabinet design selection and execution
There is a range of CAD tools available in the market, made specifically for woodwork drafting for cabinets like Cabinet vision, Microvellum, SWOOD, and more. However, 2020 Design and SolidWorks (3D) and AutoCAD® (2D) remain the best choice for drafters and architects.
A comparison between SolidWorks/AutoCAD and 2020 Design:
Offers higher flexibility in drawing and drafting.
Enables creating customized kitchen cabinets designs.
Takes more time, but cabinet drawings can be done from scratch.
No high-end visualization
Has an inbuilt library of 1000s of models for kitchen cabinets that can be readily used.
Has drag-and-drop option to reuse the library models.
Quickly creates final models with configurable preloaded cabinet library.
Has interactive 360-degree panorama mode of detailed visualization.
These tools help you design and plan the entire kitchen layout, whether you want to build it from scratch or select from available designs. They allow you to make the most of available spaces.
Hitech CADD Services' engineers delivered detailed shop drawings for furniture used in retail food shops using to reduce error-count from 170/month to 18/month. By using SolidWorks as the primary tool for metal products the team leveraged in-built DFM design methods. The team also developed catalogues for standard items and created models to minimized total engineering time.
Read Complete Case Study »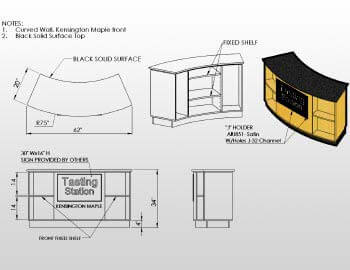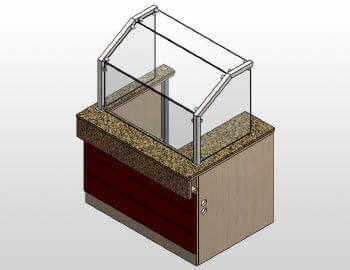 Self-customization and automation will rule kitchen cabinet design in near future
Kitchen spaces are getting more personalized. Cabinets are getting bigger, better, and more beautiful. Customers expect a fresh design each time they plan a kitchen for their homes or for commercial purposes. One can never be sure of which feature will stay for long. However, the need for ease of maneuvering across the kitchen space and accessibility remains constant.
To meet these needs with the market pace, architects and manufacturers need to deliver faster design options. They cannot afford to have multiple approvals for slight design variations. Ability to automate design development and the use of tools like visual configurators should be encouraged.
Since cabinets are an integral part of kitchen space, their style and colors have to be in harmony with each other as well as with other design elements in the space. Architects and cabinet makers must be in agreement right from the beginning of kitchen planning. Millwork drawings take care of both planning and manufacturing, enabling designers actualize client vision.