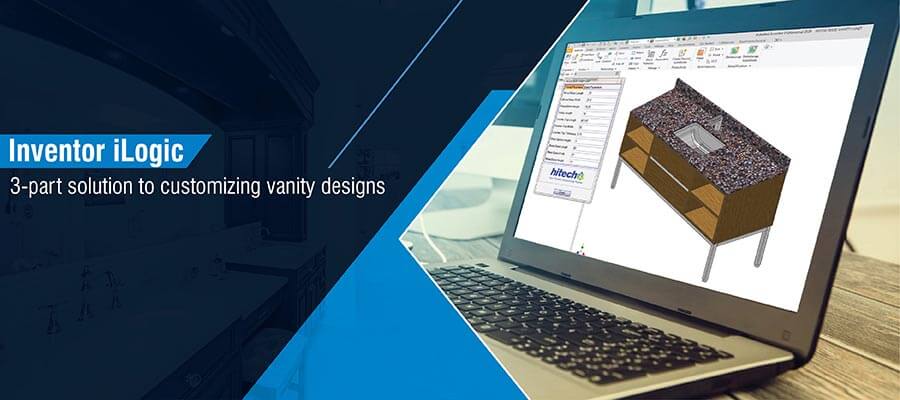 Complex customization in vanity design often results in substandard quality manufacturing despite long design hours. Inventor iLogic eliminates lengthy design cycles and quality issues by automatically generating manufacturing drawings from approved models using logical rules.
Gone are the days when vanities were only casework boxed structures, built and fixed at a corner. Today, they are crucial for economic use of dead interior spaces, and important both for aesthetics and functionality. But the design and production of vanities for specific needs can be a daunting task. Each vanity needs specifically detailed drawings to address individual material, look or dimensions, and increasing design complexities.
Here, design automation implemented through Inventor iLogic allows automating the generation of manufacturing drawings. These rules are developed using scripts and by capturing design intelligence from master models to customize the product and automate manufacturing documentation.
Customization in vanity designs brings its own challenges
For their personal style statements and needs, customers demand many changes in design parameters and rarely all at once. Thus, finalizing a design becomes difficult for the manufacturer. Customization throws up challenges such as:
Lengthy design cycles
Insufficient product design visualization
Requirements for detailed documentation needed by shop floors and sales teams

All these challenges arise because modern-day vanities are built keeping the architectural layouts in mind, and customizations are difficult to accommodate. But design automation with Inventor and iLogic helps to address these challenges by eliminating repetitive tasks in design drafting, offering better visualization, and accurate documentation.
Inventor iLogic based product configurator helps to speed up custom vanity designs
Implementing a visual configurator created using Inventor iLogic helps overcome the deficiency in visualizing the mix of all the aspects by offering:
Faster design customization
Enhanced visual clarity across the design stage
Accurate engineering documents
Let's look at these benefits in a use case of a vanity manufacturer leveraging iLogic automation.
A case in point: Vanity manufacturer reduces delivery times from days to hours using Inventor iLogic
A leading manufacturer and supplier of luxury bathroom vanities to hotels looked for various alternatives to reduce the total costs. The major factors that increased costs were delays in custom design engineering and errors in manufacturing drawings. The manufacturer wanted to speed up the design customization cycle to match deadlines set by clients – primarily general contractors of luxury hotel construction.
Challenges faced by the vanity manufacturer
The manufacturer needed to ensure precise customizations as these vanities were to be fixed in luxury hotels. The firm focused on achieving quality manufacturing with quick TAT. Some major factors they accounted for during vanity design selection were:
Design style: Traditional, contemporary, country style etc. 
Material: Metal, wood, combination, quartz
Build: Countertop material, and texture
Storage: Customizing cubby length, width, drawer size, etc.
Foot type: Number and shape of legs, rounded or square corners, etc.
Purpose: Support needed for safety and stability
Dimensioning: Floor space availability and height
Accessories: Towel racks, drawers, etc.
Besides, even if there was a slight change in the sink's size or the faucet location, the dimensions of countertops, etc. changed. This demanded revisions in details of BOMs and manufacturing drawings. It almost took about 3-5 days for the manufacturer's design team to develop and finalize the vanity design.
Implementing Inventor iLogic based configurator: Solution by Hitech CADD Services
The project team assessed internal design request flows between design, sales, and manufacturing teams to mark the points of communication gaps. The project team found that the client manually implemented all design changes on the go during the design development stage. It left the CAD engineers occupied in updating Inventor design models, and there was little time for research and innovation.
After assessing in Autodesk Inventor® these flaws in coordination, and in the existing design database, Hitech CADD Services' project team suggested leveraging iLogic for compatibility and ease. The entire project was divided into three parts:
Part 1: Master model development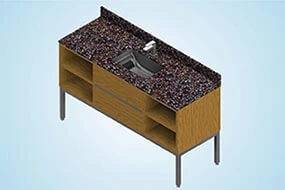 The team studied all the existing designs of Inventor vanity models created so far by the client and created master models. These 3D master models were designed in such a manner that they could be customized at later stages.
Design engineers at Hitech CADD Services created models with basic designs that included:
Vanity
Sink
Placement of faucets
Legs
Countertop
Storage
The team made provisions for customization of dimensions, material, finish, color, leg specifications, etc. as per the customer's request. Additionally, the team left accessories to be selected from the catalog by customers during order placement.
Part 2: Logical rule creation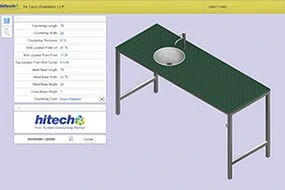 Once master models were ready, automation specialists at Hitech CADD Services developed scripts and rules to vary customizable parameters in master models. These rules ensured that all dimensions stay in proportion.
For example, maximum and minimum values of underneath drawers were fixed to ensure the proportions of drawers remained appropriate. If the customer selects a value beyond these limits, the configurator flashed an error message on the screen. Rules for levelers adjusted the size, shape, offset, etc.
A separate library was created for all accessories to allow the customers to mix and match the functions and features for their vanities. For instance, when the basic vanity design, dimension, etc. was selected, a customer could go to the accessory model library and make selections. It included steps like:
Selection of countertop material 
Shape and size of sink
Robe hooks, towel bars, etc.
Backsplash and side splash elements
Need for aprons
Drawer handles, closure, etc.
Once the customer selected these add-ons for vanities, the models were inserted in the final model assembly. The rules ensured that robe hooks and towel bars were located on the same side of the sink. If the size of any of these changed, the placement was updated automatically.
Part 3: Generating manufacturing documents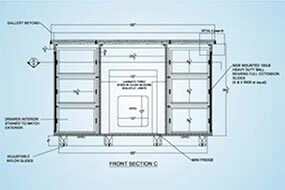 During customization, as the customers could see a 360-degree model of their vanity, they could place orders right at that moment. Once customers approved the models, the iLogic rules instantly created 100% accurate sales quotes for reference. As soon as email addresses were entered by customers, they received a digital copy of the sales quote and a detailed 3D model of their configured vanity.
At the same time, the configurator also created manufacturing drawings for shop floor operations. These drawings were created from approved master models and hence there was no need for additional QC. Drawings with BOMs and DXFs were shared with the shop floor engineers to start manufacturing the same day.
Impact realized by the vanity manufacturer
Deployment of the Inventor iLogic configurator significantly improved processes at the manufacturer's end. Some of the benefits:
Reduced TAT from 3-5 days to a few hours from sales-to-manufacturing
Ensured 100% accuracy of manufacturing drawings to meet product quality for luxury hotels
Faster response to general contractors helped manufacturer win more contracts
Enhanced customer satisfaction due to increased interactivity during customization
Reduction in number of design iterations
Check out the case study »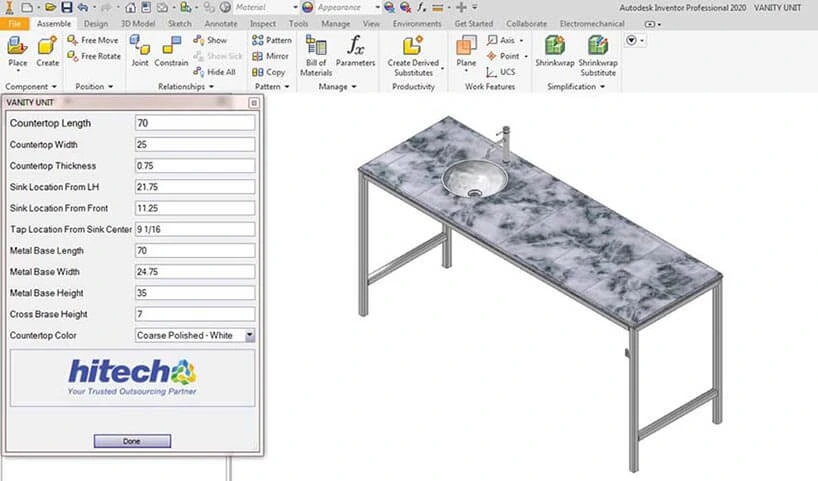 Think of the future. Stay a step ahead.
Vanity design, whether it is for bathrooms or stores can be a challenging task when you have a constant influx of design changes. Doing each change manually takes long hours and you can never be sure of the quality. Design automation with Autodesk Inventor iLogic automates customization and helps you stay ahead in market.
Automation is the way forward, when manufacturers want connected systems from ERP to CRM to MES to SCM to get visibility across the supply chain. Adopting product configurators with iLogic empowers you to connect with legacy systems like PLM and other CAD platforms through APIs. Eventually, you get visibility in the engineering section.
The future lies in automation. Small steps at every stage of product design development help you make the most of tools and trends and keep running profitably.
Stay ahead of competition by implementing automation at every stage of designing
Get in touch now →