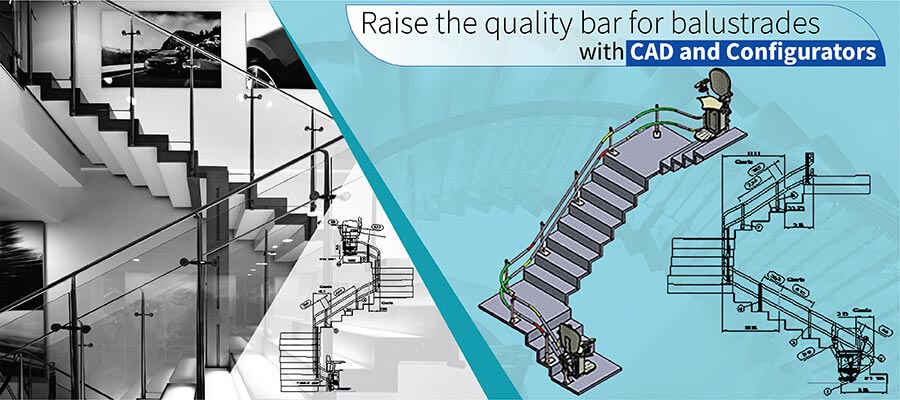 In an increasingly competitive market driven by customer personalization, balustrade fabricators struggle to deliver quality without compromising on cost. Effectively leveraging the value-added features of CAD platforms and deploying configurators helps fabricators meet delivery excellence.
Unlike structural components, there are no international quality standards that govern the fabrication of building products such as balustrades. Fabricators across geographies conform to their respective national standards such as the CE mark in Europe, ASTM in the USA, etc. But many a time, the pressure of deadlines, high demand for personalization or need to control project costs has building product fabricators deviating from quality compliances.
Adoption of CAD platforms with design automation ensures a reasonable amount of quality assurance in balustrade drawing and manufacturing. This is reflected in the balustrade finish and its alignment with the building structure. The in-built features of modern CAD systems along with product configurators developed using DriveWorks or iLogic enable quality adherence, on-time deliveries and cost controls.
Factors that define the quality of balustrade design
Design consistency, adherence to standards, product assembly and installation methods define the quality of balustrades. The degree of personalization is another important quality aspect as it adds to the aesthetic value of interiors. Here we discuss some quality-governing factors in greater detail.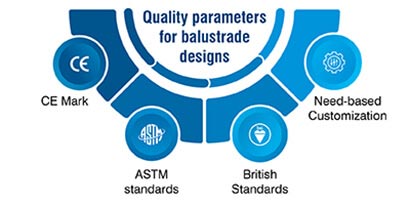 Design as per region-specific standards: Compliance with region-specific standards ensures that the balustrade fits properly into the local building ecosystem. For instance, the European Union and the UK follow a CE mark while the US-based balustrade fabricators have adopted ASTM E2358.
Addressing technical design needs: Balustrades need to meet performance and safety requirements. For example, as per British Standards, BS6180:2011, the balustrades need to be installed in and around buildings for safety. The standards also show comprehensive design, structure, geometry, etc. along with the strength of the component for designers' reference.
Customized design approach: Alloyed metals are the most commonly used material followed by glass to meet architectural needs. Sometimes balustrades have a delicate design theme, while sometimes they are sturdy. Thus, to ensure site safety, quality manufacturers at times provide assembly and installation guides.
While the above is a list of must-have components there are multiple other quality requirements that fabricators need to meet to guarantee good performance, form, fit, and function. CAD platforms and online product configurators have proved to be critical tools to help fabricators eliminate design errors and ensure fabrication quality.
How to set up CAD systems and configurators to meet quality for balustrade designs
Drawing as per standards
CAD managers and engineers use standards for a uniform drawing, drafting, and modeling approach. Whether you use ANSI, TEMA, BS, or any other drawing standards, your CAD system must understand it. Some aspects a CAD manager should take care of: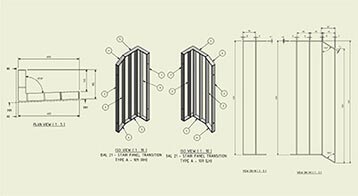 Drawing templates: Set up initial standardized configurations for CAD drafting and drawing templates across the project to accelerate balustrade design drafting.
Best practices documents: Follow the guidelines as per the documents prepared and approved by senior CAD engineers of the organization to maintain uniformity.
CAD libraries: Save CAD models and drawings in libraries that are repetitively used across the projects to cut modeling and drafting time.
Taking care of these aspects at the start of the project ensures seamless design development. Using manufacturing drawings created as per Australian standards saved a sheet metal manufacturer 18% on costs. For this football stadium project, design engineers at Hitech CADD Services converted Revit® data for handrails and guardrails into SolidWorks drawings.
Establishing CAD standards before generating detailed drawings
Drafters spend significant time understanding design intent, shop floor processes, balustrade material qualities, etc. while developing CAD drawings for building products. These drawings are then annotated with manufacturing process precautionary symbols, remarks, and notes which make the drawings difficult to read.
You must have experienced this if you have worked simultaneously on two different but similar kinds of projects – for instance, designing a balustrade for a hotel and a high-end luxury villa. These drawing files could be misleading and get interchanged resulting in design data disruption. One way to avoid this problem is establishing CAD standards.
Below is a list of a few commonly used items in any CAD project:
File naming convention: Establishing a standard practice helps retrieve and relocate old files especially when there are too many different balustrade project drawings.
File structure: This item is particularly important during the design approval stages. You need to categorize all the project files into existing, proposed, research, and record drawings. Grouping helps in projects that have a long time lapse between the design finalization and installation.
Layering: Uniformity in layering, while developing drawings, is necessary for clear cross-functional communication across the organization. For example, a file with a different layer for color, visibility, and shape, etc. with description becomes self-explanatory while reviewing. It also eases the changes in dimensioning as civil work progresses.
Annotation: Style and color are extremely important for balustrades as they drive building aesthetics. However, there are multiple instructions for every balustrade design which makes it impossible to detail everything. Instead, creating codes for specific texts such as orientation, dimension style, leader callouts, etc. helps.
Plotting: Any balustrade manufacturing drawings when shared with shop floor engineers will essentially be a print of 2D lines. To accurately represent each line and communicate the intent, a standardized plot set with varying line weights and defined colors is reliable.
Parametric CAD modeling saves turnaround time by 30% for balcony manufacturer
A UK-based balcony manufacturer faced issues in design-change management for balconies with every assembly having 100+ parts. They approached Hitech CADD Services for converting all drawings into parametric models and classify as per the needs. This saved time in data management for all documents as the scope of work increased gradually.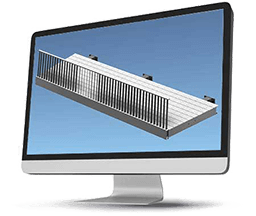 Customization using a visual configurator
A single balustrade design doesn't fit every need. This triggers compromised quality and delays during the design stage. Deployment of visual configurator empowers fabricators to accurately understand customer needs.
By adopting a configurator developed in DriveWorks or Tacton, the customer can build balustrades from scratch and specify little details like:
Primary material and color
Type of finish, shape, dimension
Rounded or unrounded corners
Cut strings
Grooved or ungrooved handrails
Fixtures for decking on balcony or stairways
Another benefit is ensuring reliable balustrade installation. With changing primary material and finish, the installation and assembly precautions also vary. A visual configurator allows you to generate manufacturing drawings with customized installation guidelines. This helps both, the fabricator and the customer.
Benefits of balustrade configurator to the fabricator:
Once customers confirm the orders, the fabricator receives auto-generated engineering drawings with 99.99% quality. The shop floor is also prompted with BOMs, part lists and cut lists for fabrication.
Benefits of balustrade configurator to the customers:
Upon confirmation, the customers will also receive an email with 3D model and 100% accurate sales quote for their configured product. For example, a stainless steel and glass balustrade will be costlier than a cast-iron or aluminum balustrade. These calculations are taken care of by the configurator.
Final word
The quality of a balustrade is closely associated with drawing accuracy and precision in standards adopted by the design team. While there are so many regional institutes that regulate drawing standards, there are no strict rules in the actual fabrication market. Balustrade fabricators can ensure product quality by adopting CAD standards and configurators and providing correct instruction for each bespoke design.
In the next few years, as building architecture evolves, designs of building products will also see a significant change. To keep up with this transition, fabricators need to meet the quality right from design development to final fabrication. This can be well addressed by deploying the right configurators and setting up the CAD systems.
Drive business efficiencies by partnering with a CAD engineering team
Contact us now →