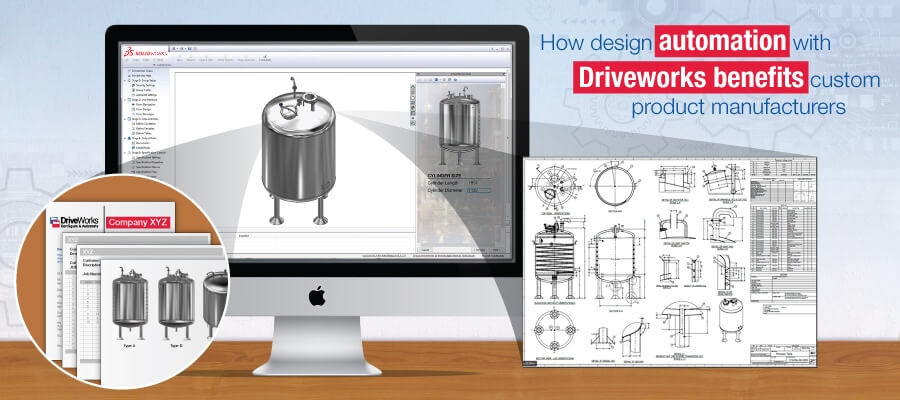 Manufacturing companies, with help of product design engineers, have embraced mass customized products as an easy way to sail through agile markets. It helps manufacturing units to accommodate a variety of design features by exhausting all the allowable permutations and combinations of design and development ideates. There is a general perception that when consumers are allowed to configure the products according to their requirements, they experience a sense of satisfactory purchase – and manufacturing companies have been leveraging that to a great extent.
For example, every hydraulic cylinder is different from every other hydraulic cylinder, in spite of having the same utility. The geometry, stroke length, piston diameter, volume of the cylinder etc. go on varying from application to application of the cylinder. Even a nail manufacturer is a perfect fit for such an example. Not many of the nails manufactured at a nail manufacturing facility are same in exact geometry or surface finish.
How to practice mass customization?
For fabricators and manufacturers, designing custom products isn't the fundamental concern. Most of the manufacturing firms are equipped with design engineers savvy at using 3D CAD modeling software like SolidWorks or Autodesk Inventor® suite. Lot of manufacturing units outsource product 3d modeling to professional design service providers also. But when the manufacturing lead times are shorter, we think of faster, better and cost-efficient manufacturing methods; and ROIs are counted from the very initial stages.
In such times, practicing mass customization becomes much more dreary process for manufacturers and custom tool setting is really bothersome. Even outsourcing isn't an option with the kind of time lag between order placement and shipping dates.
Automating repetitive tasks of modeling and drafting is the only alternative left with mass customized product manufacturers.
Why does design automation provide value to manufacturing companies?
With mass customization, the production volume is high and so is the product mix. This means, their products are classified as products that have same utility but different form or geometry. Design automation software plugins are the perfect suit for such manufacturers as most of the design and modeling related tasks are automated.
Benefits of Design Automation to manufacturers and manufacturing firms
Reuse of CAD designs: As design automation plugins utilize the native 3D geometry of the product, part or component, the benefits of 3D CAD modeling are inherent for design automation. The benefit of using design automation is that it allows the designers to reuse CAD designs by capturing basic design framework and developing logical rules around it to configure the product as many times as a new customer walks in.
Access to 3D CAD model: Secondly, every division associated with the product design and development until the time final shipment is done, will have the access to 3D CAD model, which facilitates easy design communication. Particularly, for manufacturers involved in creating machinery, tools are designed with CAD and manufactured with CNC machines with a guided toolpath designed on the basis of this geometry.
3D CAD files & tool geometry: This tool when purchased by warehouse operator can request the 3D CAD file for the tool geometry. It facilitates checking of how the tool meshes/interferes with other machine parts, fixtures, workpiece or any other component that comes in contact with this particular tool. Thus, a CAD file for one tool [or a part or assembly] can check the correctness of the entire machine setup and ensure the consistency way before the entire setup is operational.
Designing, modeling & setting the NC-codes: Furthermore, for machine tool and part manufacturers, when designs are customized most of the time is used upon setting the feed rates, machine spindle speeds, documentation, cutting velocity and many other factors alike. Such situations account for higher investment of time and cost, especially when production volume is low with high product mix. Design automation will save manufacturers a lot of time and bring an additional level of assurance for designing, modeling and setting the NC-codes.
Design automation implementation with a service partner
In fact, design automation not only saves time by automating repetitive modeling tasks but also helps manufacturer in setting up the pre-manufacturing requirements through sales configurator. Sales configurator gets manufactures an appropriate set of manufacturing information with fabrication drawings and models. But establishing and developing sales configurator can be a tricky business; to achieve exemplary user experience of buying/placing orders a professional help from design automation service partner can be availed.
Why choose a DriveWorks authorized service provider?
Numerous companies working with custom product manufacturing have implemented DriveWorks but the outcome didn't turn out the way they projected it. Instead of completely automated designing stage, design engineers still work manually on traditional CAD platforms.
An authorized Driveworks expert can successfully automate designs and train your in-house design engineering talent to leverage the maximum of Driveworks with SolidWorks. DriveWorks certified engineers also empower Driveworks implementation of different modules Driveworks Xpress, Driveworks Solo and Driveworks Pro as per the designing, manufacturing and sales capacity as well as the requirement of your firm.
The certified design automation specialist helps in gaining the edge by working alongside your teams and seamlessly implements CPQ tools across your manufacturing capacity. Besides, these specialist engineers have a vast experience of working in different manufacturing sector ranging from machinery to furniture and from industrial equipment to building products.
At Hitech CADD Services, we have dedicated teams of Driveworks authorized specialists having high competence across the Driveworks world. We help you make higher ROIs when counted right from the placement of order to dispatch of the final manufactured product. We can be your next design automation partner to achieve competency for custom product manufacturing, get in touch with us via info@hitechcaddservices.com for next logical step in getting success for custom product manufacturing.