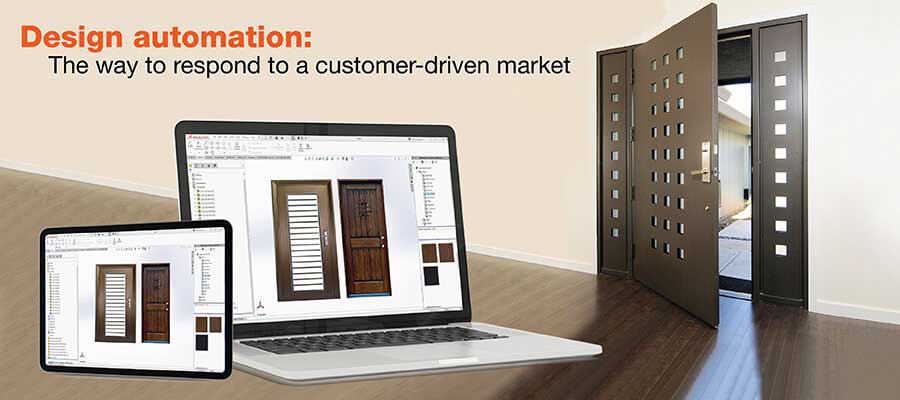 Design automation is set to transform furniture manufacturing. Armed by rule-based product configurators and automation scripts and macros, it expedites design customization cycle without compromising on quality or productivity.
The furniture manufacturing market is growing at an exponential pace which increases demand for customized products. Such product personalization embraces everything ranging from material and colors to design and surface finish.
To remain competitive, manufacturers need to address mass customization by neutralizing any associated adverse impact on quality, cost and timelines. Adopting Design automation allows furniture manufacturers to accelerate design cycles with minimal design iterations by saving time and cost.
Challenges faced by furniture manufacturers
Let's understand the challenges inflicted upon manufacturing processes due to rising customer involvement during design specification stage:
Extended time to market: Longer design curves for custom furniture products as compared to standard product elongates the time to market.
Accuracy in designing: When each drawing is customized as per specific design inputs accuracy is often compromised in the rush to meet deadlines while working with traditional CAD.
Inter-team communication: With multiple design specifications, visualizing the actual furniture design in 3D space with 2D drawings often results in communication gap between teams.
It is clear that standalone CAD platforms cannot address these challenges.
Design automation offers a great way to overcome these challenges by offering:
Automation of repetitive design tasks
Error-free product design configuration
Seamless communication with 3D visualization
Enhanced sales through interactive platform
Implementing design automation
There are design automation tools like DriveWorks, Tacton, etc. and custom-developed tools such as SolidWorks Macros for implementing design automation. Both these can seamlessly integrate with traditional CAD design and drafting platforms to speed up design cycles even for one-off furniture pieces.
How tools and platforms are used across the industry
CAD Macros: Any macro developed for a particular CAD platform such as SolidWorks, Inventor®, etc. is a series of commands that can be used to perform repetitive task. It can be custom-developed, saved, and run as and when necessary to perform the task.
Design Automation Platform: As far as automation platforms are concerned, they work in collaboration with native CAD tools. These automation systems along with native CAD systems offer guided and visual configuration interface that eases decision making for customers.
How technology platforms help implement design automation
A typical implementation process for design automation with any technology platform such as DriveWorks or Tacton includes the following steps:
Importing existing models and studying the parameters that are currently changed manually to obtain Master models with accurate drawing references.
Building logic and customized rules in the design to automate model customization with ease and in no time as per the customers' specification.
Generating new designs, assemblies and BOMs automatically with the obtained rules and equations.
Developing an online 3D product configurator using one's one choice of User Interface where the customer product selections can be checked for manufacturing compatibilities.
Generation of detailed user forms which guides the customer to place their orders in a hassle-free manner.
Automatic creation of sales and manufacturing documents like 2D drawings, BOMs and cut lists.
As simple as it may appear, the process, however, sometimes get tricky without an expert on your team.
Benefits of implementing design automation to furniture manufacturers
Design automation tools such as SolidWorks macros and automation platforms offer online CAD configuration and 3D visualization to ease designing and sales. These tools can be deployed at the furniture manufacturer's end to automate sales to engineering processes.
Accelerated design cycle using 3D product configurator
3D product configurator allows remote sales teams to configure the product in an interactive environment. Properties such as material, color, frame, etc. can be customized in real-time. This not only reduces costs and saves time but also sets up an intelligent workflow through automated CAD models which makes product configuration easy.
Achieved up to 99% error-free design using product configurator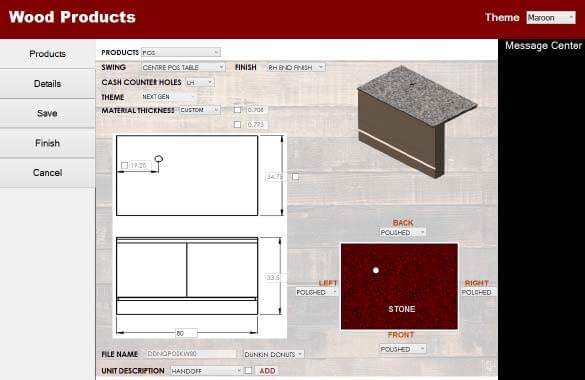 One of our esteemed clients in the furniture design and manufacturing industry was facing challenges in customizing the design requirements into a finished product for their clients. Our DriveWorks specialists helped them to develop product configurator to automate manufacturing drawings and BOMs using logical rules of sales configurator.
The client reduced their design lead time by 80% by implementing design automation with DriveWorks. Not just this, their turnaround time reduced and the process got faster 70 times, improving accuracy.
Did you know design automation with right techniques can cut up to 80% design lead time?
Consult the experts »
Error-free design creation with logical rules
Error-free documents are generated by intelligent rule-based design. It saves furniture designers' time by eliminating monotonous and repetitive jobs, generation of quotes, 2D manufacturing drawings and assembly drawings.
The reports generated provide all time audit trials thereby controlling the sheets, views, annotations texts other custom properties. It also saves drawings in advanced formats such as PDF, JPEG, DWF and DWG for all permissible design values.
95% reduction in design cycle time for a wooden shutter manufacturer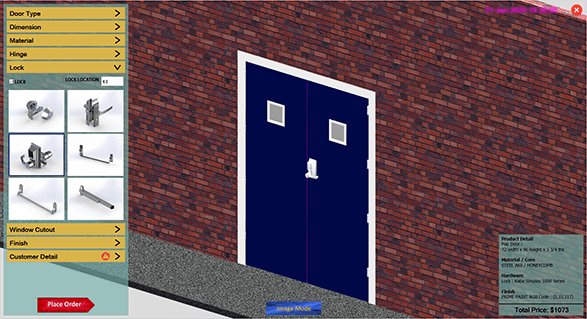 A US based wooden shutters and louvers manufacturer contacted design automation team at Hitech CADD Services to automate design customization process. The existing design workflow involved using a large number of spreadsheets and MS Access Database to calculate Bill of Materials and sales quotations. The process was lengthy and prone to errors.
Hitech CADD Services's DriveWorks specialists developed a logical set of rules to implement DriveWorks and connect it with MS Access database. DriveWorks Autopilot Live mode was deployed at the backend which used plug-ins to fetch data from the database for new entries and keep the configurator settings updated.
The partnership resulted in achieving:
95% reduction in overall cycle time
Complete automation of end to end sales to engineering process
Setting up of an auto-mailing system to communicate with the customer in a time-frame of 2 seconds
3D visualization by an interactive 3D product configurator
3D technologies bridges communication gaps between customers and engineers to better showcase design intent and features for all furniture products. The manufacturers can embrace this piece of digital transformation with visual product configurator to improve customer experiences and increase sales for better profit margins.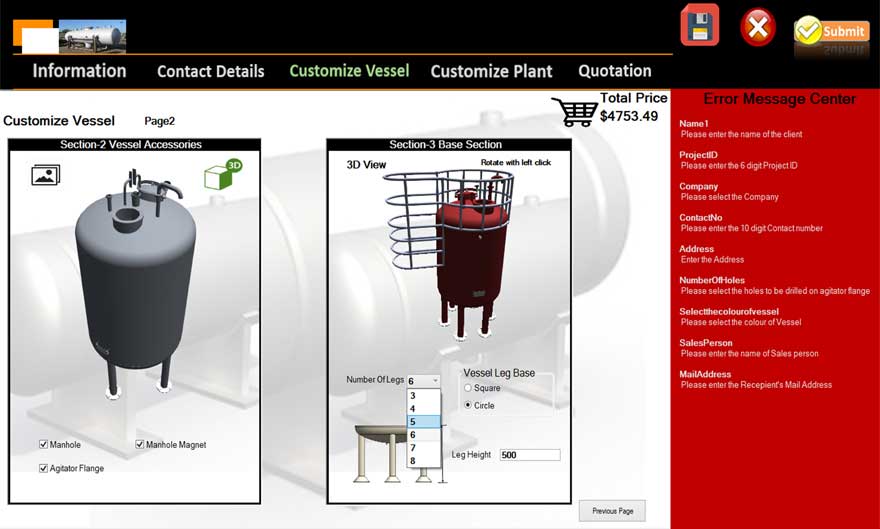 Design Validation for fewer change notices
Products such as furniture see the highest personalization which naturally invites numerous design specifications from the user. With an online 3D product configurator the furniture designer is empowered to audit and validate a CAD model faster. Implementation of a visual product configurator avoids the sales team from promising any furniture piece that is not viable and produce only validated drawings as per manufacturing capabilities.
Privacy of sales quotes and product information
Integration of design automation platforms with the sales and marketing helps to seamlessly collect user information on the Sign-up page before their entry into the design section. It essentially protects the privacy of products and quotations as the details can be accessed only through login credentials shared only with the concerned authorities.
Design automation set to transform the manufacturing landscape
Design automation, as we have seen, is fast gaining indispensability in the furniture manufacturing space. Furniture manufacturers are looking to leverage it to cut down their operating costs and lead times, be it in the retail, corporate or hospitality segment. Design automation has also increased the range of products being offered to customers given the simplified design process and significantly reduced design errors.
Seamless integration of design teams with the sales and manufacturing helps in easy on boarding of customer profiles. Using this advantage, customers can easily configure each furniture part and get the finished product delivered to their doorstep 7-10 times faster!