Hitech remains fully operational amidst the Covid-19 challenges. Our business continuity plan is fully in place and allows our teams to conduct 'business as usual' remotely and safely. For any questions, please connect with Bachal Bhambhani (USA)
+1 408 338 8047
or Brett Parnham (UK/Europe)
+44 782 436 5444
.
Project information
Client Profile
Furniture Manufacturer
Industry
Furniture Manufacturing
Inputs
2D furniture Drawings
Deliverables
Product CAD Configurator
Software
SolidWorks and DriveWorks
Services
Design Automation
Client Challenges:
Reducing lead time in engineering (Average 4 to 5 days) and avoid delays in customers enquiries.
Repetitive design task leading to greater chances of error and improve quality for customization.
Managing product knowledge for different product and managing custom design templates for locks and accessories.
Our design automation solutions to client:
The furniture manufacturer for retail food chain stores manufacturing specific set of furniture constantly was facing challenges to customize the designs as per space availability and quoting the price accordingly. Our DriveWorks specialists collaborated with the manufacturer to develop CAD configurator to accelerate the time to market each piece.
Based on the custom design needs, our SolidWorks engineers developed 3D CAD models with manufacturing information.
Other customized data base was then created for automation of manufacturing drawings, quotes and documentation process.
The sales engineer or any frontend user could simply populate the customized design needs using configurator to quickly send the request to shop floor.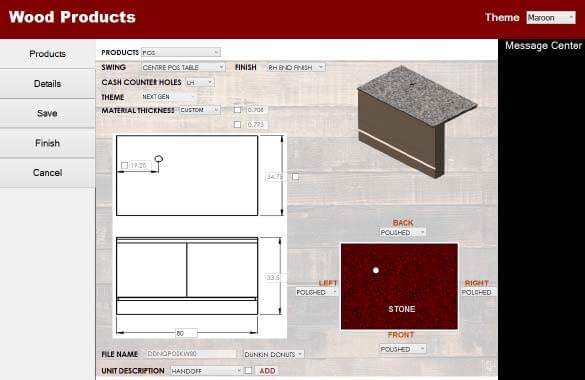 Manufacturer could thus reduce the lead time from traditional 4 to 5 days to one day and design cycle was 70 times faster with enhanced quality. Significant reduction in material scrap during machining was also observed.