Building Construction
Employ BIM for MEP to Overcome Crucial Building Construction Project Challenges
Posted by Hiral Patel on December 13th, 2016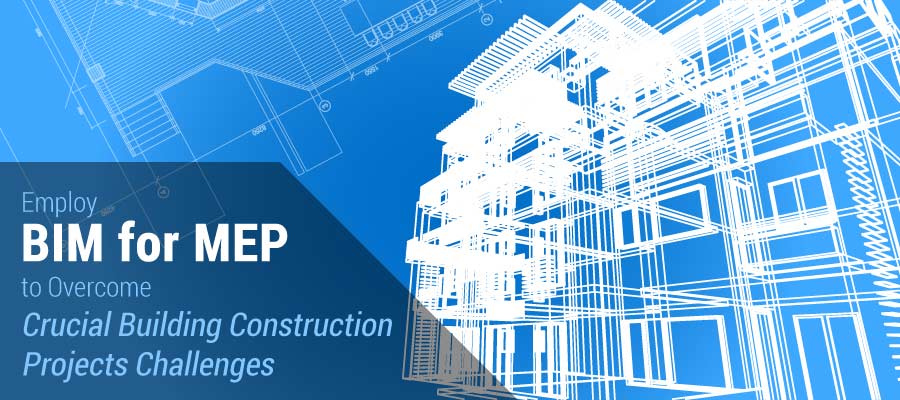 All the approaches, methods and technology are changing quickly in the AEC industry. However, some common challenges like scheduling of various on-site activities, modeled equipment and other elements and coordinating changes with architects and other engineers are still prevailing industry wide.
To say this, it may happen that the designs by architects and MEP – Mechanical, Electrical and plumbing professionals do not comply with each other. A change made by an architect in his model might lead to change in the setting of some floor fittings to ceiling, making the design go haywire.
In addition to this, the modeled information may vary from the actual manufacturing in dimensions. These are some common issues faced by professional associated with the building construction project and then they approach Revit MEP BIM services for a prompt solution.
BIM for MEP world
However, with the changing technology and MEP design approaches; these problems have also been dealt with. Building Information Modeling – BIM is increasingly being utilized by architects and structural engineers for their design to enhance quality output. Employing the same BIM technology to MEP discipline can create wonders and eliminate common problems at one attempt.
MEP engineers are well equipped with AutoCAD software to depict the design and work flow in terms of 2D drawings. But at the same time, these drawings are quiet difficult to understand for the management and investors.
On the other hand, 3D MEP models can easily be explained. Construction companies as well as the contractors accept 3D models that are designed as per the internationally accepted standards as the base for MEP design projects.
BIM to overcome MEP challenges
Firstly, as cited above, one of the most commonly occurring challenges for MEP layout in a facility design is adjusting the layout with the architectural design and structural plans, and scheduling the interrelated activities.
Through Revit MEP, standard components and assemblies can be designed for each of the light, plumbing or mechanical fixture as parametric models and can be retrieved as and when required. Updates in these parametric models as per the latest modifications by manufacturers can be made easily to make them readily available for as-built models.
The ability of 4D BIM model of the structure in the form of as-built having MEP inclusions, helps the engineer to plan the construction schedule well in advance. It generates the construction scheduling and occurrence of each activity with time. Inclusion of lead time, serving time, downtime, and development time due to inter-dependency of various activities are all calculated during the scheduling and the final completion time of project can be estimated.
Furthermore, the problems pertaining to minor changes made in the designs in one of the architectural model leads to major design and equipment setup modifications in MEP layout.
Sometimes, the changes in hosting element like a ceiling wall, or say ceiling shift by architecture might also lead to change in the ceiling mounted MEP equipment and may end up being entirely on the other floor. To avoid this, BIM allows the user to create and fit the MEP equipment using reference plane, which remains unaffected even when the changes are made in the architecture of the facility. If the clashes are found in designs, they can also be easily pinpointed and resolved in a common shared environment.
Conclusion
Just like architects have seen a very positive impact of creating better designs, and explaining design intent with BIM and structural engineers have had a good deal of takeaways in the form of quantity and cost requirements and analysis with BIM, MEP engineers too can avail such betterment. It is beyond the slightest doubt that employing BIM for MEP will increase the productivity of the MEP engineers and allow them to overcome the hurdles that they face frequently.
About Author: Hiral Patel is a news editor and has been contributing to the AEC industry since last 7 years. She mainly writes about the application of BIM across Architecture, MEP and Structural sectors. Her focus is towards encouraging construction companies, sub-contractors and architects to adopt right technologies to improve efficiency and profitability.