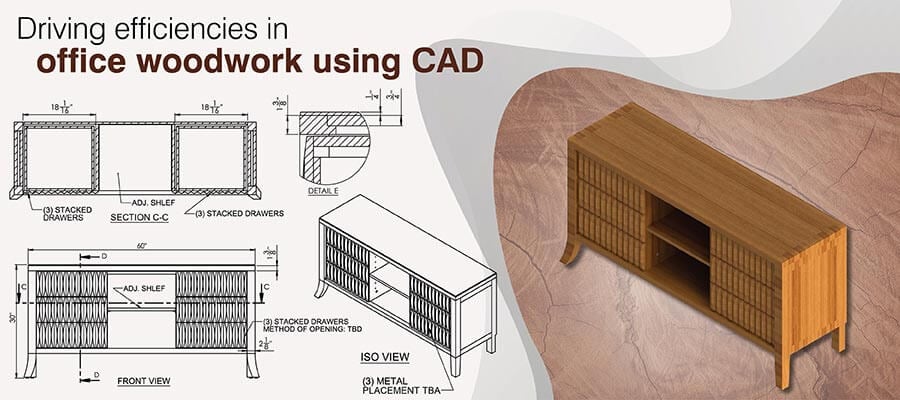 Woodwork for offices needs to address challenges related to layout optimization, aesthetics and tooling capabilities. Detailed CAD shop drawings and drafting convey accurate design intent to all stakeholders and ensure closer collaboration to meet quality benchmarks and timelines.
The woodworking industry is poised for an exponential growth. To stay competitive, wooden furniture manufacturers need to offer solutions that are cost-effective, meet delivery deadlines and consistently match architectural plans. Drawn-out lead times rising from increasing demands for custom woodwork need to be addressed.
But manufacturing accuracy of office woodwork and prevention of installation issues depend upon the quality of CAD shop drawings. CAD drafting for architectural woodwork addresses the requirements of all stakeholders, including owners, interior designers, architects, contractors and shop floor teams. The design intent in these shop drawings helps manufacturers complete orders on time and plan materials to avoid delays and other issues in project execution.
Challenges in developing woodwork for offices

Changing product attributes based on use Office furniture design depends on the purpose of the product. Thus, a storage cabinet meant for a conference room will be designed differently from one for an office pantry.

Designs that align with the architectural layout Wooden fit-outs are designed for optimum space usage. Each piece is built in proportion to the room sizes, corners, curves, and blend with the ambience

Difficulties during manufacturing and installation Perfect manufacturing finish needs very high accuracy. Slight changes in site measurements lead to added work and adjustments to fill in the alcoves and gaps with fillers.
Any gap in overcoming these challenges leads to increased iterations, loss of production efforts and material (majority wood) scrap. This is where accurate woodwork CAD drafting comes into the picture to keep all stakeholders informed to reduce such issues.
Top 4 benefits of CAD shop drawings for office woodwork
Woodwork CAD drafting involves CAD modeling and 2D CAD drawings derived from the models. These drawings encompass detailed BOMs and help in the quick generation of quantity takeoffs for construction schedules and costs.
The major benefits of wooden furniture 2D and 3D CAD drafting are:
Faster design with fewer iterations
3D CAD drafting helps a designer to digitally map all layouts of any space. Optimization of space layouts results in maximum seating capacity and system installations. Other layout optimizations include those related to ease of access, walkways, safety requirements, organized desk seating, and ease of maintenance.
Through 360-degree visualization and realistic environmental rendering, manufacturers and designers can quickly spot flaws in designs and rectify them. These may relate to structure, wood finish requirements, patterns and layouts, final shapes and curves.
3D CAD layouts help designers test out all arrangements of custom woodwork products across the office in virtual space. This helps architects to critically evaluate different designs and scenarios in a mutual context.
With the help of 3D layouts, manufacturers can save over 60% of the time spent on finalizing office furniture. What may take a month to manufacture with 2D furniture manufacturing drawings can be done in days with 3D CAD.
Detailed shop drawings
Designers generate detailed manufacturing shop drawings along with the 3D CAD models. This helps to reduce the time taken to move from the design to the final finished office woodwork product.
Shop drawings derived from 3D CAD models capture accurate dimensioning of curved and regular shapes of the fit-out designs. These drawings are accurately detailed with tolerances to ensure first-time-right manufacturing. Contractors get the quantity takeoffs and hardware for calculating accurate cost estimates and creating efficient construction schedules.
Since these drawings are prepared following international standards like AWI, the manufacturers can generate accurate DXF files. It facilitates direct manufacturing to cut and shape wood using CNC and significantly reduces manufacturing lead time. Hitech CADD Services team has enabled a UK-based office joinery manufacturer to reduce turnaround time and helped save costs.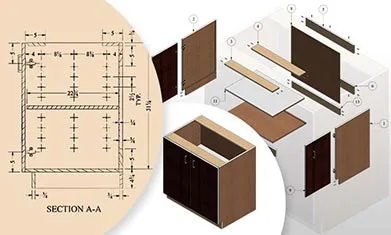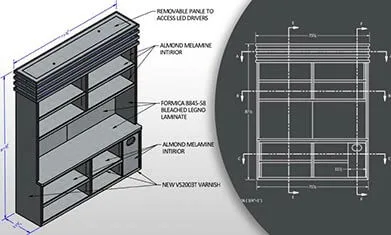 Field instructions
A majority of the field challenges occur due to a mismatch of product dimensions between architectural plans and shop drawings. If they go unnoticed, civil markups are needed in drawings to perfect the wooden fit-outs.
Detailed CAD drafting with annotations and footnotes includes field instructions that help in the correct placement of various wooden fit-outs. Field joinery and installations can be carried out with precision, leading to reduced wastage and speedier execution.
Improves workflow coordination and collaboration among stakeholders
Shop drawings in 3D have layered and color-coded information with different text style, specific to manufacturing construction schedules. As a result, non-technical stakeholders get better visualization and understanding through a single file. The project can be executed without hiccups and all stakeholders have updated information.
Hitech CADD Services' engineers enabled a European manufacturer of custom wooden furniture to reduce TAT by 50% through furniture 3D CAD models and detailed manufacturing drawings.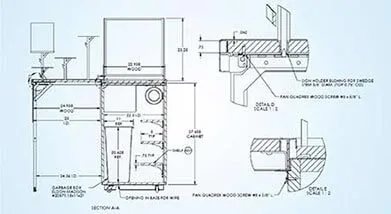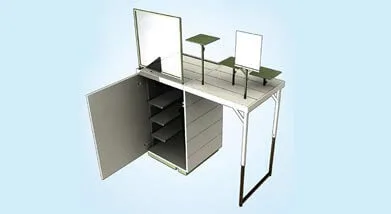 Automated custom woodwork with visual configurators
Modern day woodworkers are using 3D visual product configurators to sell CTO and ETO products through ecommerce platforms. Product configurators provide many advantages to both manufacturers and purchasers by helping to finalize specifications at the point of sale. For example, IKEA sells through configurators that allow for an immersive experience.
Manufacturers need to adopt visual product configurators to significantly reduce sales-to-manufacturing life cycles. Configurators accelerate custom design finalization of office spaces and improve collaboration between stakeholders.
Conclusion
To stay competitive in today's fast-paced market, woodworkers and custom millwork manufacturers need to improve processes across the sales-to-manufacturing cycle. Evaluating office woodwork products in 2D has limited visualization and results in higher lead times and scrap.
Office furniture manufacturers need to adopt modern CAD technology for increased profits and productivity. And 3D CAD shop drawings help woodworkers of office furniture to stay competitive in a fast changing market.