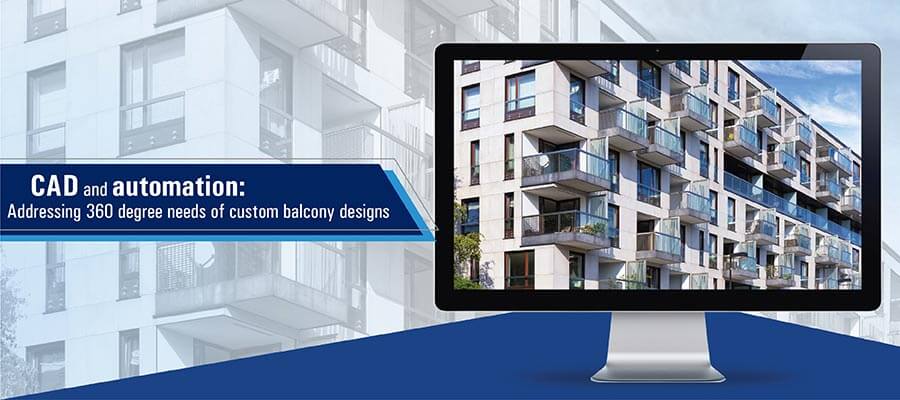 Design customization in balconies slows down the process, increases iterations, and derails project schedules. 3D CAD modeling and automation leverage logical rules to eliminate repetitive tasks and drive faster and accurate designs.
Balconies bear live loads of humans and other deadweights of structure and mounting. Hence, balcony manufacturers need to ensure that these cantilever beams are:
Designed as per standards for safety
Built to meet elevation aesthetics and building architecture
Manufactured remotely on a shop floor
Carefully packed and transported to the building installation site
Once a manufacturing contract is received, the balcony manufacturer gets to work coordinating with onsite and offsite stakeholders. The manufacturer needs to meet the general contractor's construction schedules at all times. And 2D drafting methods are insufficient in timely design development and creating error free manufacturing documents.
3D CAD modeling and automation can easily tackle these issues related to design, planning, and manufacturing. They speed up the design-to-manufacturing cycle by offering comprehensive design communication through detailed modeling and flawless documentation. Automation ensures fast and error-free custom design finalization.
Finalizing shapes, sizes and material composition for a balcony completes half the work and allows the manufacturer to start shop floor operations. Let us understand how 3D CAD modeling and automation can speed this up:
Role of 3D CAD modeling in overcoming challenges for balcony manufacturers
Role of design automation in overcoming challenges for balcony manufacturers
Conclusion
A good balcony manufacturer knows that keeping all stakeholders on the same page streamlines their work and empowers them to win more contracts. Managing design changes and addressing change orders for customization can be overwhelming with manual drafting. It not only slows down design development, but is also error prone.
CAD modeling and design automation accelerate design development and empower manufacturers to reduce errors and scrap. They bring down the overall project costs and increase a designer's productivity by putting the entire design development on fast track. This can reduce turnaround time by up to 50%. These advantages matter in ensuring error-free installation and assembly to increase installation success rate by almost 1.5 times.